Newbuild Floaters to Infiltrate the Market in 2013
by Jaime Kammerzell
|
Rigzone Contributor
|
Monday, April 30, 2012
Newbuild floater orders placed from 4Q 2010 will be leaving the shipyards as early as 2013. According to Rigzone's RigLogix database, 82 newbuilds have been ordered – 65 drillships and 17 semisubmersibles.
The worldwide demand for oil and gas has ramped up exploration and production and encouraged drilling in frontier regions, deeper waters and harsher environments. E&P companies require high-spec rigs to construct these increasingly complex wells.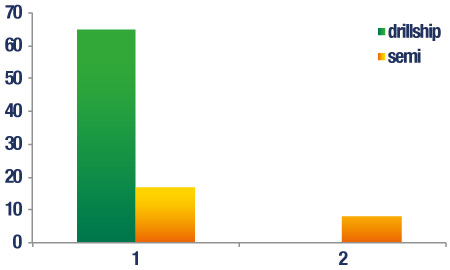 Recent deepwater discoveries along with the increased price of oil are driving deepwater exploration, which is in turn a catalyst for the recent drillship and semisubmersible construction cycle.
New deepwater rigs will feature next generation technology for geographically challenging areas. Enhancements have been made in the following areas:
Greater automation
Superior hoisting and pipe-handling capacity
Larger cranes
Enhanced BOP stack configurations
Larger deck space
Increased mud system capability
Increased quarters capacity for more personnel and office space
These next generation rigs come at an average construction cost in the low-$610s for drillships and low-$590s for semisubmersibles, and have an average construction time of three years.
Expect dayrates to be significantly higher for newer, modern rigs with increased drilling capacity and equipment automation. There are 32 drillships (49 percent) with firm contracts and dayrates in the high-$490s. Twenty-eight of these drillships are slated to work for Petrobras when complete, and one each is scheduled to drill off of East Africa and in the Gulf of Mexico. The remaining four contracted drillships do not have a specific destination yet, but two are likely to work in the Gulf of Mexico.
Operators with newbuild drillships contracted include Petrobras (31), Anadarko (3) and Shell (2)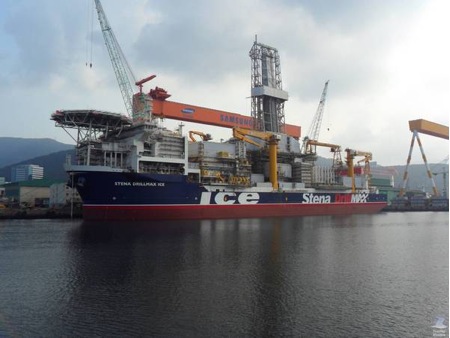 Twelve newbuild semisubmersibles (70 percent) are already contracted with dayrates averaging in the mid-$490s. Four are destined for Norwegian waters. Seven will head to Brazil and one to the UK.
Statoil has four newbuilds contracted, and Petrobras has seven newbuild semisubmersibles contracted. Anadarko has two, while BP has one.
Eight of the 16 newbuild semisubmersibles are rated to work in harsh environments.
While contracting the remaining newbuild deepwater rigs is not expected to be a challenge, hiring qualified personnel to operate the rigs may pose a bigger challenge. As the experienced workforce retires, and next generation rigs with more technically advanced equipment come online, there will be a growing need for a more technically trained crew. These new units will require personnel in certain positions to have a higher skill level to operate and maintain the new technology. Electricians and mechanics are among two of the positions that will require an increased skill level.
Looking ahead, Rigzone Sr. Market Research Analyst Trey Cowan expects demand for deepwater to grow by 20 rigs, thus increasing the need for skilled and experienced offshore personnel.
However, while some experts warn that the industry could be in for a new round of mergers and acquisitions, there will still be a need for skilled personnel to work offshore as M&A transactions typically impact shore-based personnel.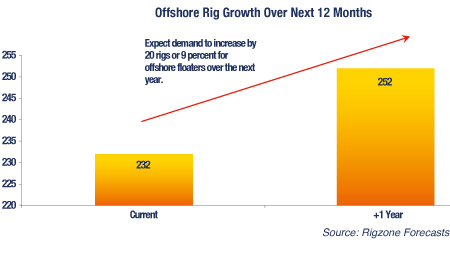 "Recent multi-billion dollar acquisitions over the past two years such as Ensco's merger with Pride, Transocean's assumption of Aker Drilling, and Noble's purchase of Frontier Drilling were set in motion to fulfill strategic purposes that in effect enhanced each driller's asset mix," Cowan said. "As financial duress can be an essential ingredient in a one-off rig transaction (because it helps to bring bid and ask components into closer alignment)," Cowan continued, "the current environment points to a higher probability of another strategic deal rather than a divestiture made to help shore up an ailing company's finances."
With recent discoveries in West Africa and the successful pre-salt appraisal wells in Brazil, Rigzone sees demand tightening. Eike Batista, owner of OSX Brasil, announced his intentions to infuse as much as $1 billion of his personal wealth in the company to further support drilling programs in the region.
"We believe Batista's actions speak to the opportunities and the willingness by investors to put money to work in the offshore waters of Brazil," Cowan said.
---
Rigzone tracks the worldwide offshore rig fleet through its proprietary RigLogix Database. Some of the key rig fleet data is available to you by visiting www.rigzone.com/data. You'll find information on offshore rig utilization, day rates, contracts, equipment specs, and much more.
Generated by readers, the comments included herein do not reflect the views and opinions of Rigzone. All comments are subject to editorial review. Off-topic, inappropriate or insulting comments will be removed.
For More Information on the Offshore Rig Fleet:
RigLogix can provide the information that you need about the offshore rig fleet, whether you need utilization and industry trends or detailed reports on future rig contracts. Subscribing to RigLogix will allow you to access dozens of prebuilt reports and build your own custom reports using hundreds of available data columns. For more information about a RigLogix subscription, visit
www.riglogix.com
.