Newbuild Jackups Set to Sail
by Jaime Kammerzell
|
Rigzone Contributor
|
Monday, April 30, 2012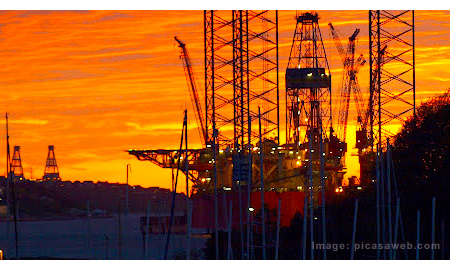 Advanced shallow water drilling activity is forecast to rise, which demands more sophisticated jackups. Several rig contractors had the foresight to upgrade their fleets as early as 4Q 2010. Expect to see the first of 60 newbuild jackups to hit the market as soon as June 2012, but the majority will be delivered in 2013 with a few lingering deliveries in 2014.
New jackups will be capable of drilling deep high temperature, high pressure (HTHP) wells in water depths greater than 350 feet down to as much as 30,000 feet, which will require more horsepower, storage and deck load capacity than previous jackup designs. HTHP wells will most likely require drilling fluid circulation at 1,400 gal/min and circulating pressures as high as 4,500 psi, in which three to four high-pressure mud pumps will be needed. Drilling deeper requires more drilling fluid and several different drilling fluid types to be onboard, which requires more deck space and variable load requirements.
Also look for offline tubular handling on newbuild jackups. An offline arm lifts and moves tubulars from horizontal to vertical and positions the tubulars directly into a preparation hole for assembling and disassembling tubular stands while simultaneously drilling, this feature will save time and money for the operator. Other upgraded features include capacity for 1.5 million + drilling hookloads, as well as single-room accommodations for up to 150 people to operate and maintain the increased technology onboard.
These specifications come with an average construction cost of $217 million and an average construction time of 2.3 years. Twenty one of the 60 jackups (approximately 35 percent) are rated for harsh environment work.
There currently are 12 jackups with firm contracts (about 19 percent), with an average dayrate in the $220s. Three will drill off Norway. Another three will drill off Thailand. Two will drill off India and one off the UK. The remaining contracted jackups are scheduled to work for state-controlled oil companies (NOCs) in Saudi Arabia and Vietnam. Operators with newbuild jackups contracted include Chevron, ONGC, Nexen, Total, Dragon Oil, Det norske oljeselska, ConocoPhillips, Petro Vietnam and Saudi Aramco.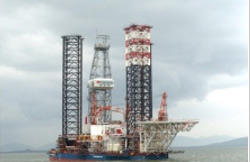 Caption: The newbuild Tam Sao 03 jackup
is scheduled to leave the PV Shipyard in
Viet Nam at the end of April 2012.
The remaining newbuild jackups are not expected to remain idle when they leave the shipyards. High-spec jackups with enhanced technical capabilities designed to drill in more remote and challenging environments are in demand. Not only are operators looking to drill new wells, but they also are trying to squeeze out the last drops from declining wells using enhanced technology on these newbuilds. Revisiting abandoned wells and marginal fields is also driving demand.
"Currently, the demand for high-spec and +350 foot jackups is much stronger than the industry average for all jackups," Sr. Market Research Analyst for Rigzone Trey Cowan said. "Specifically, both high-spec and +350 foot rigs are posting utilization rates around 90 percent while the average utilization for all jackups is closer to 70 percent. Thus, it only makes sense that future newbuilds will actually find work upon leaving the shipyards, displacing older, less capable rigs in the process."
Newbuild jackups are not the only offshore rigs expected to enter the market in the next few years. Semisubmersible and drillships with more sophisticated equipment onboard are also set to leave shipyards soon. These deepwater floaters will meet the demand for rigs capable of drilling in deeper, harsher environments. Read more about deepwater floaters here.
Generated by readers, the comments included herein do not reflect the views and opinions of Rigzone. All comments are subject to editorial review. Off-topic, inappropriate or insulting comments will be removed.
RELATED COMPANIES
Company: Nexen, Inc.
more info
Operates 1 Offshore Rigs
- Alberta Regulators Charge Nexen Energy Over 2015 Pipeline Spill (Jul 06)
- Cenovus Drops Most Ever as $13.3 Billion Deal Ramps Up Risks (Mar 30)
- UKCS Oil, Gas Extraction Drops 10% (Dec 08)
Company: Total S.A.
more info
- Total Starts Up Antwerp Refinery And Petrochem Complex After Upgrade (Nov 30)
- Hoegh LNG: Pakistan LNG Import Project Consortium Folds (Nov 16)
- France's Total Buys Engie's LNG Business For $1.5B (Nov 08)
Company: ConocoPhillips
more info
Operates 12 Offshore Rigs
- Exxon, BP Targeted in NYC Suit That Relies on 'Nuisance' Theory (Jan 10)
- ConocoPhillips Vows Financial Discipline As Aims To Boost Output (Nov 08)
- ConocoPhillips' Profit Beats Estimates, But Budget Cut 10% (Oct 26)
Company: Saudi Aramco
more info
Operates 44 Offshore Rigs
- CB&I, Chevron Lummus Global, Saudi Aramco Launch 'Crude-to-Chemical' JV (Jan 18)
- Tellurian Set to Boost Louisiana Gas Holdings Tenfold (Jan 16)
- Saudis Seen Counting on 80% Surge in Oil Income to Balance Books (Dec 27)
Company: Chevron Corporation
more info
- CB&I, Chevron Lummus Global, Saudi Aramco Launch 'Crude-to-Chemical' JV (Jan 18)
- Oil Producers Want New Hearing on Impact of Magellan Proposal (Jan 17)
- Exxon, BP Targeted in NYC Suit That Relies on 'Nuisance' Theory (Jan 10)
Company: ONGC
more info
Operates 41 Offshore Rigs
Manages 8 Offshore Rigs
- Venezuela's PDVSA To Tap Oil Customers To Pay $449MM To ONGC (Nov 15)
- Sources: India ONGC Strikes 'Good' Offshore Oil, Gas Find (Sep 20)
- India To Acquire Seismic Data Of 48,000 Line kms To Boost Oil, Gas Output (Sep 12)
Company: PetroVietnam
more info
- Vietnam Court Sentences to Death PetroVietnam Ex-Chairman in Mass Trial (Sep 29)
- Asia Oil Refinery Delays Favor Producer Case for Extending Output Cuts (May 22)
- Vietnam's Sole Refinery Plans to Sell 5-6 Pct Stake in IPO in Q4 (May 22)
Company: Det norske oljeselskap ASA
more info
- Det Norske Completes Merger with BP Norge, Creates Aker BP (Sep 30)
- Lundin Granted Drilling Permit Offshore Norway (Sep 20)
- Det Norske Increases Production Guidance for 2016 (Sep 14)
Company: Dragon Oil
more info
- UAE's Dragon Oil in Talks with Turkmenistan on $10B TAPI Pipeline (Nov 27)
- Dragon Oil to Maintain Production Rate of 100,000 Bopd for 5 Years (Aug 07)
- Elliott Advisors Says ENOC's Offer Undervalues Dragon Oil (Jul 17)
For More Information on the Offshore Rig Fleet:
RigLogix can provide the information that you need about the offshore rig fleet, whether you need utilization and industry trends or detailed reports on future rig contracts. Subscribing to RigLogix will allow you to access dozens of prebuilt reports and build your own custom reports using hundreds of available data columns. For more information about a RigLogix subscription, visit
www.riglogix.com
.