Italian Offshore Drilling: Will They, Won't They?
by Jon Mainwaring
|
Rigzone Staff
|
Tuesday, April 24, 2012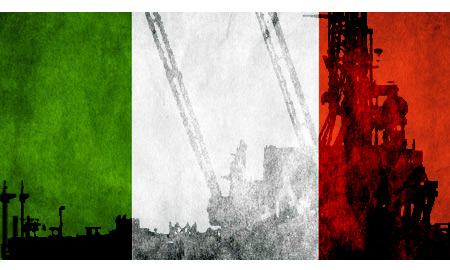 The ramifications of 2010's Deepwater Horizon accident and subsequent oil spill spread far beyond the Gulf of Mexico. While companies such as BP and Transocean are still involved in legal cases connected to the disaster, the wider offshore oil industry has been encouraged to take a good, hard look at its health, safety and environmental practices in many locations where deepwater drilling occurs around the world.
But another consequence of the Macondo spill has been the moratoriums called by various governments who are concerned that they do not have the resources required to respond to a similar spill. The United States itself introduced a ban on all deepwater offshore drilling on the Outer Continental Shelf following the disaster, although this was lifted after six months.
One country that brought in its own ban on drilling offshore, and not just deepwater drilling, was Italy. Soon after the Macondo incident, Italy proposed a moratorium that came into force in August 2010.
Italy's Legislative Decree No. 128/10 (known as DL 128) prohibited offshore exploration and production activities involving liquid hydrocarbons within 5 miles of the Italian coast. Crucially, this applied even to then-ongoing operations that previously had been authorized. In addition, offshore drilling activities located within 12 miles of certain designated protected marine and coastal areas was also banned.
And, of course, this legislation caused a lot of headaches for many companies that were drilling, or had plans to drill, offshore Italy, who have had to put projects on ice.
Elsa On Ice
"Obviously in general it's a major deterrent to investment and an interruption of planned investments by both indigenous companies, like the ENIs, the Edisons and others, and international companies both large and small," said Tom Hickey, Corporate Development Director at oil firm Petroceltic International, in a recent telephone interview with Rigzone.
Although Petroceltic is also active in both Algeria and the Kurdistan region of Iraq, it has several important assets in Italy. Fortunately for the firm, many of its Italian assets are onshore, and it has several license applications that despite being offshore are not affected by DL 128. But one of Petroceltic's key assets is the Elsa discovery in the Adriatic (where it is the operator with a 55-percent interest), and activity there remains suspended on account of the decree.
Elsa is estimated to contain some 100 million barrels of oil and 31.5 billion cubic feet of gas, so it is understandable that Petroceltic would like to get on with the job of extraction.
"It's an appraisal project… We had planned to drill a well there in late 2010 and we had done an awful lot of our environmental planning. We had done our well plan, we had even thought about how we might develop it in the event of success and we were negotiating a contract for a rig with the intention of drilling this well in late 2010 when the legislative decree was enacted," explained Hickey.
"Of course what that did was it completely stalled that entire process. And I suppose from a shareholder perspective – obviously we are a public company – it really interrupted some of the news flow and one of the activities that shareholders had felt was a very attractive part of our story. So what was a very strong benefit for Petroceltic almost became a problem in terms of having to have an opinion or an understanding of what the form of DL 128 meant… and what the implications might be for the industry."
Hickey explained that one of the challenges with DL 128 has been in trying to get certainty as to what its formal application is.
"There have been quite a few reviews and legal examinations and interpretations of it, but ultimately I suppose it has limited the ability of decision makers initially to make decisions at all relating to that segment of the offshore, which is quite prospective," he said.
"From our perspective, we have applications and very strong interest in the Italian offshore. We have a couple of opportunities that are outside of the area of DL128 that we would very much like to get finalized and undertake seismic and drilling activities on. But, of course, the challenge from our perspective is that shareholders will always say: 'Well, why would you invest in these prospects outside the limit area when you have a very obvious, and exciting and perhaps lower risk prospect within the limit area?' So it really stalls your ability to make strategic long term investments in Italy," added Hickey, who also pointed out that Petroceltic is not as badly affected as some other companies thanks to its onshore interests in Italy.
"We will hopefully participate in a well onshore later this year, so at least we have reason to maintain our activities and our office and our team and our business development effort in Italy."
Mediterranean Oil & Gas (MOG) – a company with assets in Malta and France, but whose main activities are focused on Italy – also has a number of offshore projects in the country. And, as with Petroceltic, a key asset – the firm's 100 percent-owned Ombrina Mare oil and gas discovery – is subject to uncertainty in its development due to DL 128.
Ombrina Mare contains certified P1 and P2 oil reserves of 40 million barrels, as well as certified P1 and P2 gas reserves amounting to 6.5 billion cubic feet. But when DL 128 was enacted by the Italian government in the summer of 2010 it – in the words of the company at the time – "effectively terminated" its attempt to secure value from this field and secure a partner for the remaining approval process and subsequent development and production phases.
Costa Concordia Muddies the Waters
Several oil firms, including MOG, with offshore interests in Italy were hopeful of a potential modification to DL 128 in mid-January this year after rumors coming out of Italy suggested as much. At the time, it was felt that new legislation would have eased the restrictions on offshore exploration and production that was brought in almost two years ago.
However, when Italy's Decree No. 1/2012 (known as the Liberalization Decree) – which covered a range of matters including energy policy – was finally published at the end of January, there was no mention at all relating to the development of offshore oil and gas fields in the country.
According to reports at the time, some industry sources believed this inaction was due to the Italian government giving in to pressure from the country's environmental lobby in the wake of January's accidental sinking of the Costa Concordia cruise liner. Although having nothing to do with the offshore oil industry, the cruise liner's sinking threatened a fuel spill and environmental disaster of its own – so bringing to the front of people's minds the issue of oil slicks and environmental damage that would have made it difficult for any government to relax offshore drilling restrictions at that time.
For now, the Ombrina Mare project remains in limbo along with Petroceltic's plans for its Elsa development.
However, there could be a glimmer of light at the end of the tunnel according to Petroceltic's Hickey. He described as "encouraging" a recent speech about Italy's energy strategy by Corrado Passera, the country's Minister for Economic Development.
"He talked about renewables, he talked about oil and petroleum, he talked about the security of the supply of gas, and he talked about exploration and production. And I suppose he set a vision, rather than a roadmap, for a more streamlined business-focused process for ensuring that these activities can be progressed. That, in itself, is not a formal commitment to change, revoke or amend DL128, but I think it is evidence of perhaps a more holistic view of what energy risk means for Italy at a time when the tragedy of Fukushima has limited the ability of Italy to invest in nuclear, and last winter Italy had its own challenges with interruption from gas supply from Russia," explained Hickey.
25,000 Stable Jobs
In fact Passera's speech, which was made on March 9, 2012, and titled "A new energy strategy for Italy", noted that Italy has "huge gas and oil reserves" and that an important part of these reserves "can be activated in a relatively short time" to potentially double the amount of energy consumption that is currently satisfied by the country's own hydrocarbon reserves (around 10 percent).
And Passera went further. "A decisive move in this direction could allow us to activate EUR 15 billion in investments and 25,000 additional stable jobs, reduce our energy import bill by over EUR 6 billion per year (thus increasing GDP by nearly 0.5 percent) and gain EUR 2.5 billion in tax revenues on a national and local level," he said.
"To do all this we must adjust our authorization and permit/regulations to international standards; they now involve an extremely long time for authorization, with many aspects that are much more restrictive compared to European standards."
This does seem to be a positive set of statements when one considers the current parlous state of Italy's economy. Only this month, Italian Prime Minister Mario Monti announced that the country needed to revive economic growth, rather than continue belt tightening that could cause the country to fall deeper into recession.
And the oil industry is a natural candidate to play a role in Italy's future growth, both in the near term and in the long run.
Clearly, a country that prides itself on its outstanding coastline such as Italy is right to be concerned about the potential impact an offshore oil-related environmental disaster could have. However, balanced against this should be the issues of Italian energy security and Italy's dire need to boost GDP and tax revenues.
Companies such as Petroceltic and MOG will be hoping that all factors are considered by the Italian government as it works on the detail of its growth strategy.
Generated by readers, the comments included herein do not reflect the views and opinions of Rigzone. All comments are subject to editorial review. Off-topic, inappropriate or insulting comments will be removed.