Sirleaf Seeks to Lift Liberia with Oil Resource Development
by Karen Boman
|
Rigzone Staff
|
Monday, April 23, 2012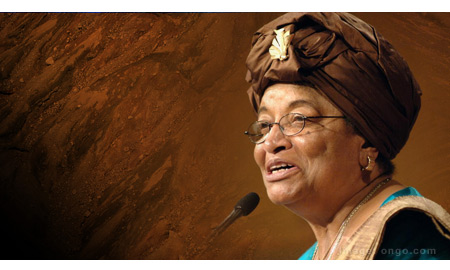 Liberian President Ellen Johnson Sirleaf seeks to develop the nation's oil resources to lift the majority of the nation's people out of poverty, Sirleaf told attendees at a presentation at Rice University in Houston on Friday.
Sirleaf -- who was speaking as part of the Chevron Excellence in Leadership Energy Lecture Series -- said she had come to Houston to listen and to learn in her efforts to answer the question: How do we make oil work for Liberians?
Since her election in 2006, Sirleaf set out on an ambitious agenda of reforming Liberia, including stamping out corruption, bringing adequate electric power to the nation's capital, Monrovia, establishing a Freedom of Information Act, the first of its kind in West Africa, and making elementary school education in the nation both mandatory and free.
Sirleaf put the nation on the path for a more prosperous and democratic future. Now that Liberia appears to be emerging as a potential new oil exporter and world power, Sirleaf seeks the challenge of using revenues from this oil to further the life of Liberia's people and the nation's progress.
In developing Liberia's oil resources, Sirleaf seeks to avoid the 'oil curse' that has befallen developing countries, especially African countries, where the wealth generated by oil maximized the social inequities and inequalities in society, rather than bridging the socioeconomic gap.
"Liberia is committed to openness and accountability to encourage investment by foreign oil and gas companies, but in a way that increases opportunities for Liberia's people," Sirleaf commented.
"Liberians have high expectations--the learning curve is steep--and we are committed to getting it right to ensure long term peace, security and economic development."
Nation Undergoing 'Wonderful Transformation'
Sirleaf had a difficult task when she was first elected president six years ago – the first woman elected head of state of any modern African nation – in reforming a nation which was still recovering from a 14-year of civil war.
"We had to look beyond the ashes and the ruins and to inspire a doubtful nation to believe again," she commented.
While progress is still underway, Liberia is experiencing "a wonderful transformation", Sirleaf added, as previous oppressions of freedom and rights during the nation's civil war have given way to the advance of individual freedoms and civil liberties. "As the country recovers from its internal conflict, doubts have given way to hope. Now, Liberians are anxious for more, and have high expectations after the recent discovery of oil offshore."
"Having successfully lifted Liberia we must enduringly lift Liberians," said Sirleaf, particularly the nation's youthful population that was victimized by the prolonged civil war. Many are now parents who lack the education, skills or training to provide for their families.
In the past six years, more than $16 billion in investment has flowed into Liberia into its mining, agriculture, infrastructure, aviation, renewable energy, and now oil.
"We know that we must continue to keep the country stable and must continue to build upon this hard-earned peace," said Sirleaf. "This is why our administration will continue on the course of openness, accountability, reconciliation and inclusiveness in the governance of our country."
Energy Regulatory Updates Underway
A hydrocarbon technical committee recently met with representatives from Liberia's ministry of justice and other ministries, along with international partners and a number of civil society organizations, to sketch an outline for framework to govern the energy sector. These frameworks will be hammered into legislation that will be considered by the national legislation.
The proposed framework includes resolving the potential conflict of interest of having Liberia's national oil company serve as both industry regulator and an equity partner, updating current petroleum law, setting standards for transparency and accountability, oil revenue sharing, and advancing the cause of corporate social responsibility to allow locals to benefit from the exploitation of resources from their backyards, Sirleaf said.
"I intend to address what matters most to Liberians, which is that proper mechanisms are put in place to ensure lasting partnerships with investors while ensuring Liberia's economic growth and development, are irreversible and will benefit all Liberians," Sirleaff said.
Sirleaf said she was pleased that Chevron was one of the partners in developing Liberia's oil resources. The company had previously explored for oil in the 1970s. While drilling results proved the presence of hydrocarbons, technological limitations, along with low oil prices at the time, caused exploration efforts to be abandoned.
Chevron, Frontier International Petroleum and Union Carbide Petroleum drilled offshore Liberia from 1970 to 1972; Amoco Liberian Exploration conducted drilling activity in Liberia from 1983 to 1989.
Sirleaf 'Inspiration to World Leaders'
In her 30-year political career, Sirleaf has been imprisoned twice, and her road to president was fraught with serious dangers and challenges, said Rice University President David W. Leebron. She and two other women were awarded the Nobel Peace Prize 2011 for their efforts to promote women's rights in Liberia.
"She has not only been a role model for women across Africa, but an inspiration for leaders around the world," Leebron commented.
Educated both in Liberia and the U.S., Sirleaf also has served as Liberia's minister of finance, president of the Liberian Bank for Development and Investment, senior loan officer at The World Bank Group and assistant secretary-general of the United Nations.
Sirleaf's speech at Rice marked the first time she had comprehensively addressed the Liberian government's plans to reform its energy sector and her first public appearance in the U.S. since winning the Nobel Peace prize last year.
Sirleaf commented that many Liberians recall with profound gratitude when former President George W. Bush stood by Liberia as it burned in the fires of its own destruction, helping resolve Liberia's civil war and providing a road map for Liberia to achieve peace, security and emerging democracy.
"Texas and Liberia both share a star," said Sirleaf. "Texas is known as the Lone Star State, and Liberia is known as the Lone Star Republic."
Generated by readers, the comments included herein do not reflect the views and opinions of Rigzone. All comments are subject to editorial review. Off-topic, inappropriate or insulting comments will be removed.