UK Regulator: Decided Against Offshore Probe Of Buzzard Fire
by Dow Jones Newswires
|
Alexis Flynn
|
Monday, April 23, 2012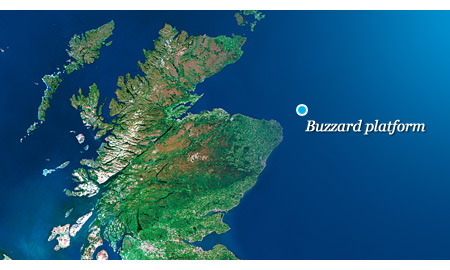 LONDON - U.K. offshore safety inspectors undertook an initial investigation of a fire on Nexen Petroleum Inc.'s Buzzard platform over the weekend, but decided against flying out to the North Sea installation pending an internal probe by the company, a spokesman for the Health and Safety Executive said Monday.
The HSE was informed of the incident Saturday. The fire was extinguished and all personnel were accounted for.
"HSE undertook an initial investigation but decided there was no need go offshore to investigate. Instead, HSE is awaiting the outcome of Nexen's internal investigation before deciding what action to take," said the spokesman.
The incident occurred on the Buzzard production sweetening platform, which is linked by a bridge to the main Buzzard facility.
The extent of any damage isn't yet known, although no significant damage was reported according to a person in the U.K. oil industry familiar with the matter.
It isn't yet clear whether the fire has resulted in any loss of production at the 200,000 barrels-a-day Buzzard field, which feeds the main Forties pipeline system. North Sea crude traders said they haven't noticed a fall in Forties output, but didn't exclude further deferrals or cancellations of Forties cargoes.
Operator Nexen was unavailable for comment early Monday.
The incident comes amid renewed scrutiny of safety in the North Sea, one of the world's older hydrocarbon basins with many installations nearing the end of their productive lives.
French oil major Total SA is still battling to contain gas leaking for nearly a month at its Elgin platform in the U.K. North Sea.
Generated by readers, the comments included herein do not reflect the views and opinions of Rigzone. All comments are subject to editorial review. Off-topic, inappropriate or insulting comments will be removed.
RELATED COMPANIES