Synaptor Phone Apps, Web Tools Transform HSE Management
by Karen Boman
|
Rigzone Staff
|
Monday, April 23, 2012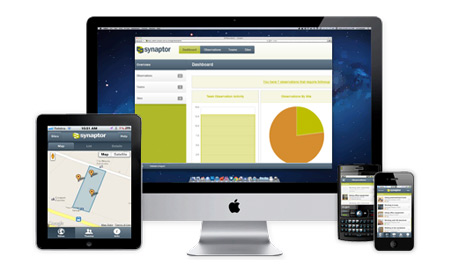 Mobile phone applications and Internet-based tools can change the way health, safety and environmental (HSE) risks are reported and managed in the oil and gas workplace.
Justin Strharsky founded Perth, Australia-based Synaptor to address the disadvantages of paper-based safety tools, which have been used to manage HSE hazards.
"Filling out little bits of paper every day is boring," Strharsky said. "Copying from a little bit of paper into a spreadsheet is boring. Using the latest mobile technology can make the process quicker, more effective, and maybe even fun."
Strharsky founded Synaptor in 2011 after a large consulting client asked Strharsky, who works with a team of directors in an HSE consulting business, to build yet "another mind-numbingly boring" and inadequate paper-based safety tool.
"We decided enough was enough," Strharsky said.
Synaptor offers two free applications that can work on an iPhone or iPad. The Observations and Maps apps can be downloaded for free. Synaptor's management interface service is available through a website that's available on a subscription basis. The web module can be used on any computer or tablet connected by the Internet.
When a worker identifies a risk at a work site, they log the incident from their mobile phone; the system then notifies everyone that a work hazard needs to be addressed. The data is stored on a data cloud, allowing companies to access and review data.
"The Observations app employs a stepwise process that makes it easy for anyone to record an observation of an unsafe act or conditions, including geolocation and photos," said Strhasky. "The Maps app is used to see a live, interactive map of observations made at a work site and receives automatic site-specific safety alerts."
The company's web modules are used by managers or site supervisors to manage the observations data and communicate with workers in the field.
"Our customers use Synaptor Observations to conduct both planned (safety audits) and unplanned workplace observations and to build site hazard registers," Strhasky said.
"Synaptor's products and services can help companies demonstrate safety leadership to clients and regulators, get supervisors back in the field where they can make a difference, and manage risks in real time," Strhasky commented.
This access to data can allow companies to look for trends, such as hazards that might be occurring on a regular basis, and also a teaching tool for companies to educate workers on assessing and identifying risks.
Synaptor's applications are being used at 40 worksites worldwide. The company has a number of clients in Western Australia, the U.S., and Canada.
Safety observations are valuable in any operational environment, as long as making them doesn't introduce additional risk, Strhasky noted. A company can start managing observations in 15 minutes.
Companies interested in using Synaptor's apps can try them for free for 14 days; pricing is scaled with the size of the customer.
"In most jurisdictions – Australia, the U.S., Russia, -- the [HSE] regulations differ in their specific requirements, but in general, they require the same things in terms of identifying, assessing and addressing risks," Strharsky noted.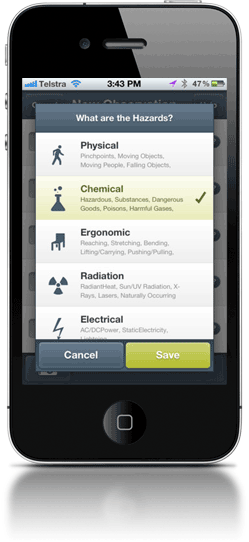 The Birth of Synaptor
The company was created to bring the expertise of HSE consulting to oil and gas to small and medium size companies in a package they could afford and easily use. Synaptor's team of directors has more than 100 years of collective experience in HSE management.
The same team behind Synaptor runs a consulting business that creates high-end custom solutions for larger companies. Synaptor's directors have worked with clients like Shell and Chevron to build custom HSE risk management systems and controls for the workplace.
"What we saw in that business is that contractors to Shell needed a fit for purpose HSE solution that wasn't a full blown system, just tools they could pull of the shelf to use."
The Disadvantages of Paper
Using paper-based safety tools presents a number of disadvantages. For example, paper-based systems rely on one-way communication, with information only flowing from those making observations in the field to a supervisor behind the desk.
"Workers never hear about the results of this process," said Strhasky. "This creates a culture of compliance; site workers fill out their paper cards because they have to, but they don't see any value in the exercise. As a result, many of their observations are of poor quality."
The individual who makes an observation can see when it has been updated in the Synaptor Observations app. The Synaptor Maps app allows all members of a team to be notified when new observations are added, and to see them on a map, Strharsky said.
"Paper-based systems introduce significant delays between observation of an unsafe act or condition, and an organization's ability to act," Strhasky. "It can often take a company using a paper-based system three weeks to learn from what employees are seeing in the field." Synaptor observations can reduce the time an observation passes through the system to minutes or seconds.
Paper-based systems also require double entry of data, once in the field, and then by another person later into a spreadsheet.
"Synaptor Observations eliminates this inefficiency," Strharsky noted. "Observations are automatically synced to a secure database in the cloud. The data is available whenever and wherever it's needed, and can be exported at any time."
Mobile Phones More Common in Workplace
Strhasky said the company is seeing a general trend of more people bringing mobile phones to work, and companies are trying to figure out how to address security issues surrounding people mixing their work and personal lives.
At the same time, companies are realizing that people using their personal phones for work tasks outside of regular office hours makes workers more efficient.
"They just have to do it in a way that doesn't increase risk, such as if a phone is stolen," Strharsky said. "You might think that older workers are resistant to using mobile devices. In fact, we've found that the opposite is true. Because of their intuitive touch interfaces, they are easy for anyone to use."
Generated by readers, the comments included herein do not reflect the views and opinions of Rigzone. All comments are subject to editorial review. Off-topic, inappropriate or insulting comments will be removed.