Crude Recap: Energy Complex Faces Tough Times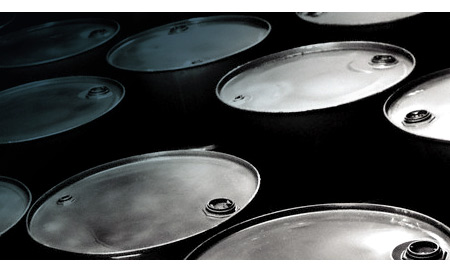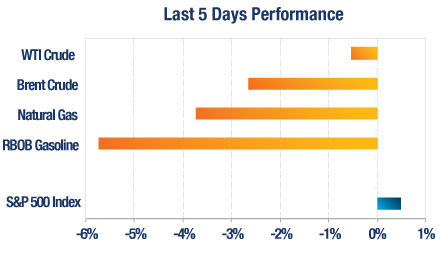 The past five trading days have been rough on the energy complex relative to the equity markets. Interestingly, the news regarding economic recovery is beginning to improve with European concerns abating. Taking the global economic picture off the table places the blame for softness in energy commodities on two things: a stronger U.S. dollar and a diminishment of the war premium. We would note that talks between Iran and global super powers over the past week have been characterized as "constructive".
Diary from the last five days:
4/13/2012 – A perceived harder landing for China, which reports a quarterly GDP of 8.1 percent, was the catalyst for a sell-off in both the broader markets and the energy complex.
4/16/2012 – Diplomatic talks with Iran over its nuclear agenda hinted at a peaceful resolution, sending crude futures lower (deflating some of the existing war premium).
4/17/2012 – WTI faired better than Brent crude on news that the Seaway pipeline reversal would start approximately two weeks early than scheduled.
4/18/2012 – Crude futures were down on the Energy Information Agency's (EIA) weekly inventory report, which showed levels swelled four times greater than what was anticipated.
4/19/2012 – U.S. jobless claims at 368,000 were lighter than expected and the energy complex was weaker on the day. Futures for natural gas fell to a level not seen since September 2001.
In summary, front-month futures for WTI crude, Brent crude, RBOB gasoline, and natural gas all saw price declines over the past five trading days. RBOB gasoline, which lost 19 cents to settle at $3.15 per gallon Thursday, performed the worst. May futures on the NYMEX for light, sweet crude (WTI) were the least impacted, finishing 56 cents per barrel lower at $102.27 over the past five trading days. Brent futures were off 3 percent and natural gas fell 4 percent over the five days. With U.S. storage levels at 2.5 trillion cubic feet for the week ending April 13, 2012, nearly 58 percent above the five-year average, many are expecting natural gas prices to remain depressed throughout the summer and into the fall season.
On the whole, the energy complex faired worse than the broader equity markets as the S&P 500 finished trading over the past five days flat at 1376.92.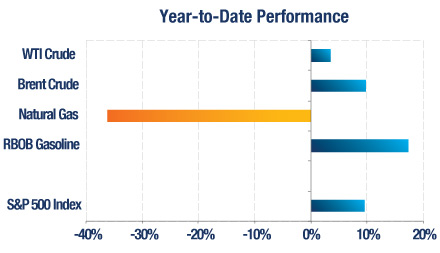 Generated by readers, the comments included herein do not reflect the views and opinions of Rigzone. All comments are subject to editorial review. Off-topic, inappropriate or insulting comments will be removed.