Post-Macondo Insurance Costs Rise, Short-Term Earnings Impact Not Yet Seen
|
Thursday, April 19, 2012
Exploration and production (E&P) companies are currently paying insurance premiums 5 to 10 percent higher than last year for both deepwater exploration in the Gulf of Mexico and on the Gulf shelf following the Macondo oil spill, Andrew Steptowe, managing director for the energy practice of insurance broker and risk advisor Marsh Inc., told Rigzone.com in a recent interview.
Drilling contractors are paying higher premiums than that, approximately 20 percent higher, after getting hit with an increase last year and another increase this year. Third party liability insurance for both E&P companies and drilling contractors has risen, depending on how and where they operate, Steptowe commented.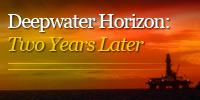 Deepwater Horizon
The Macondo incident is a large claim for a single event, with an estimate cost of $2 billion to $3 billion, though not large compared with claims made from major wind storms in the past few years.
Following Macondo, several insurance companies stopped offering third party liability insurance for the offshore oil and gas market. However, plenty of insurance options are still available from a physical damage point of view, Steptowe said.
Insurance rates have increased due to Macondo as well as other big losses experienced by the global oil and gas industry, including the loss of the floating production storage and offloading (FPSO) vessel Maersk Griffin in the North Sea last year. The market estimate for the FPSO's loss is somewhere between $850 million and $1 billion, Steptowe said. The Elgin well blowout in the North Sea will likely be a big loss as well.
Andrew Schrage, co-owner of Money Crashers Personal Finance, estimates that insurance costs for rigs drilling in deepwater have risen as much as 50 percent due to the Deepwater Horizon incident in 2010, and insurance costs for shallow water rigs have increased by 15 to 25 percent.
This cost increase is anticipated not just for drilling operations in the Gulf of Mexico, but across the entire industry, which could raise the unemployment rate.
Insurance for oil companies is broken down into different components, including:
physical damage
operator's extra expenses
land rigs
oil spill financial responsibility
environmental liability
loss of production income
general liability and worker compensation
While no hard data exists on the breakdown of individual costs, Schrage cited a report by Booz Allen Hamilton, a firm that provides consulting services to the U.S. government, that indicates operators' extra expenses, such as the cost of regaining control of a well, is expected to be targeted by insurance companies for higher premiums, along with general liability coverage for drilling contractors.
"You can also expect to see higher premiums for those wishing to drill in geographical locations where a spill could affect nearby coastal properties, fisheries or areas popular with tourists," Schrage said.
Oil companies are expected to have a more difficult time obtaining insurance in the short-term due to Macondo.
"As premiums continue to rise, the insurance companies themselves are stretched to find the capital they need to underwrite such policies," Schrage said. "Self-insurance is an option, but many small players do not have the resources to fund this method of insurance."
Insurance companies will also surely be taking a much closer look at the safety measures a drilling company has in place, as well as its contingency disaster response plans, before issuing coverage.
"This due diligence can cause drilling companies to implement expensive measures to ensure safety," Schrage added.
The results of this year's presidential election will likely have an impact on insurance costs.
"Should Obama win reelection, it is likely that we will see the return of the CLEAR Act, which among other things, removes liability caps for oil companies following a disaster," Schrage said.
The liability cap currently stands at $75 million.
"Senators on both sides of the aisle attempted to raise this limit to $10 billion shortly after the oil spill, but these efforts were eventually blocked," Schrage commented. "Should a Republican win, we should see the Oil Pollution Act of 1990, which originally introduced the liability cap, remain in place unchanged."
O&G Companies Still Turning Substantial Profits Following Macondo
However, this potential threat has not hampered oil and gas companies' short-term ability to turn substantial profits even after the incident, thanks to advances in drilling and production technology and high oil prices, Schrage noted. The Macondo incident also has not put a damper on global deepwater exploration.
"In the near future, there will be more deepwater drilling rigs in existence than before the spill," Schrage commented.
Even with increased regulations and oversight as a result of the disaster, the cost of these regulations is still among the lowest in the world.
"Imaging technologies have advanced as well, allowing drillers to see beneath the geologic formations," Schrage said. "Before such capabilities were developed, these areas were hidden from view."
O&G Companies Still Turning Substantial Profits Following Macondo
BP reported a 17 percent increase in profits for the first quarter of 2011. However, as a result of having to pay for the cleanup, they had to sell off about 20 percent of its assets, which resulted in an 11 percent decrease in oil production when compared to 2010. Schrage noted that there are still outstanding lawsuits related to the accident, which could cost the company as much as $21 billion more.
Transocean did indeed post a loss of $6 billion in the fourth quarter of last year. However, many were outraged at the fact that the company actually profited $270 million from the disaster as a result of insurance payouts. This occurred because the insurance policy the company carried on the rig had a much greater dollar amount than the actual value of the rig.
First quarter 2012 profits recently announced by Halliburton stand at $627 million, up from $511 million in 2011.
And late last year, shares of Cameron International rose 6 percent. This occurred for the most part because of a $250 million settlement reached with BP.
Generated by readers, the comments included herein do not reflect the views and opinions of Rigzone. All comments are subject to editorial review. Off-topic, inappropriate or insulting comments will be removed.