Slower GOM Permitting Yields Reduced Production
|
Thursday, April 19, 2012
Common sense would suggest that curtailing an activity would yield a lower output; assuming the absence of efficiency gains that would otherwise mitigate the diminished activity levels. Based on observations provided by the Energy Information Administration and the Bureau of Safety and Environmental Enforcement, drilling activities in the Federal Offshore Gulf of Mexico (GOM) waters are following this paradigm; culminating in decreased production. Or in other words, the changed GOM regulatory environment is having an adverse impact on oil production in federal waters.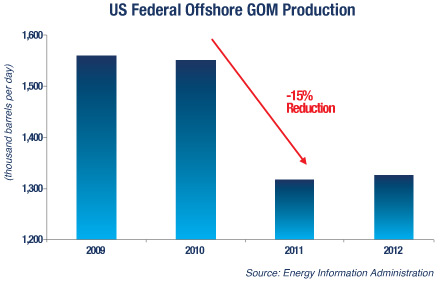 Federal Offshore GOM field production averaged 1.3 million barrels per day (MMbopd) during calendar year 2011, a decline of 15 percent compared to 2010 levels. A reporting lag exists in providing federal production data. Thus, the most recent monthly data available is January 2012. In this most recent month, field production improved 1 percent to 1,326,000 barrels per day (bpd) versus 2011's average. However, current production levels are well below recent peak levels of 1.7 million bpd set in February 2010.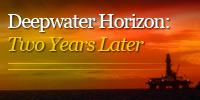 Deepwater Horizon
Subsequent to the April 2010 Macondo oil spill, a six-month moratorium was placed on deepwater drilling and the Mineral Management Service (MMS) was reorganized into three entities: the Bureau of Ocean Energy Management, Regulation, and Enforcement (BOEMRE), the Bureau of Safety and Environmental Enforcement (BSEE), and The Office of Natural Resource Revenue. BSEE is responsible for tracking permits.
During 2011, the BSEE database indicated there were 109 permits for "New Wells" approved. While this is not much change from 2010, when 104 permits for "New Wells" were approved, one must remember that 69 percent of the 2010 "New Well" approvals were processed prior to the reorganization of the MMS and the oil spill. A better gauge would be noting that during 2009 171 "New Well" permit approvals were granted.
Another way of viewing the permitting process is by looking at the number of days between request and approval of "New Well" permits. Prior to the Macondo spill, the MMS was averaging 26 days to approve a "New Well" permit when drilling was conducted in shallow waters. For deepwater projects, the span was 16 days.
Today, BSEE takes 67 days to approve a shallow water well and 70 days for a deepwater well.
Thus, common sense would suggest that crude production in federal offshore waters is on a very slow trajectory toward returning to Pre-Macondo levels.
Generated by readers, the comments included herein do not reflect the views and opinions of Rigzone. All comments are subject to editorial review. Off-topic, inappropriate or insulting comments will be removed.