Obama Calls for Increasing Penalties on Oil Speculators
by Dow Jones Newswires
|
Jared A. Favole & Tennille Tracy
|
Tuesday, April 17, 2012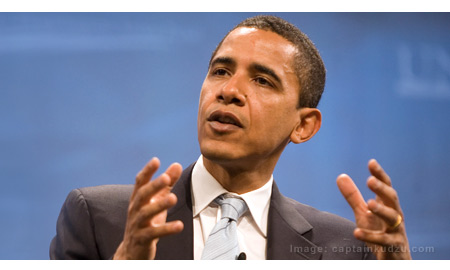 WASHINGTON - President Barack Obama on Tuesday called for increasing penalties on oil speculators and boosting oversight of U.S. energy as part of a plan to crackdown on an "irresponsible few" who rig oil markets.
"Rising gas prices means a rough ride for a lot of families," President Obama said while speaking from the White House Rose Garden. "We can't afford a situation where speculators artificially manipulate markets by buying up oil, creating the perception of a shortage and driving prices higher--only to flip the oil for a quick profit."
The president said Congress should boost enforcement staff at the U.S. Commodity Futures Trading Commission to oversee energy markets and increase penalties for market manipulation to $10 million from $1 million. The penalties would be charged for every day a violation occurs.
The plan is an attempt by the president to counter daily criticisms from Republicans that he isn't doing enough to lower gasoline prices, which have jumped 10% in recent months. It's unclear what impact it would have on gasoline prices. The president acknowledged, "None of these steps by themselves will bring gas prices down overnight."
Energy experts have long debated the role of speculative trading in determining oil prices, the primary factor in gasoline costs. Some experts say these traders play a valuable role by providing liquidity in the commodity markets. Others say they make the market more volatile because they bet on future price swings.
The bulk of the president's proposal would require approval from Congress, leaving its fate partly in the hands of Republicans who control the House. Unlike their Democratic colleagues, Republicans have not showed interest in passing this type of reform. They say restrictions on domestic oil production are playing a primary role in driving up fuel costs.
Republicans were quick to criticize the president's announcement.
"If I were to guess, I'd say today's proposal by the President probably polls pretty well," Senate Minority Leader Mitch McConnell (R., Ky.) "But I guarantee you it won't do a thing to lower the price of gas at the pump. It never has in the past. White House officials admit as much. Why it would it now?"
The president said for anyone who thinks oil speculators can't hurt prices "just think back to how Enron traders manipulated the price of electricity to reap huge profits at everybody else's expense." Enron Corp., one the largest energy-trading companies, filed for bankruptcy in 2001 after a massive accounting scandal.
As part of his proposal, the president is asking Congress for $52 million for the Commodity Futures Trading Commission. The money would be used to hire enforcement staff and upgrade the technology they use to track illegal trading activity.
The CFTC is "already overburdened," a senior administration official said on a call with reporters Tuesday.
The CFTC is already in the process of writing rules to limit speculative trading in oil and other commodity markets. Democrats have accused the commission of moving too slow, however, and have pressed the agency to publish the rules in coming weeks.
The president is also asking Congress to give authority to the CFTC to raise margin requirements on traders who buy and sell oil futures.
The president has said the recent rise in gas prices is the result of global issues, including growing demand from countries like China and India. Also helping to push up prices are concerns over Iran, which is facing tighter sanctions from the U.S. and European Union. Iran is the third largest exporter of crude oil, according to the Energy Information Administration.
Last year, however, when gasoline prices were also on the rise the, the president laid blame on oil speculators.
"The problem is, is that oil is sold on these world markets," he said "and speculators and people make various bets, and they say, you know what, we think that maybe there's a 20 percent chance that something might happen in the Middle East that might disrupt oil supply, so we're going to bet that oil is going to go up real high. And that spikes up prices significantly."
Generated by readers, the comments included herein do not reflect the views and opinions of Rigzone. All comments are subject to editorial review. Off-topic, inappropriate or insulting comments will be removed.