Spanish Prime Minister Says YPF Expropriation Unjustified
by Dow Jones Newswires
|
Juan Montes
|
Tuesday, April 17, 2012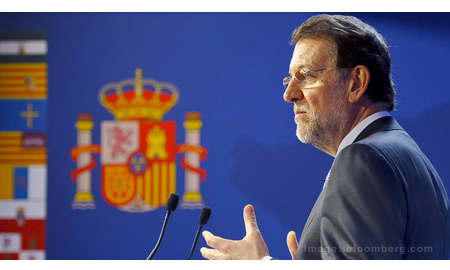 MADRID - Spanish Prime Minister Mariano Rajoy said Tuesday that Argentina's decision to nationalize Spanish-controlled oil company YPF SA has no economic justification and damages the understanding between the two countries.
"This regrettable decision has no economic justification or any reason," Rajoy said at the World Economic Forum's Latin America event in the Mexican Pacific resort of Puerto Vallarta.
Argentine President Cristina Kirchner asked her country's Congress Monday to put 51% of YPF--Argentinina's biggest oil company--in state hands, ousting flagship Spanish energy firm Repsol YPF SA as the majority shareholder.
The Spanish prime minister said the decision by the Kirchner government, which accuses YPF of not producing enough from its concessions, sets a serious precedent and is negative "for everyone."
"What happened yesterday to a Spanish company, could well happen tomorrow to any other investment," he said.
Rajoy said the "good understanding" with Argentina is broken after the expropriation, although he didn't go into details on what actions his government is planning in response. Spanish officials have said the government intends to take legal measures against the expropriation.
Rajoy was quick to stress that it wouldn't have any effect on Spain's relations with the Latin American region as a whole. "International trade shouldn't be tarnished by what I consider specific incidents that could be wrongly interpreted. Rest assured I'll work for that not to happen, because it would be very unfair," said Rajoy, who was accompanied by Mexico's President Felipe Calderon.
Mexico, whose state-oil monopoly Petroleos Mexicanos, or Pemex, holds a 9.5% stake in Repsol, has also criticized the decision by Argentina.
Calderon on Monday said the decision to expropriate YPF violates investment accords and would scare away much-needed private investment for Argentina. Mexico, which holds the Group of 20 presidency this year, has been a champion of free trade in Latin America.
In his speech at the event, Calderon said the world needs "to defeat the protectionist temptation" that some Latin American countries--such as Argentina, but also Brazil--are implementing at a time of economic depression and uncertainty.
"In difficult times, the path for growth is also more free trade. And that requires economic and legal certainty," Calderon said. "Let's bet on the good sense of consumers."
Generated by readers, the comments included herein do not reflect the views and opinions of Rigzone. All comments are subject to editorial review. Off-topic, inappropriate or insulting comments will be removed.
RELATED COMPANIES