Port Fourchon: Charting a Course for Recovery
by Matthew V. Veazey
|
Rigzone Staff
|
Friday, April 20, 2012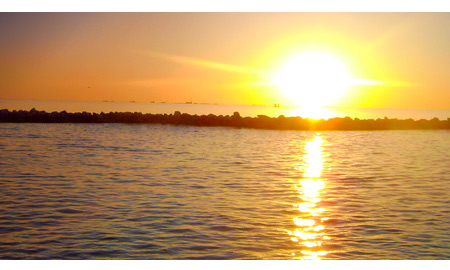 Commanding a strategic location in South Louisiana near the mouth of Bayou Lafourche, Port Fourchon is a key Gulf of Mexico shore base providing services for more than 90 percent of U.S. deepwater production and approximately 50 percent of all drilling rigs in the U.S. Gulf.

Port Fourchon also serves as a link for the country's pipeline and refining network. It sits less than 20 miles away from the Louisiana Offshore Oil Port (LOOP), a key unloading and distribution hub for super-tankers that handles roughly 15 percent of U.S. oil imports. On a typical day, pipelines traversing Port Fourchon carry more than 1.5 million barrels of crude oil. These pipelines provide access to more than 50 percent of U.S. refining capacity.

For thousands of men and women who work in the offshore industry, the port at the southern tip of Lafourche Parish, La., is an important gateway. During any given month, approximately 15,000 offshore personnel pass through Fourchon en route to their next hitch in the Gulf or on their way home for some well-deserved downtime.

On the night of April 20, 2010, Port Fourchon took on another role. In a matter of hours, the port became the focal point for the response, recovery and clean-up effort for the worst offshore accident in U.S. history.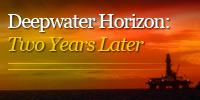 Deepwater Horizon
Most of the 115 survivors of the Deepwater Horizon tragedy were transported from the blazing rig site via an offshore supply vessel. For them, arriving at Port Fourchon early on April 21 brought them one step closer to reuniting with their loved ones at a New Orleans hotel.

As BP and others devised strategies to stop the flow of crude oil from the out-of-control Macondo well, tenants at the premier oilfield supply and services base mobilized to fabricate various devices to contain the flow. Moreover, their expertise was critical in supporting efforts to kill and permanently cement the well.

During the oil spill that affected much of the Gulf Coast, Port Fourchon became a hub for the response collaboration efforts among law enforcement, industry and various local, state and federal government agencies. It even served as a temporary address for oil spill response workers, who lived in floating hotel and tent lodging facilities.

Although the well was finally shut in on July 15, 2010, the port and its tenants faced another challenge in the wake of the Macondo incident: the anticipated economic impact of the deepwater drilling and permitting moratoria enacted by the Obama Administration. The offshore industry is the lifeblood of Port Fourchon, and a protracted slowdown in oil and gas activity in the Gulf would create serious ramifications for the complex. Port Fourchon Executive Director Chett Chiasson was one of many Gulf Coast residents who feared a crushing economic blow was in the offing.

"This action brought our region, a region of constant growth and record low unemployment that was not seeing much negative impact from the struggling national economy, to a screeching halt," Chiasson recalled in an October 2011 commentary in the Thibodaux (La.) Daily Comet newspaper.

Statistics from the Greater Lafourche Port Commission (GLPC), a political unit of the State of Louisiana that owns and operates Port Fourchon, reveal that the 1,700-acre complex supports $8 million in household earnings and $27 million in business sales in a single day. The commission contends that suspending operations at the port for just three weeks would have significant ripple effects nationwide: $9.9 billion in lost sales, a $2.9 billion dip in household earnings and the loss of 77,440 jobs.

Seeking to inject some certainty into a tenuous situation, the GLPC decided to freeze its tenants' escalation fees and reduce basic land rental rates by 30 percent for one year. Chiasson noted that the action meant millions in lost revenue for the GLPC but provided "a little breathing room" for tenants to adjust their financial strategies to survive in this evolving regulatory environment.

Although the moratoria are now officially over, an exodus of deepwater rigs from the Gulf has occurred and should have lingering effects on Port Fourchon's tenants. A prominent Louisiana economist says the loss of these rigs should become more evident to the economy of the Houma Metropolitan Statistical Area (MSA) in 2013. (The Louisiana parishes of Lafourche and Terrebonne are located in the Houma MSA. An MSA is a U.S. Government measure based on a geographic area's population density.)

Loren Scott, a retired economist with Louisiana State University who has tracked the ups and downs of the state's energy industry for nearly four decades, noted the economic fallout for the Houma MSA has been mixed since Macondo. In an October 2011 report he co-authored with fellow LSU economist James Richardson, Scott observed the Houma MSA received roughly $233 million of approximately $1.4 billion in Macondo claims payments that BP had paid out as of August 2011.

The $233 million in claims, equivalent to nearly 3 percent of the Houma MSA's total personal income, largely provided a boost to the area's services and retail sectors and offset lost business elsewhere, Scott explained. However, he said this proverbial silver cloud does have a dark lining.

Given the Houma MSA's strong ties to the offshore oil and gas industry, it is no surprise that related sectors including machinery, fabrication, shipbuilding and water-borne transportation are important to the region's economy. In fact, Scott and Richardson point out that 6 percent of the Houma MSA's employment directly corresponds to oil and gas extraction -- more than twice the statewide average.

Scott observed that fabricators in the area have been busy building offshore platforms or platform components for discoveries made before the Macondo incident. However, with the drop in exploratory drilling since the spring of 2010, Scott expects that a decrease in platform orders will become evident beginning in mid-2013. The softening offshore fabrication market, coupled with the absence of future BP claim payments, creates an element of uncertainty for Port Fourchon and other key players in the Houma MSA.

The GLPC, meanwhile, is moving forward with a 400-acre expansion of Port Fourchon. It is developing "Slip C," which will be 7,000 linear feet long and 700 linear feet wide.

"It will create over 14,000 linear feet of waterfront to meet the demands of the oil and gas industry," Chiasson said.

Chiasson said the pace of business at the port has improved but has not returned to pre-Macondo levels. He noted that increasing deepwater activity in the Gulf has driven much of the recovery. The rebound for shallow water has been considerably less robust.

"Things in Port Fourchon are currently very busy," Chiasson concluded. "We are at about 90 percent of the business that we were prior to the moratorium."
Generated by readers, the comments included herein do not reflect the views and opinions of Rigzone. All comments are subject to editorial review. Off-topic, inappropriate or insulting comments will be removed.