Nicol Pattern Perfects the Art of Technical Modeling & Tradeshow Displays
Nicol Pattern Manufacturing
|
Friday, March 30, 2012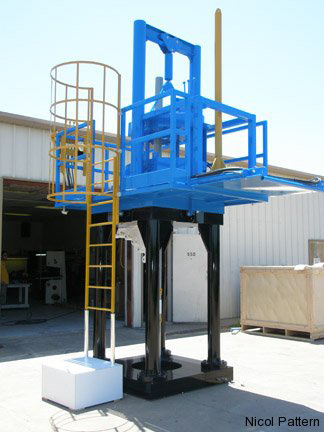 The story of Nicol Pattern Manufacturing and its lineage is also the story of the sweat, skill, and ingenuity of three generations of family. A family-owned, family-run business, the story starts with Martin Leonard Nicol Junior, and is carried on by the fortitude of his son and grandson—three generations of knowledge and skill passed down and cultivated to perfect the challenging craft of pattern-making and tool simulation.
This rich history starts with Martin Leonard Jr., who, at the tender age of 15, worked tirelessly as a floor sweeper at a local shipyard in New Orleans, Louisiana. At the time, Martin could have never imagined mastering the art of pattern making, founding, and operating Nicol Pattern, which has become the high-quality pattern maker, manufacturer, and developer of engineering models and cut-aways for custom technical tradeshows and exhibits.
Those not familiar with the art of pattern making for engineering models would be flabbergasted at the true-to-life replicas that Nicol Pattern builds to exact engineering specification for a variety of tools, buildings, ships, valves, and bits. You see, the beauty of a scalable model is that any portion can be cut away to show the internal working parts and mechanized to better illustrate movement, which demonstrates and helps people understand how a tool works and reacts to different working conditions. Various companies use customizable, scaled models for training or operations purposes, for engaging customers during presentations, for project developments or inspections, or in the development of new tool concepts. Nothing allows you to perform real-world functions of a tool like a practical scale model.
Martin Nicol Junior entered the profession of pattern making in 1952, after returning to Houston to start his own pattern shop, Easy Pattern Works. Prior to this, Martin Jr. had traveled to Guatemala to manage the construction of a plywood company for the Guatemalan Government. Martin Jr. decided to bring his 14-year-old son, Martin L. Nicol III, onboard to teach him the necessary skills of a pattern making. Martin III would later run a small pattern shop out of his garage while he obtained his engineering degree from Texas Tech University in Lubbock.
Upon graduating in 1961, Martin III returned to Houston to work alongside his father and immerse himself in the challenging profession of pattern making. In the mid-1960s, father and son changed the name of Easy Pattern Works to Nicol Pattern and Manufacturing and built a shop on Miller Street off the Gulf Freeway in Houston. Due to an expansion, the shop would later move to a larger facility near Hobby Airport. It was at this point that word of Nicol Pattern's quality reputation started to spread due to their strong relationships with those in the oil industry, and the company was asked to make some huge pattern displays for the Offshore Technology Conference (OTC) held at the Astro Dome. One pattern in particular, a double scale Christmas tree valve, would provide the show's star attraction.
The most amusing part of this story was that Nicol Pattern did such a stellar job of capturing the detail of the real thing with their true-to-life, fiberglass model that the shipping truck was pulled over mid-route by a state trooper and forced on a weigh station. The officer was so convinced that the scale must be broken, he climbed, dumbfounded, onto the flat bed of the truck and knocked on the model. Only then was he convinced that he wasn't looking at a full cast iron tool, and he lightheartedly instructed the driver to continue with his delivery to the conference.
As the business continued to grow, Martin III continued to run operations in Houston, which allowed Martin Jr. to open a second shop in Corpus Christi. Nearly a decade later, Martin Jr. and his son, amalgamated both shops into one larger facility in Shiner, Texas, where Martin III would bring all 6 of his children onboard to teach them the necessary pattern skills to carry on the family business.
In the years that followed, Martin III, was invited by the Peruvian Government to travel to Peru to collect measurements and produce drawings for the design of a replacement stator for their water treatment facilities—a vital resource for the county's population. After the Peru project, Martin III was also asked to travel to India to secure a contract to manufacture a pattern for a full-sized locomotive train. Due to the size, complexity, and the number of core train boxes required for the pattern, Nicol Pattern was the clear choice.
In 1997, Nicol Pattern moved its facilities back to the Houston area to better serve its customers. At this time, the focus turned exclusively to building tradeshow models and exhibits. In 2009 Martin III and his youngest son (of 6 children), Christopher, took the helm. And Chris was a natural—since the age of 12, he'd enjoyed working in the shop so much with his father that he was there every day after school sweeping floors and sanding the projects in preparation for the finishing touches by the engineering team. Eventually, after Chris learned the art of paint and finish work, he started taking on his own projects, which brought him to the realization that he would dedicate his professional career to pattern making and continuing the family business like his dad and grandfather. By the age of 16, Christopher was proficient at reading drawings, setting up, and running all of the machinery in the shop. He particularly enjoyed using the lathes, working alongside his father, and learning from his vast experience.
In 2009, after the sudden passing of his father, Christopher assumed the responsibility of sole proprietor of Nicol Pattern Manufacturing. In 2011, customer demand for rapid production of more accurate models encouraged Chris to automate the entire Nicol Pattern manufacturing environment—complete with fully upgraded CNC machines with full CAD/CAM capabilities to drastically improve accuracy, model replication, and production times.
Today, Nicol Pattern remains known for its artistry in making dynamically realistic models and cut-aways. Whether it's a 1/50 scale model of a massive subsea drilling operation or a 1000/1 scale model showing the internal operation or your down hole tooling, the skilled engineering team will turn the client's vision into true-to-life:
Dynamic mechanical models
Robotic models
Moving models
Suitcase models
Table-top models
Prototype models
Cutaway models
3D models
Cast models
Engineering models
Architectural models
Oil rig models
Acrylic models
Rapid prototyping
All complete with motorized mechanisms, lighting, video, computer controllers, and much more
Nicol Pattern's newest product, the Suit Case Models, is a small and compact sales and demonstration kit, fabricated from a variety of plastics and composite materials to ensure strength and durability. Suit Case Models are packaged in custom, water-tight, foam-lined cases (upon request) and available with a fabric "sock" (for added protection). This virtually indestructible cover will protect your investment during international transport to tradeshows, industry events and sales presentations where they will act as table top models, displaying the performance of various tools, pumps, equipment, etc., and providing a vital visual aid to demonstrate how the real tool works. The beauty of the Suit Case Model product is that it's extremely versatile—constructed from extremely lightweight, polished aluminum, plastic, or composite base—yet strong and small enough to accompany your sales team anywhere. These sales kids provide hands-on demonstrations that can be held, touched, admired, and passed amongst spectators at all important presentations, demonstrations, conferences, industry-related shows, or proudly put on display in the lobby of your office building to greet potential customers.
For more information, visit www.nicolpattern.com.