MMOs: Making Seismic Safe for Marine Life
by Jon Mainwaring
|
Rigzone Staff
|
Monday, April 02, 2012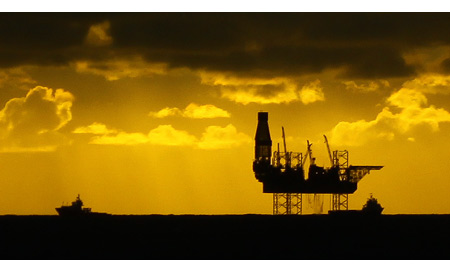 One of the more unusual roles to be found in the offshore oil and gas industry is that of a Marine Mammal Observer (or MMO). The MMO profession is one that has grown out of concern for the wellbeing of certain marine mammals from offshore seismic testing.
With modern seismic surveys being conducted using a towed array of powerful air guns (effectively cylinders of compressed air), there are fears that the resultant pressure pulse that travels to the seabed could be harmful to marine mammals such as whales and dolphins.
Bodies such as the Joint Nature Conservation Committee, which advises the UK government on the marine environment, concede that the extent to which seismic disturbance from air guns affects cetaceans is not well known for all species due to limited research into the area. However, although seismic surveys do not necessarily constitute a threat to marine mammals, the JNCC requires that its guidelines for seismic surveys are adhered to.
JNCC – which also has guidelines for the use of explosives in the marine environment (such as those used in the decommissioning of well heads or platforms) – has responsibility in the UK for the provision of nature conservation advice in the offshore area.
The JNCC's marine advice team works closely with the UK's Department of Energy and Climate Change (DECC), which is responsible for granting environmental consents associated with oil and gas activities. A mandatory condition of consent for seismic surveys is that they comply with the JNCC's guidelines, while the organization's guidelines for use of explosives are considered to be best practice for offshore explosive operations.
Because of this, seismic testing vessels within the UK generally employ MMOs, while even in countries where no government regulations exist regarding the protection of endangered species during seismic testing activities, oil firms with a 'best practice' attitude to the marine environment voluntarily accept MMOs as independent observers.
João Nuno Gonçalves, an MMO currently working in the North Sea, explained his role to Rigzone.
"An MMO is responsible for supervising and advising what a vessel is doing around marine mammals. He needs to be there in case any mitigation actions are needed and to advise the vessel's crew to apply them. MMOs also have a role in educating people onboard about marine mammals," he said. "As an MMO, you are always on duty because you need to record and collect the data so that you can deliver it for scientific research."
In the UK, the JNCC guidelines for minimizing risk of disturbance and injury to marine mammals from seismic surveys include a number of measures.
These measures include such steps as delaying the firing of an air gun array if marine mammals are detected within 1,640 feet (500 meters) of the center of the array, with the delay being at least 20 minutes from the time of the last sighting until a 'soft start'. The soft start involves the slow powering up of the air gun array (starting with the smallest air gun in the array and gradually adding in others) over a period of 20 minutes so that marine mammals have adequate time to leave the area.
Visual observation is the main way MMOs look out for marine mammals but because this can be ineffective during periods of darkness or poor visibility (such as fog), the JNCC states that passive acoustic monitoring (PAM) is the only currently available mitigation technique that can be used to detect marine mammals.
Consequently, many MMOs – including Nuno Gonçalves – are also trained to use PAM equipment. And, for surveys in areas of the UK that are currently considered particularly important for marine mammals -- such as West of Scotland, the Moray Firth and Cardigan Bay -- the JNCC recommends that MMOs are not only experienced but that PAM should also be used.
As well as looking out for marine mammals and advising crew on the JNCC procedures, an MMO is required to produce an MMO report that is sent to the JNCC after a survey has been completed. As well as the date and location of the survey, this report includes such data as the total number and volume of air guns used, the nature of air gun array discharge frequency and firing interval, a record of watches made for marine mammals and details of any problems during the seismic survey.
Instances of non-compliance with JNCC guidelines recorded by the MMO are forwarded on to the DECC. "It's always a decision for the company to follow the guidelines or not," Nuno Gonçalves told Rigzone. "But whenever they are not followed, we have to report that."
Nuno Gonçalves is also qualified as a Protected Species Observer (or PSO), which is the equivalent role to that of an MMO in U.S. waters.
"The Protective Species Officer and Marine Mammal Observer roles are basically the same, but an MMO applies the JNCC guidelines. The PSO applies the BOEM guidelines that are used in places like the Gulf of Mexico," he said. "It's the same role. It's just that some mitigation actions are a bit different. The species are different as well. The BOEM guidelines include the protection of sea turtles, but in the case of the North Sea they are not covered."
On average, Nuno Gonçalves said, he will be on a ship for a month. So, being used to sea life is a major requirement for an MMO as is a background in wildlife observation or marine biology.
"The main specific thing that you need to have is experience at sea, and the ability to identify wildlife. It's a big responsibility. You have to be accurate with your decisions: identification, distance estimations and so on," he said. "That comes with practice, which I had with whale watching [in Portugal] and, of course, always education in a relevant subject is good to have. But for these jobs, it's more important to get experienced people instead of qualified people who've just finished a degree but don't have any experience at all."
In the UK, MMOs need to go on a JNCC training course before they are allowed to work. Once qualified, and working, MMOs can even join their own professional body – the Marine Mammal Observer Association – which works with the offshore oil industry as well as government agencies and NGOs to promote the MMO profession.
As well as having the opportunity to spot whales, dolphins and other species – the main reason why Nuno Gonçalves does the job – the high daily rate of pay is also a draw.
"Compared to what I did in Portugal it's lucrative, especially now with the economic crisis," he said.
And he is based in London because of its excellent links to the rest of the world and the need to be able to join a ship at short notice.
"You have four major airports around you and that gives you a good base to travel from," he said. "You can go any place in the world from here and being one hour from each airport is a good thing."

So far, Nuno Gonçalves has enjoyed his time working as an MMO in the North Sea, off Scotland and off Norway, pointing out that being at sea is a lifestyle he enjoys and spotting wildlife is always an exciting experience.
However, because he has to be prepared to work at short notice it can have its down side.
"It's the instability of it. One day you might go to, say, the Ivory Coast or somewhere else in the world, and you have your backpack ready and then it gets cancelled. It's the worst experience," he explained.
"But for now, it's worth it," Nuno Gonçalves told Rigzone just before leaving for his latest assignment in the North Sea.
Photography supplied by João Nuno Gonçalves.
Generated by readers, the comments included herein do not reflect the views and opinions of Rigzone. All comments are subject to editorial review. Off-topic, inappropriate or insulting comments will be removed.