DECC: Total Mobilizing Rigs for Elgin Relief Well
by Jon Mainwaring
|
Rigzone Staff
|
Thursday, March 29, 2012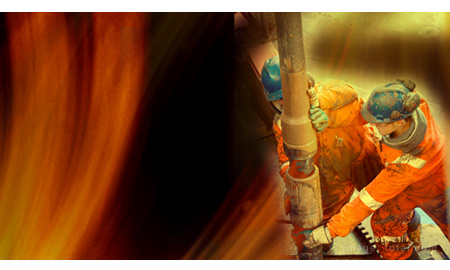 Total is mobilizing two rigs to drill a relief well in efforts to halt a gas leak from the Elgin platform in the North Sea, according to the U.K Department of Energy and Climate Change (DECC). The firm is also seeking a second solution of pumping heavy mud into the well, DECC added.
Total confirmed earlier Thursday that it may have identified the source of the gas leak that caused it to evacuate staff from the Elgin platform on Sunday. Meanwhile, the firm insisted that the still-alight flare on the platform does not pose any immediate risk.
After reports early Thursday morning that Total had a "good idea" of the source of the gas leak on its Elgin platform, a spokesperson for the firm told Rigzone: "We believe the hydrocarbons are coming from a rock formation above the reservoir at a depth of 4,000 meters (13,120 feet)."
On Wednesday evening, Total released a press statement explaining the situation regarding the flare on the Elgin platform.
"The flare is an integral part of the platform's safety system. In an emergency, it is used to safely evacuate all the gas from the platform. During the incident, it performed this task perfectly, allowing everyone to evacuate safely," said Total.
"The flare is still lit because when the platform is shut down and de-pressurized in an emergency, it cannot be fully purged as done in a controlled shutdown. This is perfectly normal. Some liquids do remain in the system and these liquids are now evaporating. As these liquids evaporate, the flow of hydrocarbons to the flare will exhaust itself and the flare should burn out."
The statement concluded: "At present the flare does not pose any immediate risk as the layout is designed to take into account the prevailing wind direction, ensuring that these winds are taking any gas from a potential leak in the wellhead area in the opposite direction to the flare. This is in fact exactly what is happening. The wind is forecast to remain in its current direction for the coming days. You can be assured that this is being reviewed on a constant basis and should this change any impact is being assessed. In parallel we are investigating solutions to extinguish the flare if it does not burn out by itself."
The latest developments came after ratings agency
Fitch on Wednesday morning
described the incident as not being as serious as BP's Deepwater Horizon accident in 2010, although it said that a "worse-than-base-case" scenario where the French major had to shut down the Elgin field could cost Total as much as $7.6 billion – which would include $4.1 billion to compensate its partners in the field.
Generated by readers, the comments included herein do not reflect the views and opinions of Rigzone. All comments are subject to editorial review. Off-topic, inappropriate or insulting comments will be removed.
RELATED COMPANIES