Industry Groups: Obama's Decision A Positive Step But Incomplete
by Matthew V. Veazey
|
Rigzone Staff
|
Thursday, March 22, 2012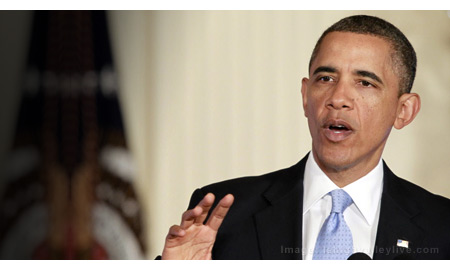 President Obama announced Thursday that he is directing federal agencies to expedite permitting of a portion of the Keystone XL pipeline from Cushing, Okla., to the Texas Gulf Coast. Obama made the announcement during a speech in Cushing, one stop on a multi-state, two-day tour touting his "all-of-the-above" energy strategy.
Allowing construction of Keystone XL southward from Cushing, the U.S. oil storage hub, is expected to relieve a glut of crude by allowing Gulf Coast refiners to receive oil shipments from the Midcontinent. However, project proponents are seeking a presidential permit that would allow the project to proceed farther north in the U.S. and in Canada. Without that section, the refiners would not have pipeline access to diluted bitumen from Alberta's Oil Sands as well as crude from the Bakken Shale.
Key oil and gas industry groups greeted the southern Keystone XL announcement with a mixture of support and longing for bolder action.
"[T]he project the President will visit today, the TransCanada Keystone XL Gulf Coast Project, addresses only part of the problem," commented Andy Black, President and CEO of the Association of Oil Pipe Lines.
"Expanding crude oil production in North Dakota, Montana, Western Canada, of other U.S. producing regions cannot reach the Gulf Coast in sufficient amounts by pipeline. Additional pipeline capacity is also needed from these areas into Cushing and beyond."
"These projects would generate greater consumer benefits by moving more crude oil to Gulf Coast refineries that serve millions of American gasoline consumers," said Black.
Black added that American families in regions with sufficient pipeline access to crude oil and refined petroleum products "often pay less for gasoline" than their compatriots with more limited pipeline access.
"Construction of a portion of the Keystone XL pipeline from Cushing, Oklahoma to Gulf Coast refineries is needed to speed the movement of oil already in the United States and relieve a bottleneck in Cushing, but will do absolutely nothing to give American consumers access to a vital and reliable supply of nearly 1 million barrels of oil a day from North Dakota, Montana and our good friend and neighbor Canada," said Charles T. Drevna, President of the American Fuel & Petrochemicals Manufacturers (AFPM).
"After more than three years of waging war on fossil fuels, it's long past time for President Obama to declare a cease-fire and approve construction of the entire Keystone XL pipeline to serve American consumers," Drevna continued. "He doesn't need to travel across the country for an elaborately staged and costly media event to do this -- he can do it immediately with the stroke of a pen."
The Canadian American Business Council (CABC) welcomed Obama's announcement Thursday in Cushing but expressed hope that the entire project will move forward.
"The development of the Keystone XL Pipeline is something that, we believe, would bring a great deal of prosperity to both the United States and Canada," said Amgad Shehata of UPS and Chairman of the CABC.
"Creating a reliable and, most of all, secure, source of energy that is truly North American is something that will help stimulate recovery on both sides of the border," added Shehata. "We applaud President Obama for his effort and look forward to the completion of the entire project."
"We are encouraged to see the president speed up approval of the southern leg of the Keystone XL pipeline," said Marty Durbin, Executive Vice President of the American Petroleum Institute (API). "We now hope he will speed up the approval of the entire pipeline."
"The benefits of this project are just as real today as they were when the State Department finished its comprehensive, three-year review last fall," continued Durbin.
He added that approving the entire pipeline could help to put downward pressure on consumers' fuel prices because it would bring up to 830,000 additional barrels of oil to the market every day. Also, Durbin said the project would create tens of thousands of jobs.
The Sierra Club, meanwhile, called Obama's move a "political calculation" that will neither lower prices at the pump nor advance the goal of U.S. energy independence.
"This wrongheaded decision will do nothing to lower gas prices and only helps the richest oil companies get richer," said Sierra Club Executive Director Michael Brune.
"The President has vowed to double down on clean energy and we look forward to seeing those plans," Brune added. "We can't afford to hit snooze again on our nation's dangerous addiction to oil, and until the President and Congress make good on promises of clean energy, we are doomed to find ourselves in this mess over and over again."
Another Keystone XL opponent, the Natural Resources Defense Council (NRDC), also criticized Obama's decision, equating the move to compromising pipeline safety.
"It is downright foolhardy to cut corners on safety reviews for permitting the southern segment of the Keystone XL tar sands pipeline – especially when the industry has a history of oil spills," stated Susan Casey-Lefkowitz, director of NRDC's International Program.
"We already know from experience that tar sands oil is more likely to spill and harder to clean up once it spills," concluded Casey-Lefkowitz. "The people of Oklahoma, Texas and the rest of the country deserve better."
In a related story, the Gallup polling organization on Thursday released the results of a survey finding that the majority of Americans want the U.S. government to approve the construction of Keystone XL.
Generated by readers, the comments included herein do not reflect the views and opinions of Rigzone. All comments are subject to editorial review. Off-topic, inappropriate or insulting comments will be removed.