Building On Stability, 2012's Offshore Outlook Appears Bright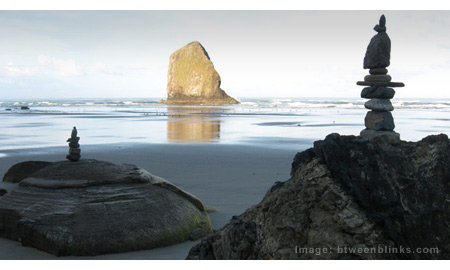 The total number of offshore rigs under contract has shown a high degree of stability over the past eight months. Contracted floaters, rigs capable of deepwater drilling, have not budged relative to the fourth quarter's average. Contracted jackups have fallen by 5 rigs versus the fourth quarter. But both jackups and floaters are in better shape than the third quarter. Looking ahead, oil field service companies like Schlumberger and Transocean recently made comments that hinted of further strengthening in the offshore markets both globally and in the Gulf of Mexico.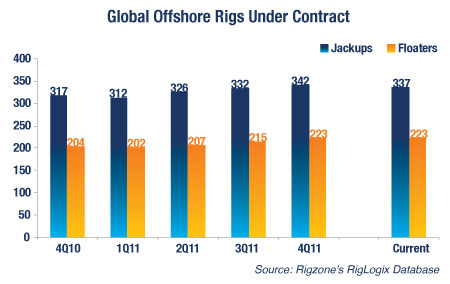 Schlumberger's 4Q11 Conference Call – "We anticipate a continued recovery in the deepwater Gulf of Mexico with strong demand for high-value technologies. In the international markets, we expect 2012 rig count to be up around 10 percent versus 2011, driven by strong offshore activity in West Africa, the North Sea and Brazil…"
Transocean's 4Q11 Conference Call – "While the global economic uncertainty still lingers, our major customers' capital spending budget for 2012 pertains a year-on-year increase averaging around 12 percent to 15 percent."
Worldwide utilization for the mobile offshore drilling fleet has averaged 72.3 percent over the last 12 months. Most recently, utilization was 72.5 percent spanning the entire global fleet. Utilization has been holding steady between a range of 71 to 73 percent since setting a recent low of 69 percent back in February 2011.
Looking at absolute numbers, the count for offshore rigs is up 35 rigs (+11 drillships, +16 jackups, and +8 semisubs) to 560 rigs contracted globally over the past 12 months. On a net basis, the entire fleet of marketed rigs has grown to 772 rigs throughout the globe, up 37 (+17 drillships, +6 jackups, +14 semisubs) rigs versus one year ago.
Currently, there are 60 drillships working (from a global fleet of 78), implying 77 percent utilization. Semisubs number 163 contracted from a total of 213 rigs, also approximately 77 percent utilization. Globally, the jackup segment, the largest of the three groups, has had a dampening effect on the overall utilization with 337 under contract out of a total fleet of 481 rigs or utilization of 70 percent.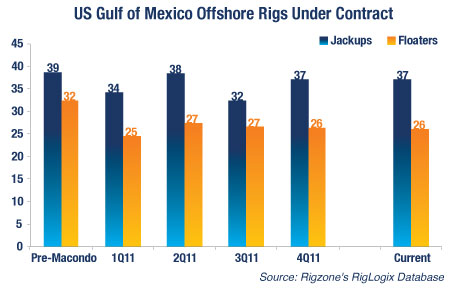 We continue to see a mending and recovery for offshore rig usage, in the Gulf of Mexico (GOM), nearly two years after the Macondo oil spill. However, we would note that there are still 13 fewer rigs working in the region relative to levels prior to the incident. Currently, 89 (10 drillships, 59 jackups, 20 semisubs) rigs are under contract in the region with a combined utilization of 62 percent. Rigs situated in U.S. waters of the GOM comprise 71 percent (100 percent of drillships, 63 percent of jackups, and 80 percent of semisubs) of the mix in the region. The rest of the rigs (i.e. 26 rigs) are in Mexico's territorial waters.
Generated by readers, the comments included herein do not reflect the views and opinions of Rigzone. All comments are subject to editorial review. Off-topic, inappropriate or insulting comments will be removed.