Study Projects 125K-Plus Midstream Jobs Per Year
by Matthew V. Veazey
|
Rigzone Staff
|
Wednesday, March 14, 2012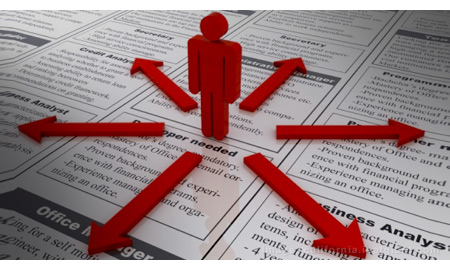 A recent study conducted by Black & Veatch for the INGAA Foundation concludes that $229 billion in U.S. midstream investments will support more than 125,000 jobs per year and spur more than half a trillion dollars in economic output through 2035.
"This study demonstrates the importance of midstream infrastructure in terms of jobs and economic benefits," remarked Don Santa, who serves as President and CEO of the Interstate Natural Gas Association of America (INGAA) and its Foundation.
The Feb. 15 study "Jobs & Economic Benefits of Midstream Infrastructure Development: US Economic Impacts through 2035" projects capital investment requirements in 2011 dollars for natural gas, natural gas liquids (NGL) and oil midstream infrastructure in the Lower 48 U.S. and offshore Gulf. In addition, the study predicts that projects to expand and construct infrastructure to gather, process, transport and store oil, natural gas, and natural gas liquids will generate more than $511 billion in total economic output within the next two and a half decades. Moreover, it finds that federal, state and local governments will collect nearly $57 billion in taxes during the period.
"In addition to creating a consistent stream of construction jobs, this investment also supports operations and management positions, which are higher paying compared with average national wages," added Santa in an INGAA statement announcing the study. "This midstream investment also helps local economies as well as federal, state and local governments."
Job Creation
As the chart below shows, the majority of the estimated 125,339 midstream jobs that would be created in a typical year would be in the natural gas sector. Natural gas would account for 103,029 jobs annually. Oil midstream investments would lead to an average of 12,659 new jobs per year while NGL midstream spending would support 9,651 additional jobs annually.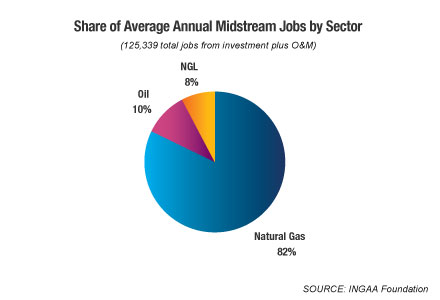 As the map below shows, every region of the Lower 48 stands to benefit from new midstream jobs, with the Southwest set to gain the most in an average year. For the purposes of this survey, the "Southwest" includes Arkansas, Louisiana, New Mexico, Oklahoma and Texas.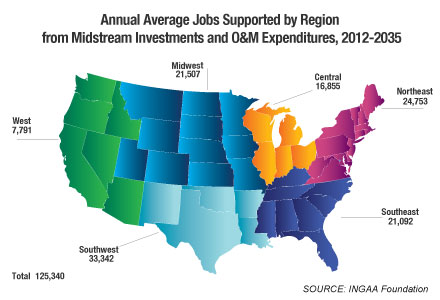 Investments and O&M
The INGAA Foundation study concluded that $511.4 billion will be spent throughout the Lower 48 in midstream investments and operations and maintenance (O&M) through 2035. The map below shows the geographic distribution of this anticipated midstream spending.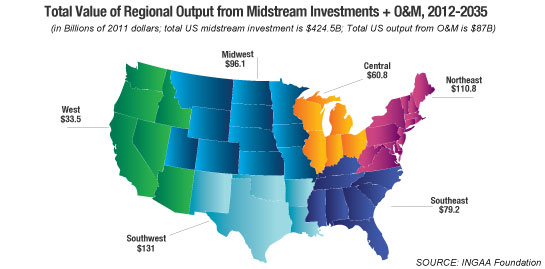 Setting aside the projected $87 billion in O&M spending for the period, one can observe that roughly 47 percent of the $424.5 billion in midstream investments for the period are slated to go to two regions with large shale plays: the Southwest and the Northeast.
Looking beyond the $511.4 billion figure for investments and O&M, it is clear that total impact of midstream projects over the next 23 years should have a roughly $1.2 trillion total economic impact throughout the Lower 48. An estimated 14 percent of this total will go to labor income (wages and benefits), while 21 or 22 percent will go to value added, which refers to a firm's sales revenue less the cost of goods and services purchased. State and local governments can expect a 2-percent share of the total in tax revenues while 3 percent represents federal taxes.
The following graphs provide a breakdown of the cumulative impact of midstream investment and O&M for natural gas, oil and NGL.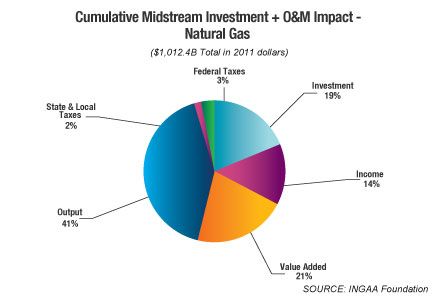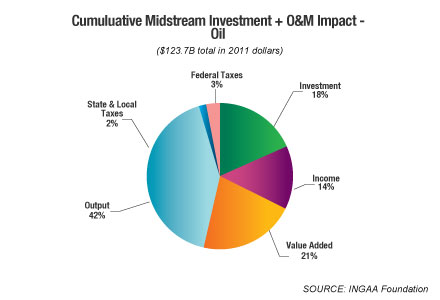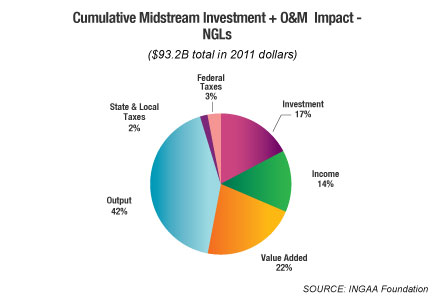 The above graphics highlight some of the study's conclusions in terms of job creation and capital spending and the projected geographic distribution of each. If you would like to review the INGAA Foundation's midstream study findings in greater detail, click here to access the report on INGAA's website.
Generated by readers, the comments included herein do not reflect the views and opinions of Rigzone. All comments are subject to editorial review. Off-topic, inappropriate or insulting comments will be removed.