Forum Subsea Goes Deep with New Tomahawk ROV
by Forum Energy Technologies
|
Press Release
|
Tuesday, March 13, 2012
Forum Subsea Technologies, a world leading manufacturer and supplier of subsea equipment, has officially launched Tomahawk, the latest addition to its class leading range of multi-role remote operated vehicles (ROVs).
Tomahawk has been built to be fast and agile and it shares the same 35kw power system and thrusters as Forum's largest electric, the Comanche. It is manufactured by Sub-Atlantic, a product line of Forum Subsea Technologies, at its facility in Aberdeenshire, Scotland.
Forum's Sub-Atlantic product range includes the class-leading Comanche, Mohican, Super Mohawk, Mohawk, Mojave and Navajo Electric ROV Systems and subCAN high-speed communications data network system. Forum Subsea Technologies is also the leading propulsion supplier to work-class ROV builders, globally providing Sub-Atlantic hydraulic thrusters, hydraulic power units (HPU), valve packs, compensators and pan and tilt units.
"The Tomahawk has been designed and built in response to customers' needs for a dependable and adaptable multi-role ROV that can deploy and operate in demanding environments," explained Mick Jones, senior vice president of Forum Subsea Technologies.
Tomahawk's open deck space and payload are supported by a large buoyancy area, which provides a very stable platform. It is rated to a depth of 9,842.5 feet (3,000 meters), which makes it ideal for deep-water operations such as the Gulf of Mexico, West Africa, and Brazil. It is also well suited to a variety of uses including survey, well intervention and drilling support tasks.
Relative to electro-hydraulic work-class systems, Tomahawk reduce the quantity of personnel and the level of specialism required to operate it. In addition, it requires less vessel deck space and minimal capital.
The Tomahawk is also equipped with Coarse Wave Division Multiplexing (CWDM) and dual gigabit Ethernet options and communication junction box to easily integrate the operators' own equipment, which can be monitored, controlled and diagnosed by Forum Subsea's Sub-Atlantic subCAN system. Combined with Sub-Atlantic's 3,000v, 400Hz small diameter tether technology makes the Tomahawks speed and agility ideal for live-boating operations.
It can also be equipped with a 10kW hydraulic power unit for running heavy-duty manipulators, tools and work skids.
The Type 4 Tether Management System (TMS) allows the tether to be connected to either rear or top of the Tomahawk. With the tether fitted to its top, it may be garaged facing in our out of the TMS. Garaged facing inwards, it may simultaneously carry camera boom arms on the front and TSS440 search coils on the rear. Garaged facing outward, Tomahawk can be fitted with manipulators (front) and intervention tooling (rear).
"As Forum Subsea Technologies, we have created an unrivalled range of premium ROV products and supporting services. We are positioned to support our customers through our global sales team and our worldwide network of distributors and service centres," Jones said.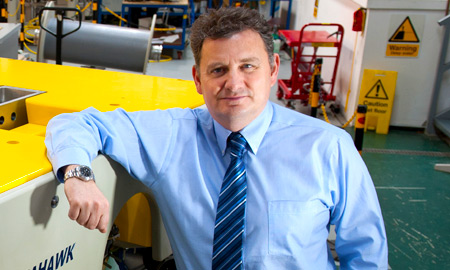 Generated by readers, the comments included herein do not reflect the views and opinions of Rigzone. All comments are subject to editorial review. Off-topic, inappropriate or insulting comments will be removed.
RELATED COMPANIES