Beach Sees 1st Oil from North Shadwan Concession
by SubseaIQ
|
Beach Energy Press Release
|
Tuesday, March 13, 2012
Oil production commences from the NS377 field in Beach's North Shadwan concession with oil flowing via a tie-in to Petrobel's nearby Ras Ghara oil facility and then by pipeline to the main Petreco Oil Centre at Abu Rudeis.
Beach Energy Limited announced Tuesday first oil production from its North Shadwan concession. The oil from the NS377 oilfield will be treated at the Ras Ghara plant before being piped to the main Petreco Oil Centre and marine terminal, 75 miles (120 kilometers) to the north.
Initial production via the pipeline will be restricted to approximately 1,000 barrels of oil per day (bopd) with further production from the NS377 field to be handled via a trucking operation, which is expected to commence in 2Q 2012.
In the nearby NS385 oilfield, planning is underway for the drilling of the first development well, which is expected to spud prior to the end of 2Q 2012.
By 1Q 2013, it is anticipated that production from NS385 will be added to NS377 production, resulting in North Shadwan producing up to 5,000 bopd (gross).
The North Shadwan joint venture partners have also applied for a development lease over the NS394 oil discovery with the development expected to commence in 2013. Production from NS394 is anticipated to commence in 2014 at an expected flow rate of up to 7,000 bopd (gross).
The Joint Venture equity interests in North Shadwan are Beach (via wholly owned subsidiary Beach Petroleum (Egypt) Pty Ltd), 20 percent; BP Exploration (Delta) Limited, 50 percent; and operator, TriOcean Energy Company, 30 percent.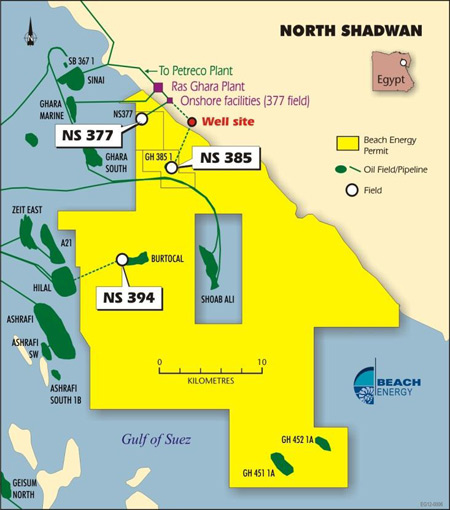 Generated by readers, the comments included herein do not reflect the views and opinions of Rigzone. All comments are subject to editorial review. Off-topic, inappropriate or insulting comments will be removed.