Dubai Maritime Locks in 25-Year Land Lease
by Drydocks World
|
Press Release
|
Tuesday, March 13, 2012
Dubai Maritime City, the world class center for maritime activity in the Middle East region, announced Tuesday that it has signed a Land Lease (Mustaha) agreement for 25 years with ship repair and building entity, Dubai Shipbuilding.
The Agreement was signed by Sheikh Juma bin Thani bin Juma Al Maktoum, Executive Director – Business District, Dubai Maritime City, and Bader Moh'd Obaid bin Mubarak, Deputy Chairman, Dubai Ship Building.
The area of the land is over 11,196 square meters and is a Ship Repair Plot within the Business District of Dubai Maritime City.
"We continue to strengthen our operations in Dubai Maritime City, since the formal launch of the Maritime District last year. This partnership will help us take greater strides at promoting the region as a global maritime hub. We are keen to promote local and international players within the City, which will be a unique meeting point offering wide-ranging choices for the industry," said Khamis Juma Buamim, Chairman of Drydocks World and Maritime World.
Bader bin Mubarak, commented, "Dubai Maritime City, being the mammoth project that it is, has been a part of our long term planning for relocating our extensive projects. The perceptive new management headed by the honorable Chairman, Khamis Juma Buamim and His Excellency Sheikh Juma bin Thani Al Maktoum, have provided the impetus which has once again ignited our trust in Dubai Maritime City. Being a part of the maritime history of Dubai and representing the national spirit, we at Dubai Ship Building aim to partner with the pioneering group of Drydocks World and Maritime World to further strengthen the Maritime Industry within the region and bring into focus national proficiency."
Maritime activity in Dubai Maritime City primarily revolves around the Maritime and Business Districts. The Maritime District is built on 148,989 gross square meters of land and will be center for marine and maritime related facilities and the Industrial Precinct of the Business District will cover a gross area of 519,780 square meters, consisting of industrial and retail facilities.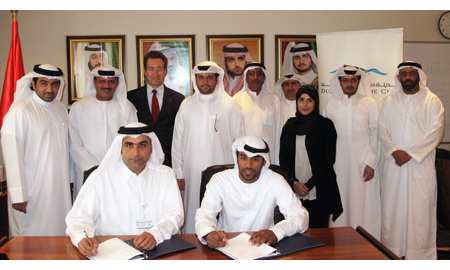 Generated by readers, the comments included herein do not reflect the views and opinions of Rigzone. All comments are subject to editorial review. Off-topic, inappropriate or insulting comments will be removed.