The Luck of the Irish: an Oil Boom for the Emerald Isle?
by Jon Mainwaring
|
Rigzone Staff
|
Friday, March 16, 2012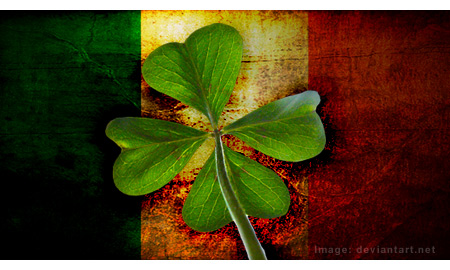 Amid controversy concerning the development of a gas field offshore west of Ireland, junior explorers are drilling around Emerald Isle's coast with the knowledge that there are hundreds of millions of consumers hungry for hydrocarbons in Britain and mainland Europe.
Ireland is a country that has seen interest in the oil fields that exist in its waters since the 1970s. But while the 1980s and 1990s saw little drilling and development take place due to low oil prices and difficulty in getting at resources, a combination of a high oil price environment and improving technology, not to mention a more favorable fiscal policy towards explorers and producers, is seeing interest in Irish oil and gas pick up.
Providence Resources, an Irish junior explorer whose shares are traded on London's Alternative Investment Market as well as the Irish Stock Exchange, is perhaps the best place to start when attempting to understand the potential future of Irish oil. This is because the firm holds offshore interests all around the Irish coast.
Providence has existed in one guise or another since the 1970s. It is active in the Irish portion of the Celtic Sea (a stretch of water that extends from the coast of southern Ireland to the coast of Brittany in northwest France), and holds interest in assets in the Irish Sea (between Ireland and Britain), the St. Georges Channel (which connects the Celtic and Irish Seas) and in the Atlantic Margin (offshore west of Ireland).
The firm's long presence in Irish oil exploration has allowed it to steal a march on other oil companies because (and this is not surprising given the huge interest in the North Sea since the late 1960s) the Irish oil sector has not been taken seriously until recently, according to Providence CEO Tony O'Reilly junior.
Tears of Joy
"The licenses we picked up off the west coast of Ireland, there was no competition," he told Rigzone in a recent interview. "The fact that there was a successful licensing round in 2011 is an endorsement that people are waking up to Ireland. But we did it 7, 8, 9 years before while some of our licenses go back to our predecessor companies in the 80s."
"We've been at this for a long time. We've got the active portfolio now but when we applied for some of this stuff on the Atlantic Margin off the west coast, we were the only people who actually made an application. At the Irish government, the Petroleum Affairs Division, there were nearly tears of joy because here was a company actually coming along and making an application. Nobody was interested in Ireland."
Interest in Irish oil and gas has certainly increased during the past few years. Providence has relationships and partnerships on some of its assets with the likes of ExxonMobil, ENI and Repsol – all heavyweight names in the oil industry.
Meanwhile, the Corrib gas field, which was discovered in 1996, has been operated by Royal Dutch Shell since 2002 when the Anglo-Dutch company acquired the field.
The Corrib field, some 50 miles offshore west of Ireland and estimated to contain some one trillion cubic feet of gas in place, has been highly controversial in Ireland. Some people who live close to the field's onshore gas processing facility in County Mayo have been opposed to the development for years and recent events have seen protestors flouting the law and ending up in jail.
Shell argues that the field, which is the first commercial gas discovery in the Atlantic Margin, will be good for the people of Ireland.
"They get energy security. [Ireland] also gets a huge amount of investment," a Shell spokesperson told Rigzone. "Just going back to January this year, we announced a EUR 800 million [$1.1 billion] investment to complete construction."
Despite the obvious strong feeling around the Corrib field's onshore facilities, and the fact that environmental opposition to almost any new energy development in Western Europe is almost a certainty in the 21st Century, the point about employment and economic benefits is an important one.
Indeed, an economic study of the Corrib project by Goodbody Economic Consultants estimated that before gas begins to flow from the field in 2014 some 815 jobs will have been created in the Irish economy, while once the field is operating some 130 jobs will be supported by it. And over the life of the project, it is expected to contribute several billion dollars to the Irish economy.
Ireland is among a handful of Eurozone countries that has taken the brunt of the impact of the financial crisis that emerged four years ago. With Irish gross national debt at more than 100 percent of gross domestic product in 2011, only Greece and Italy have greater debt burdens in the EU. Meanwhile, the unemployment rate in the country is around 15 percent while many of those who remain in work, particularly public sector workers, have seen substantial cuts to their salaries.
So, for a small country like Ireland, the numbers of jobs created by hydrocarbon projects such as Corrib along with the benefit to its fragile economy in terms of energy produced and contribution to GDP are not insignificant.
Focus on Barryroe
In terms of new exploration, many Irish eyes are currently focused on the North Celtic Sea, where Providence is testing its recent Barryroe oil find to see if it can become commercial. At the end of February, the company confirmed the presence of high-quality light oil within a potentially extensive sandstone system at its Barryroe appraisal well, with wire-line logging data showing the presence of 41 feet of net pay and the oil gradient being consistent with that of light 40-degree API crude oil.
And on Thursday this week, Providence reported that a flow test at Barryroe had been a success with the well flowing at around 4,000 barrels of oil equivalent per day. Testing at the well continues.
Providence, the operator, holds a 50-percent interest in the field, while partners San Leon Energy and Lansdowne Oil & Gas hold 30 percent and 20 percent respectively.
O'Reilly's colleague, Providence Technical Director John O'Sullivan, told us that the firm has encountered oil-bearing reservoirs at Barryroe that have three times as much pay than anticipated and that the reservoir looks good. This is likely to increase the interest in other prospects to the south and east of Ireland, he added.
O'Sullivan believes there is plenty of potential in Irish waters but there's not been enough drilling.
"That's why we, as a company, have launched the largest-ever concerted exploration program, targeting multiple basins and multiple plays right around the coast. We've identified within each basin a prime mover project, which is called the pathfinder, and each one of these wells can open up the basins," O'Sullivan said. "So, again, I go back to Barryroe. The first well has come up trumps, which is great when you start a program and the first well works."
But perhaps the biggest potential for Irish oil lies not in the south and the east, but to the west in the Atlantic Margin, where the Irish government's Petroleum Affairs Division believes there are potential reserves of some 10 billion barrels. And last year the PAD auctioned off more licenses to explore in this region.
Providence's O'Reilly is enthusiastic about the Atlantic Margin.
"I think spatially when you look at the area, you've got to realize it's a massive area off the west coast of Ireland. It's a lot bigger than the North Sea and offshore UK. so it's a massive footprint and it's a massive footprint that has been under-drilled. And yet, even with the scarce drilling that has taken place, there have been a number of discoveries," he said.
"Translating discoveries, however, into commercial propositions is another matter... The things that worked against hydrocarbon discoveries in the 70s and 80s being commercialized offshore Ireland, whether it was the lack of infrastructure, technological challenges, the fiscal regime at the time or the price tag for either oil or gas – all those elements which mitigated against the successful conversion and commercialization of hydrocarbon discoveries – now work in our favour," he continued.
Favorable Fiscal Regime
O'Reilly explained that Ireland now has infrastructure in place, in terms of installed pipelines, that can take gas to the UK, while technology that is being deployed today is leaps and bounds ahead of where it was in the 1970s and 1980s.
"So suddenly something in 300 meters (984 feet) of water, 175 kilometers (109 miles) off the west coast of Ireland that would maybe have been seen as a challenging operating environment is now sort of a doddle relatively speaking."
The fiscal regime for resources businesses of 25 percent tax on company profits, which increases to 40 percent depending on the size of any commercial discoveries, also favors oil exploration, according to O'Reilly.
"It has been designed as such by a series of Irish governments to attract inward investment. So, you do have a good fiscal regime," he added.
"And then, of course, the most important element, which is benefiting everybody, is the pricing environment. At an oil price of $125 per barrel, things that previously would never have been considered now can be considered...that means projects that may have been a lot more technically, and therefore commercially, more challenging suddenly are no longer an issue."
Job Langbroek, an oil analyst at Dublin-based stockbroker Davy, is more cautious about the Atlantic Margin estimate of 10 billion barrels of oil, however.
"These are studies done by the Petroleum Affairs Division, right? At the various global conferences where countries promote their oil and gas industries you'll find the Irish Petroleum Affairs Division and, what are they going to say? They're not going to say there's no oil," he said, explaining that although there might well be 10 billion barrels in the Atlantic Margin the figure is only an estimate.
"It's just risk analysis. The best, most sensible, thing you can say at this stage is that the prize is big enough to reward spending money on it, so that the rewards more than compensate the risks."
Oil Could Be Serious Contributor to Ireland
Despite this caution, Langbroek reckons that more discoveries could be made offshore Ireland and that the oil sector in the country might develop further, with the obvious benefits for the Irish government in terms of tax revenues.
"It could be a very serious contributor. There has to be an assumption that the first wave of discoveries, or the existing licenses, are protected and that no higher taxes are grandfathered. In other words, nothing is made retrospective," he said.
But once a series of discoveries and hydrocarbon fields are developed, licenses could be issued that might see Ireland's currently generous tax regime become more in line with that of its neighbor: the UK.
"The only way the UK has taxes at 62.5 percent is because they can get away with 62.5 percent. I'm not saying for a moment that it will go to that level here, but it's probably a reasonable expectation that when the risk is reduced offshore Ireland, then taxes will go up," he added.
The further benefit to Ireland of major discoveries would be the 'multiplier effect' on regions that would service a growing oil and gas industry.
"When you build an oil and gas industry, you've got onshore facilities, you've got to provide helicopter facilities, you've got to provide tooling centers, you've got to provide service centers," Langbroek said. "I mean, look at Aberdeen. Look at the multiplier effect of the North Sea oil and gas industry on Aberdeen. Aberdeen is about the only city in the UK that never has a recession."
But before Ireland can even think about getting to that stage, it needs to attract far more serious interest from oil majors and leading independent explorers. And the evidence from last year's Atlantic Margin licensing round does not yet suggest Irish oil is being taken seriously enough.
"It was quite successful in terms of actually getting licenses out there but it didn't have an awful lot of huge, big frontier names on it. There were a lot of small companies, a lot of very good small companies, but you didn't have any huge, big leadership positions taken by the global giants," said Langbroek.
While majors like Exxon and ENI are involved in the Atlantic Margin, so far in a relatively small way, the list of companies that took up licenses in the 2011 round was dominated by junior oil explorers.
"It's fantastic to have them and they are very smart guys but it's not like a North Sea list. You don't have any super independents. You don't have an Apache or an Anadarko or a Tullow with leadership positions," Langbroek pointed out.
So whether some of these significant companies decide to take the plunge into Irish oil seems to come back to Providence and the success of its drilling campaign, of which Barryroe is only a part.
Next up for Providence is the Dalkey Island prospect – a shallow-water hydrocarbon target in the Kish Bank Basin, which is around seven miles (11 kilometers) offshore Dublin. Drilling here is set to take place in the second half of this year.
"Its prognosis is oil, although it could be gas. But in either case, because it's relatively close to shore and in shallow waters, low drilling costs, basically anything you find will be commercial," said Providence's O'Reilly.
Then there's the Dragon gas field in the St. George's Channel. Previous work here has suggested in place resources of up to 100 billion standard cubic feet of gas with a 25 percent/75 percent split between Ireland and the UK.
Perhaps of most interest, though, will be Providence's Spanish Point/Burren and Dunquin licenses in the Porcupine Basins offshore west of Ireland. Here the firm has farmed out interests in its licenses to Chrysaor and Exxon respectively, with seismic being acquired. Spud dates are still to be decided, however.
500M Hydrocarbon Consumers on Ireland's Doorstep
"We're hoping that our efforts will drive a lot of changes in the perception of Ireland and will attract more investment towards Ireland. And, obviously, that would be good for us because we think people would want to talk to the company that's been there the longest, got the most acreage and co-ventures very successfully with a whole host of companies," said O'Reilly.
Pointing to the recent bid interest in East Africa-focused Cove Energy from a number of major suitors, O'Reilly told Rigzone that this is a good example of how the oil industry can move very quickly.
"I mean, if you'd mentioned to anybody about the Rovuma Basin four years ago, they would have said 'Where?' Who'd have thought of Mozambique? And now, suddenly, it's one of the hottest areas," he said.
"The one thing I've always said, and it's always slightly bemused me, is that here we are, with massive acreage offshore Ireland, huge prospectivity, massively undrilled and you've got five hundred million consumers to your right looking for hydrocarbons. So, we don't have to go and find a market."
Who knows whether the Irish will receive a great dose of their renowned luck when it comes to oil but, as the Dublin-based oil analyst Langbroek, told Rigzone: "If Barryroe works the way we all hope it does, then all of a sudden we're going to have commercial oil offshore Ireland and that just changes the game."
Generated by readers, the comments included herein do not reflect the views and opinions of Rigzone. All comments are subject to editorial review. Off-topic, inappropriate or insulting comments will be removed.
For More Information on the Offshore Rig Fleet:
RigLogix can provide the information that you need about the offshore rig fleet, whether you need utilization and industry trends or detailed reports on future rig contracts. Subscribing to RigLogix will allow you to access dozens of prebuilt reports and build your own custom reports using hundreds of available data columns. For more information about a RigLogix subscription, visit
www.riglogix.com
.