Anadarko Reaches Resolution With Algeria's Sonatrach
by Dow Jones Newswires
|
Angel Gonzalez
|
Friday, March 09, 2012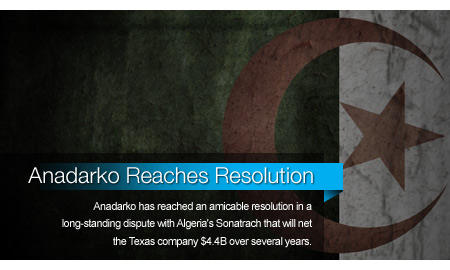 HOUSTON - Anadarko Petroleum Corp. said Friday that it reached an amicable resolution in a long-standing dispute with Algeria's Sonatrach that will net the Texas company $4.4 billion over several years.
The agreement, which must be ratified by the Algerian government, will provide Anadarko about $1.8 billion worth of additional crude volumes in the 12 months following the official sanctioning of the deal. Anadarko said it expected government approval within four months.
Also, the production-sharing agreement tying both companies will be amended to give Anadarko a bigger share of profits from the companies' joint operations, which at current prices would mean an extra $2.6 billion in net value over the remaining term of the deal.
The tax dispute between Anadarko and state-owned Sonatrach was sparked by a 2006 Algerian tax law on windfall profits. At the time, oil-rich governments from Russia to Venezuela, emboldened by rising prices for energy, sought to recast the terms of the deals they had signed with foreign oil companies when crude was cheap.
Anadarko maintained that its contract with Sonatrach required the state-oil company to bear the tax burden. After years of back-and-forth, Anadarko began arbitration proceedings against Sonatrach in 2009.
"We are very pleased to have reached a fair and balanced resolution that will return significant value to Anadarko," said Anadarko President and Chief Operating Officer Al Walker. "This amicable solution maintains our long-standing partnership with Sonatrach that has achieved tremendous success in Algeria."
Generated by readers, the comments included herein do not reflect the views and opinions of Rigzone. All comments are subject to editorial review. Off-topic, inappropriate or insulting comments will be removed.
RELATED COMPANIES