Firefighters Undergo Training for Marcellus Shale Wells
by Karen Boman
|
Rigzone Staff
|
Monday, March 12, 2012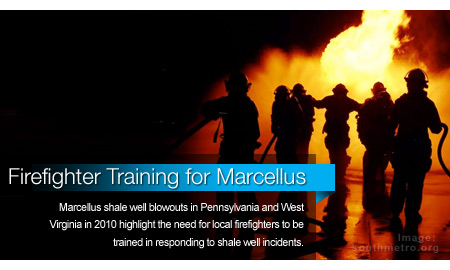 Marcellus shale well blowouts in Pennsylvania and West Virginia in 2010 highlighted the need for local firefighters to be trained in responding to shale well incidents.
While exploration and production activity has taken place in Pennsylvania over the past century, wells previously drilled before the Marcellus shale boom happened did not involve fracking, and were low-pressure, shallow wells. This new type of well meant firefighters, as well as other first responders such as paramedics, law enforcement and hazardous material personnel, needed to know how to respond to a range of potential incidents.
Houston-based EKT Interactive Inc., which offers training for safety, new hires, and large system implementation, designed and developed a series of interactive fire and safety workshops that would train trainers, who would then go out and train other firefighters.
At the time of the 2010 blowouts, the Marcellus Shale Coalition and the Pennsylvania Independent Oil and Gas Association were already planning to develop a program to train firefighters and first responders such as EMS/EMT technicians, law enforcement and hazardous materials personnel.
EKT – which stands for energy knowledge transfer – got involved at this point in designing the training program. The Pennsylvania State Fire Academy conducted the training, which was part of a new wellsite emergency response training program across Pennsylvania. To date, more than 4,000 First Responders have been trained -- all firefighters in Pennsylvania are volunteers, and attendance of training of any kind is voluntary. Training took place at night and on weekends to fit around the firefighters' schedules.
EKT designed the toolkit provided to Pennsylvania State Fire Academy Trainers to make them self-sufficient in explaining the complexities of managing wellsite emergency incidents, and includes a wellsite emergency response handbook; class exercises and case studies; industry videos and summary quick reference guides for the First Responder audience.
The training covered some basic principles that firefighters should adhere to, the first of which is not to block the road near a wellsite. Other basic rules include finding the operator's representative on the site and knowing not to jump into the fracking pools to rescue someone who has fallen in.
At well sites, the names of all the companies involved, including the operator and service companies, are posted on the fence, which can lead to confusion over who is in charge. The pools have a 45 degree slope and are lined with plastic, so anyone who falls in won't be able to climb out. Instead, a ladder or rope would have to be thrown to them from the side of the pool.
The course also covered a lot of basics about oil and gas drilling.
"We thought we were giving them too much, but they were interested," said Marty Stetzer.
The trainer package also has been presented to the Southern Tier Fireman in New York State in the event that Marcellus shale drilling moves forward in that state.
A percentage of funds from the impact fee that will be assessed for Marcellus drilling activity in Pennsylvania will go towards developing and sustaining training programs for first responders and acquiring emergency response equipment, as well as emergency response planning, training and coordination associated with shale gas development.
That impact fee is part of a bill that was signed into law last month by Pennsylvania Gov. Tom Corbett.
EKT staff and associates, which has offices in Houston and Pittsburgh, has consulted with a number of Marcellus shale operators, including Baker Hughes, Hess, Shell, Schlumberger and Columbia Gas.
Worker training within the oil and gas industry is evolving to adapt to the busy schedules of oil and gas professionals. Scheduling class-based training, even one-day training programs, is difficult; as a result, web-based training has become common, Stetzer noted. A number of larger companies are conducting training internally, but there is still need for companies that offer training programs such as EKT.
Generated by readers, the comments included herein do not reflect the views and opinions of Rigzone. All comments are subject to editorial review. Off-topic, inappropriate or insulting comments will be removed.