Bagis: Turkey's Patience is Running Thin over Cyprus
by Dow Jones Newswires
|
Laurence Norman & Alessandro Torello
|
Thursday, March 08, 2012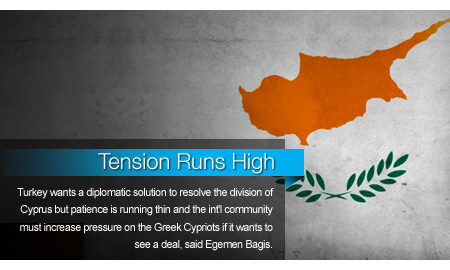 BRUSSELS - Turkey wants a diplomatic solution to resolve the division of Cyprus but patience is running thin and the international community must increase pressure on the Greek Cypriots if it wants to see a deal, the country's Europe Minister Egemen Bagis said Thursday.
In an interview in Brussels, Bagis also said his country remains committed to the accession talks with the European Union and believes it can join within a decade. However, he hit out at what he called Nicosia's "silly, spoilt" behavior in holding up talks.
Bagis' frustration speaks comes in what many analysts expect to be a difficult year for Turkey-EU relations as Cyprus prepares to take the bloc's presidency in July. Aggravated by the lack of progress to broker a deal over the island, Turkey has said if there is no solution when Cyprus takes up the presidency, Ankara would break off some talks with the bloc.
In an interview with a Cypriot paper last week, Bagis seemed to signal that Turkey could annex Northern Cyprus if unification talks stall. Thursday, Bagis said annexation remained "one of the options" but only if the talks were at a dead end and the Turkish-Cypriot population favored it.
"Whose patience isn't" running out, he asked. "Look, I'm sure the Cypriots want to know what's ahead of them, Turkey wants to know what's ahead of us, Greece would like to know ... So everyone has a vested interest in solving the question. The problem is there is not as much pressure on (Cypriot) President (Demetris) Christofias."
Bagis said the "process has to have a punishment and a reward mechanism--a carrot and a stick--for both sides" for progress to be made.
Rhetoric over ownership of possible oil and gas deposits has aggravated deteriorating relations between Ankara and Nicosia, following the discovery of massive gas fields by Israel and plans by Cyprus to drill as early as next month.
Ankara has said any drilling should wait until the island--divided since 1974, when Turkey invaded Cyprus in response to a Greek-backed coup--is reunified.
The Republic of Cyprus is an EU member state, but isn't recognized by Turkey. By contrast, Turkey is the only country to recognize the administration of the government of the island's ethnic-Turkish North.
Bagis pointed to Nicosia as the prime culprit in bogging down the accession talks.
Turkey started talks with the EU in 2005 but the failure to normalize ties with Nicosia and open skepticism from the likes of France and Germany have meant progress has been very slow. Any EU member state can veto a country's accession.
Since 2005, Turkey has opened 13 of the 33 policy areas that accession talks deal with but it is almost two years since the last chapter was begun. Turkey says Cyprus is blocking talks on everything from justice to education policy to energy, where Ankara has a key role as the EU looks to lessen dependence on Russian gas and oil.
"Seventy percent of the energy resources Europe needs are either to the south, north or east of Turkey and we cannot open the energy chapter because the Greek Cypriots are blocking it," he said. "It's against the European interest ...Why is Cyprus acting in this manner, in this silly, spoilt manner."
Still, Bagis said Turkey was committed to the accession process, believing it made the country stronger and would eventually yields results. He said that within the next decade, Turkey would "definitely" be invited to join the EU.
He said that when that happens, the EU, which is currently enduring a deep debt crisis and faces tight budgets and an aging population, will be running ads in Turkey to persuade Turks to vote yes.
"Turkey's economy is growing, Turkey's population is the youngest in Europe, Turkey has the most capable military ... My new slogan is hold on tight in Europe, Turkey's coming to the rescue."
Generated by readers, the comments included herein do not reflect the views and opinions of Rigzone. All comments are subject to editorial review. Off-topic, inappropriate or insulting comments will be removed.