Voser: U.S. LNG Exports Likely Limited Due to Domestic Demand
by Karen Boman
|
Rigzone Staff
|
Wednesday, March 07, 2012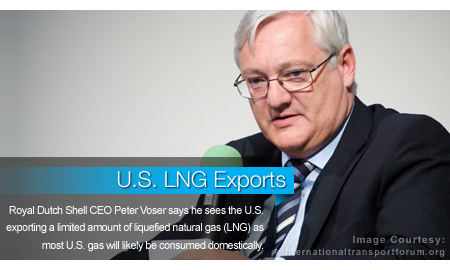 Royal Dutch Shell CEO Peter Voser said he sees the U.S. exporting a limited amount of liquefied natural gas (LNG) as most U.S. gas will likely be consumed domestically.
Voser told reporters at the 31st annual IHS CERAWeek Executive Energy Conference in Houston on Wednesday that the U.S. gas supplies have great potential to drive manufacturing, petrochemical and gas-to-liquids sectors within the U.S., creating revenues and jobs.
Shell will use its experience in exploring for and producing shale gas in China, which Voser said has geological structures similar to that of North America. European shale gas will not likely make an impact on European supplies within this decade, as higher population density will make widespread drilling more difficult.
Voser sees U.S. natural gas prices trading at the lower end of the $4 to $6 range over the next few years, and is pricing its projects accordingly. The company's long term strategy for gas in the U.S. includes potential integrated projects, such as gas-to-liquids and gas-to-chemicals in which gas is a cost component and not an absolute price component.
"We're taking the long-term view of gas over the next 20 to 30 years, and have the financial strength to do so," Voser commented.
Voser noted in a speech earlier in the day at the conference that he thinks gas-to-liquids technology could make a lot of sense for North America, reducing the need for imported oil while deriving greater value from the region's gas resources.
Regulatory Challenges, Public Trust to Define Gas' Future Role
While the natural gas revolution is changing energy dynamics and the energy security outlook for the U.S. and other countries, natural gas's future role in energy demand will hinge on how policymakers address regulatory challenges and whether the energy industry can earn the public's trust through safe, responsible development of gas.
Shell will produce more natural gas than oil in 2012 for the first time in its history, Voser said. He commented that natural gas is a clean burning fuel that benefits the economy and is a natural ally to renewable energy sources like wind and solar. The diversity of supply also enhances energy security.
"While we all recognize the significant of this opportunity, our industry needs to do a better job of convincing the world that natural gas is a force for good," Voser said.
Abundant gas supplies now available will allow the U.S. and other countries to rebuild their economies and become more competitive. President Obama in January said that natural gas activities could support more than 600,000 U.S. jobs by the end of this decade.
"It's doing this not only through job creation, but by reducing energy costs and boosting other critical industries, such as chemicals manufacturing," Voser commented.
Public skepticism, particularly among those who live in areas where shale gas is being produced, has grown in regards to safety and environmental issues associated with shale gas production.
Voser noted that shale production techniques have been tried and tested, and pointed out that not all concerns are based on facts or rational argument. However, these concerns need to be addressed.
"As an industry, we have not always done our best to engage in the public debates about these issues," Voser said. "We need to do a better job of listening and responding." To meet this goal, Shell last year unveiled five operating principals for its onshore tight oil and gas operations to protect the environment, wildlife and water supplies in communities in which it operates.
Voser commented that hydraulic fracturing has been performed more than 1.1 million times in the U.S. alone over the past 60 years, and that documented instances of freshwater contamination have been extremely rare.
"When problems have occurred, they were simply due to poorly designed wells," he said, adding that Shell supports Obama's call to require disclosure of hydraulic fracturing fluid chemicals and regulations to promote transparency.
Generated by readers, the comments included herein do not reflect the views and opinions of Rigzone. All comments are subject to editorial review. Off-topic, inappropriate or insulting comments will be removed.
RELATED COMPANIES