Kasich: O&G Severance Tax Won't Scare Away Operators
by Karen Boman
|
Rigzone Staff
|
Wednesday, March 07, 2012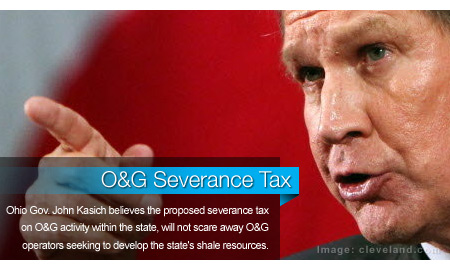 Ohio Gov. John Kasich said he believes the proposed severance tax on oil and gas activity within the state – which would allow for a cut in the state's income tax for all Ohioans – will not scare away oil and gas operators seeking to develop the state's shale resources.
Kasich told reporters Wednesday at the IHS CERAWeek energy conference in Houston that the proposed tax would allow small businesses to grow in Ohio and provide long term financial stability for the state.
Details of the proposed severance tax will be rolled out on March 14. Kasich said he met with several oil and gas operators at the conference the night before to discuss the proposed tax. Kasich said he has discussed imposing a severance tax for some time.
"The problem is when you pay zero [taxes], you want to continue paying [zero taxes]," said Kasich, referring to his days working on Wall Street. He said the state government would be cool about the tax, but that they would get it done.
Kasich has proposed development of the state's oil, gas, and renewable resources as a means of creating jobs and boosting the state's economy, particularly in cities which have experienced multi-generational recession.
The potential resource size of the Utica shale play has created significant interest in the state by companies such as Chesapeake Energy, and positioned the state on the threshold of major energy change. While it's still early, Kasich said he's optimistic that the state will have dry gas, wet gas liquids, and oil.
However, the governor does not intend to develop the state's economy based solely on one industry. He also intends for the state to avoid many of the mistakes made other areas with booming shale exploration such as the Marcellus and Bakken in terms of managing growth and environmental issues such as produced water in Pennsylvania.
Generated by readers, the comments included herein do not reflect the views and opinions of Rigzone. All comments are subject to editorial review. Off-topic, inappropriate or insulting comments will be removed.
RELATED COMPANIES