Statoil Confirms Talks To Sell Stake In Iraqi Oil Field
by Dow Jones Newswires
|
Jens Hansegard
|
Wednesday, March 07, 2012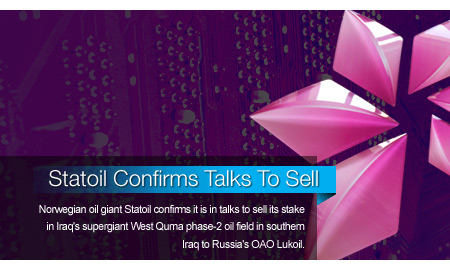 STOCKHOLM - Norwegian oil giant Statoil Wednesday confirmed it is in talks to sell its stake in Iraq's supergiant West Qurna phase-2 oil field in southern Iraq to Russia's OAO Lukoil.
"We can confirm the information that Lukoil and the Iraqi officials have communicated," Statoil spokesman Bard Glad Pedersen told Dow Jones Newswires.
At the beginning of February, a senior Iraqi oil ministry official told Dow Jones that Statoil was intending to sell its stake in the oil field to Lukoil and that the ministry wouldn't reject a request from Statoil to sell its stake.
Statoil and Lukoil were awarded a 20-year service contract for West Qurna Phase-2 in Iraq's second licensing round held in December 2009. The companies promised to get the southern field pumping at a rate of 1.8 million barrels a day for payment of $1.15 a barrel.
The sale of the stake isn't seen as a big deal, according to a Norway-based analyst. "In general, I don't think the economics of that project are that good. It's basically service contracts, where they get $1.15 per barrel to pump up oil," he said.
He added that Statoil's stake in the oil field might be worth about $400 million, but he emphasized that this is a speculative and unconfirmed figure.
Statoil currently holds an 18.75 percent stake in West Qurna Phase-2 project, with Lukoil holding 56.25 percent and Iraq's state oil company the remaining 25 percent.
Generated by readers, the comments included herein do not reflect the views and opinions of Rigzone. All comments are subject to editorial review. Off-topic, inappropriate or insulting comments will be removed.
RELATED COMPANIES