Panel: U.S. Should Capitalize on Competitive Gas Prices for Manufacturing
by Karen Boman
|
Rigzone Staff
|
Tuesday, March 06, 2012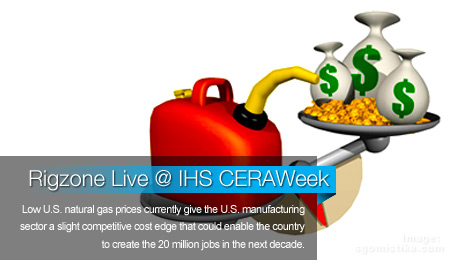 Low U.S. natural gas prices currently give the U.S. manufacturing sector a slight competitive cost edge that could enable the country to create the 20 million jobs in the next decade.
Now, the biggest challenge facing the U.S. is not screwing up this opportunity, according to a panel of industry officials speaking at IHS CERAWeek in Houston on Tuesday.
The U.S. unconventional resource boom, which has resulted in the creation of thousands of jobs associated with Pennsylvania's Marcellus shale, has the potential to create more jobs as oil and gas producers begin scratching the surface on plays such as the Utica. Royalties generated from oil and gas production also could allow the U.S. to dig itself out of its financial hole, said Karen Harbert, president of the Institute for 21st Century Energy.
However, the nation's lack of comprehensive regulatory, tort and tax policies are still hurdles in the development of new energy projects, which in turn impacts the availability of fuel suppliers for the U.S. manufacturing base.
"We have a regulatory environment that makes it easier to go to Nigeria than Nebraska," said Harbert, noting that U.S. oil and gas production has increased only because of increase production from private and state lands, while restrictive federal policies have resulted in declines in oil and gas production from federally-held lands.
While industry understands the need for health, safety and environmental regulations, the government should play the role as a facilitator of job development and work with businesses to achieve goals, rather than taking an adversarial posture with politicized decisions, said Jay Timmons, president and CEO of the National Association of Manufacturers (NAM).
"We're all guilty of the fact that we don't understand the true cost of importing energy from foreign sources," said Scott Angelle, secretary of Louisiana's Department of Natural Resources.
The high natural gas prices seen in 2008 prompted a number of petrochemical plant closures and layoffs in Louisiana, leading some state officials to believe the state's petrochemical industry would never be the same, said Scott Angelle.
That situation reversed itself in 2011 after the U.S. shale boom unlocked significant new gas resources. As a result, petrochemical companies such as Dow planning to open new plants or expand existing facilities. South Africa-based Sasol also unveiled plans last year to open a gas-to-liquids (GTL) facility in southwestern Louisiana. Angelle commented that GTL technology could be a real gamechanger in Louisiana's petrochemical industry.
Union Pacific Railroad also met with state officials to seek to invest $200 million in new rail capacity in Louisiana to meet industrial demand. "When railroads want to spend, you make it happen," said Angelle.
The abundance of natural gas in the U.S. has led to discussions of increasing gas use within the country, either through more gas-fired power generation or implementing gas-powered vehicles in the U.S. long haul fleet. However, new pipeline and other infrastructure will be needed to allow for more gas consumption. Efforts by the U.S. government to distort the market to increase gas consumption should also be avoided, said Harbert.
Timmons did praise the White House's efforts to offer job more job training. Educating skilled workers to fill U.S. manufacturing jobs poses another challenge for the sector, said Timmons, who noted than five percent of manufacturing jobs, or 600,000 positions, can't be filled due to lack of skilled labor.
NAM and the federal government have partnered to offer manufacturing job training programs at community colleges around the country. The skills that students learn through these programs are transferable between states, allowing students flexibility in what region of the country they go to work.
The manufacturing industry has perception problem that the oil and gas industry has faced in attracting younger workers – that it's old school and not as advanced technologically as other industries, said Jay Timmons. However, the reality is that today's manufacturing industry "is not your grandfather's manufacturing industry," Timmons noted.
"It's new, it's innovative," Timmons said. "I would even venture to say it's sexy."
Generated by readers, the comments included herein do not reflect the views and opinions of Rigzone. All comments are subject to editorial review. Off-topic, inappropriate or insulting comments will be removed.