UK Shale Gas: An Energy Red Herring?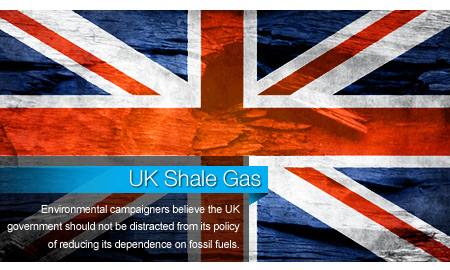 News last September that testing by energy firm Cuadrilla Resources had found up to 200 trillion cubic feet of gas bound up in shale rock in Lancashire, England, got plenty of media attention in the UK and set off a debate about the pros and cons of shale drilling in such a densely-populated European country.
A number of protest groups have been gaining support not only in opposition to drilling for shale gas at Cuadrilla's Bowland Shale operations, near the once-popular seaside resort of Blackpool, but also in West Sussex in the southeast of England as well as in Wales.
Shale gas is natural gas (methane) that is trapped within shale rock. The controversy surrounding it is to do with the way that the gas is extracted via hydraulic fracturing or "fracking ".
Fracking involves the use of water and other fluids, pumped at high pressure into shale rock in order to create narrow fractures that allow gas to flow into the well bore so that it can be captured. But environmentalists, as well as those people who live close to where fracking projects occur, have a number of issues with the practice.
Among these issues are included: the potential for groundwater pollution, the threat of air pollution, the impact that another source of hydrocarbons might have on climate change and the negative effect that a potentially cheap source of gas might have on investment in renewable energy.
Then there is the problem of fracking-related earthquakes. Cuadrilla reported last November that it found the fracking operations it conducted in Lancashire in the spring of 2011 caused minor tremors ranging in magnitude from 1.4 to 2.3 on the Richter scale. The firm had already suspended shale gas test drilling at its Lancashire sites in June 2011 following the earthquakes.
As well as the protestors, of course, there are those who welcome the prospect of a shale gas boom in the UK, which could lead to thousands of much-needed jobs for people in places such Blackpool – a town that has been in decline for years.
Multi-Billion Pound Benefit
Not least among these are certain sections of the UK government. For example, Charles Hendry – a minister at the Department of Energy and Climate Change (DECC) – said in November that "shale gas fits into the potential energy mix" of the UK and that by the country optimizing resources such as shale gas there would be "a multi-billion pound benefit".
A Cuadrilla Resources spokesperson told Rigzone that not only would its Bowland Shale project have a "significant effect on Britain's energy security and Lancashire's economic prosperity", but over its lifetime it could deliver to the UK government between $7.9 billion and $9.5 billion ( GBP 5 billion and GBP 6 billion) in taxes on profits made.
However, despite showing some enthusiasm when it comes to the prospect of hundred of trillions of cubic feet of gas, not to mention the tax revenues that would come with it, the UK government could also be accused of sitting on the fence when it comes to shale gas.
In November 2011, the then Energy and Climate Change Secretary Chris Huhne, while conceding that natural gas is a "critical part" of the UK's energy mix, noted that "shale gas has not yet lit a single room in the UK, nor roasted a single Sunday lunch", pointing out that production of shale gas in the UK is, at best, years away.
And last week, on Mar. 3 2012, new Energy and Climate Change Secretary Edward Davey echoed his predecessor's point. "Shale gas may prove a worthwhile resource for the UK, but it is in its infancy," he said.
Instead, DECC has said that it intends to follow a technology-neutral policy, in which the UK encourages competitive tension between all forms of generation.
UK-based environmental pressure groups are opposed to shale gas for two reasons. The first is the fear of what fracking might mean for the local environment. The second reason is that investing in a potentially abundant source of natural gas would be a distraction from the UK's efforts to develop alternative, low-carbon energy sources such as wind, solar, wave and tidal stream.
Earthquakes 'Not a Massive Worry'
Dr. Doug Parr, Chief Scientist at Greenpeace UK, is not too concerned about the issue that grabbed the most headlines last year: the fracking-related earthquakes caused by Cuadrilla.
"I'm not inclined to think that's a massive worry. But okay, it's being investigated and that's a good thing," Parr told Rigzone.
Cuadrilla has said that it will continue to monitor seismic activity in the area of its operations, while Professor Mike Stephenson, head of energy at the British Geological Survey, told a shale gas summit in London last autumn that the tremors were far too small to cause any damage.
In fact, Parr believes that, on the local level, the ways and means exist to conduct shale gas operations safely.
"What I've seen does not suggest that it's impossible to do this perfectly safely, and it can be," said Parr. "My question would be whether it will be? And that's not a question about technology, it's a question about whether an Environment Agency that has just shed around 15 percent of its staff, and has had a substantial cut in its government grant, is going to be in the position to do the enforcement, the inspection, and have the political will behind it to make sure that corners aren't cut."
"So, that's more the question for me than whether it is technically feasible to frack safely without local environmental impact," Parr continued.
Cuadrilla told Rigzone that it is subject to visits from the UK's Environment Agency and Health and Safety Executive both on an announced and unannounced basis. During March 2011 to August 2011, the firm said, the Environment Agency visited the firm's Preese Hall site in Lancashire 10 times, with seven of those visits being unannounced.
Frack Off
In spite of such assurances, a number of UK groups – such as Ribble Estuary Against Fracking (REAF) and the colorfully-named Frack Off – have sprung up around the UK. Some protestors opposed to fracking in Lancashire took direct action in early November 2011 by attaching themselves to machinery at Cuadrilla's Hesketh Bank site.
Cuadrilla's managing director Mark Miller, a Pennsylvania oil man, reportedly received a rough reception in January this year when he tried to explain to Balcombe locals why the firm might conduct fracking operations less than a mile from their village in West Sussex in southeast England.
Next door to England, in Wales, pressure from locals played its part in councillors in the Vale of Glamorgan rejecting an application from a firm called Coastal Oil and Gas to test drill for shale gas in the county, even though Coastal's application did not include plans to use fracking. Coastal is understood to have lodged an appeal against this decision with the Welsh government.
Although it would be easy to dismiss such protests as being a version of the 'not in my back yard' opposition that is more commonly seen against the deployment of wind farms in the UK this nimbyism is about more than just the blighted views that countryside-loving Britons often complain about. So says Tony Bosworth, a senior climate campaigner for Friends of the Earth.
"This is people being concerned about potential real threats to their local environment. Being concerned about an industry that has been linked to contamination," Bosworth said. "It's a different issue."
And Greenpeace's Parr believes that there are local environmental issues that will need to have a close eye kept on them.
Certainly people will need to be reassured that there is no possibility of the exploding sinks due to methane getting into tap water that has been seen in films such as the controversial US documentary Gasland, and they will also want to be assured that drinking and bathing water cannot be contaminated during fracking.
"Then the more serious issue is what happens to all the fracking water or fracking fluid when it comes up again and it's finished with. Does that contaminate local water courses? If not, how is it used and how is it managed? And what is local environmental impact?" said Parr.
But perhaps the greater issue for environmentalists is the distraction that shale gas could become for a government that is supposed to be committed to adhering to the European Union's plan to cut carbon emissions by at least 20 percent compared to 1990 levels.
Cuadrilla told Rigzone that, as well as potentially reducing the price of natural gas and reducing the UK's dependency on expensive foreign energy sources, shale gas also has a role to play as a "transitional fuel" that would allow time for the UK's government and industry to develop renewable sources of energy more effectively. "Natural gas is, of course, a lower carbon fossil fuel than oil and coal, and a more flexible electricity generator than either of these sources or nuclear," the company said.
Environmental Threat
But Friends of the Earth's Bosworth believes a focus on developing gas reserves by the UK would be a mistake if it wants to reduce carbon emissions.
"Climate change is the biggest environmental threat that the world faces. We have to cut our emissions of climate change gases extremely quickly if we want to avoid a catastrophic impact. Key to that is de-carbonizing the UK's energy system and if we want to do that then we have to have an appropriate role for gas. We're not saying 'no gas at all.' We're saying we need a small amount of gas on the system, say, in 2030. What we can't afford is to have a second Dash for Gas predicated on the maybe illusory prospect of vast amount of shale gas beneath the UK," he said.
"Even if we assumed that shale gas got a clean bill of health at the local level, just because we can do it doesn't mean we should do it and we need to think about what is the best energy future for the UK," Bosworth continued.
Greenpeace's Parr notes that, in terms of its carbon footprint, shale gas could look more like coal than conventional natural gas because of the way that the gas is extracted, pointing to a report from Cornell University in the U.S. And fugitive methane emissions from shale gas drilling could actually mean that shale gas would be worse for the environment than coal.
"So in terms of greenhouse gas impact, if it looks more like coal than gas, then we have to treat it like coal. In which case, what's the impact on the energy system?" said Parr. "Internationally, there are movements against coal stretching across all continents, including in Europe. So, in terms of the environmental case that [would be] the end of the story."
High Gas Prices in Spite of Shale
"I think shale gas doesn't work if you just see it as a new form of gas and don't think through all the implications on the environmental side. What I think is really dangerous, and frankly a little bit naïve and silly, is to start saying we need to tear down the existing policy framework that is driving [the UK] towards low carbon generation when we don't even know what the impact of it is going to be in Europe," added Parr, who pointed out that independent analysis of the potential for shale gas in Europe suggests that its proponents are getting ahead of themselves.
"People like Pöyry and Deutsche Bank, who are hardly tree huggers, are saying actually it's not going to be that great," he said, pointing to a couple of reports released late last year by those organisations.
Finnish engineering consultancy Pöyry, in its report published in November 2011, stated that a number of factors suggest the UK could see high gas prices in the future even if there is a 'Blackpool Boom'.
Meanwhile, analysis from Deutsche Bank published a month earlier also came to the conclusion that the impact of any shale gas production over the next couple of decades on EU gas prices should not be expected "to be anywhere near as great as has been the case with U.S. shale-gas production on Henry Hub prices".
This begs the question, said Parr, of "why on earth would you design the policy framework around it? I mean it's like designing an entire policy framework around wave power."
The voices opposed to shale gas in the UK are quite vocal and their arguments seem compelling. Whether they are compelling enough to get the UK's decision makers to prevent Cuadrilla and other companies from drilling for hundreds of trillion cubic feet of gas is another matter.
The UK's Department of Energy and Climate Change is about to embark on a further round of onshore licensing for oil and gas projects. The details of this round, and particularly whether there are any licenses for shale gas drilling included, will provide further clues as to where the government actually stands on the issue.
Generated by readers, the comments included herein do not reflect the views and opinions of Rigzone. All comments are subject to editorial review. Off-topic, inappropriate or insulting comments will be removed.