Hayward Receives BP Bonus for 2009-2011 Performance
by Dow Jones Newswires
|
Alexis Flynn
|
Tuesday, March 06, 2012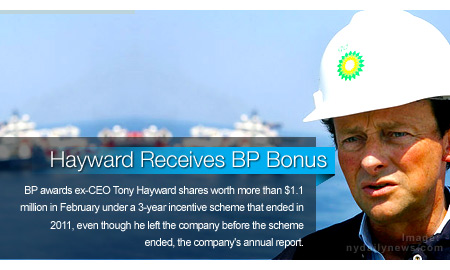 LONDON (Dow Jones) -- BP awarded former chief executive Tony Hayward shares worth more than $1.1 million (GBP 700,000) last month under a three-year incentive plan that ended in 2011, even though he left the company before the plan ended, the company's annual report showed Tuesday.
Hayward's bonus also comes a year after BP decided not to pay bonuses for 2010 to any of its directors who had responsibility for operations in the Gulf of Mexico, the site of a major oil spill. Hayward was replaced as chief executive by incumbent Bob Dudley in October 2010.
According to the annual report, Hayward received 144,422 shares on Feb. 15, worth $1.13 million (GBP 719,221). Former exploration chief Andy Inglis, who also left the company after the Deepwater Horizon disaster, was awarded a bonus of 99,505 shares, worth $77,899 (GBP 495,534).
The decision to award Hayward a bonus comes at a delicate time for the U.K. oil giant, with a trial to apportion blame for the environmental disaster still looming. It comes only days after BP agreed to a wide-ranging compensation deal with thousands of individuals and businesses hurt by the oil spill, while the company still faces billions in dollars in potential fines from the U.S. government.
Three current board members -- Chief Executive Dudley, head of refining and marketing, Iain Conn and former chief financial officer Byron Grote -- were all awarded share bonuses under the plan, even though they failed to meet a number of performance targets set over a three-year period.
Dudley's total salary package for the year, including the shares vested under the long-term incentive plan, was $6.8 million in cash and stock. This was more than three times his annual salary the previous year, although this was in large part a result of the company withholding top-management bonuses.
A BP spokesman said his pay package was merited by the firm's strong operational performance.
"Bob Dudley and his management team have put BP back on track to recovery. They turned a $5 billion net loss in 2010 into a $24 billion net profit," said the spokesman.
Attempts to reach Hayward for comment weren't immediately successful.
Generated by readers, the comments included herein do not reflect the views and opinions of Rigzone. All comments are subject to editorial review. Off-topic, inappropriate or insulting comments will be removed.
RELATED COMPANIES