U.S. Widens Lead Over Russia as Top Gas Producer
by Keefer Douglas, Gas Competition Service Manager
|
PFC Energy
|
Tuesday, March 06, 2012
Russia retained its spot as the world's #1 gas producer during the past decade until 2009, when a sharp, recession-induced drop in demand for Russian gas, rather than a decline in production capacity, allowed the United States to edge into first place.
Russian production recovered quickly in 2010, but U.S. shale gas production had been rising since 2006 and it continued to narrow the gap with Russia. By 2010, marketed dry gas production in the United States reached 634 bcm according to the U.S. Energy Information Administration (EIA), the highest level since a 1973 peak of 641 bcm. As a result, the 2010 U.S. marketed gas production was very close to, and probably larger than, Russian marketed production.
Data from CDU TEK, Russia's equivalent to the U.S. EIA, put total Russian production in 2010 at 665 bcm, but this is a wellhead production number that includes flared gas. Using the U.S. National Oceanic and Atmospheric Administration's (NOAA) estimate of gas flaring derived from satellite imagery performed in 2010, PFC Energy estimates that Russia produced a net 630 bcm, with 35 bcm flared. The margin of error on the NOAA estimate was +/- 4 bcm, meaning that Russia could have produced as little as 626 bcm or as much as 634 bcm. Thus, the United States likely produced more gas in 2010, but the data is not definitive.
For 2011, the data is much less ambiguous. The EIA puts total US marketed gas production at 684 bcm, or 8% higher than in 2010. Russian wellhead production reached 688 bcm in 2011. While NOAA has not yet released 2011 flaring estimates, PFC Energy's conservative view, based on the flaring trend reduction since 2005, puts 2011 flaring at 34 bcm, some 4 percent below 2010 levels.
Using the same +/- 4 bcm margin of error as for 2010 yields a maximum net marketed Russian production estimate of 658 bcm: this is 26 bcm lower than the US number. In fact, Russian gas flaring would ultimately have to come in at less than 4 bcm in 2011, representing an 89 percent reduction from 2010, for marketed gas production to have surpassed the United States.
As that level of flaring reduction in Russia is highly unlikely, the United States became the clear leader in global gas production as of 2011.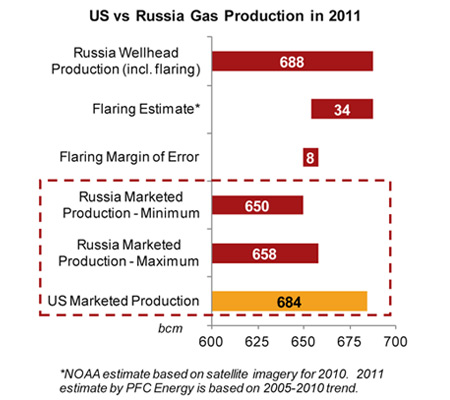 Generated by readers, the comments included herein do not reflect the views and opinions of Rigzone. All comments are subject to editorial review. Off-topic, inappropriate or insulting comments will be removed.