Oil & Gas 2012: Better Off Now?
by Matthew V. Veazey
|
Rigzone Staff
|
Tuesday, March 06, 2012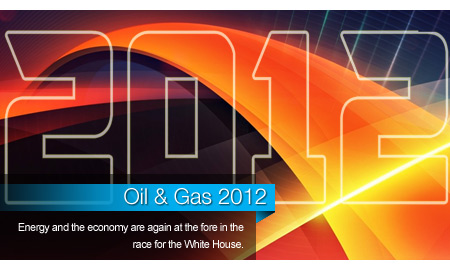 On October 28, 1980, during a televised debate with then-President Jimmy Carter, Republican candidate and former California Governor Ronald Reagan asked millions of Americans: "Are you better off now than you were four years ago?"
If the outcome of the 1980 Presidential election the following week was any indication, the majority of Americans who voted in the election answered Reagan's question with a resounding "no." Not only did Reagan defeat a sitting President by gaining an outright majority (50.7 percent) of the popular vote in a three-man race, but also carried 44 of the 50 states in an electoral vote landslide. (Readers outside the U.S. may not be aware that the candidate winning an absolute majority of electoral, rather than popular, votes wins the Presidential election.)
Two of the most pressing national issues throughout Carter's term in office were energy and the economy. Rising oil prices resulted in motorists enduring long lines at gasoline pumps and contributed to double-digit inflation rates and high unemployment. More than three decades after Reagan asked his famous question, energy and the economy are again at the fore in the race for the White House. The average retail price of a gallon of gasoline has already passed the $4 mark in some states, and a plethora of media reports are warning readers that gasoline could hit $5 a gallon by this summer -- just enter "$5gasoline" in Google and see how often the search term appears in recent articles. Whether gasoline will actually hit that point is speculation at this point, but at least one well-respected public opinion pollster recently found that most Americans expect that to happen.
Meanwhile, President Obama will ask voters for another four-year term in office despite lingering high unemployment and a declining percentage of Americans participating in the workforce. Moreover, the Federal Reserve has observed that average duration of unemployment has more than doubled since the "Great Recession" began in late 2007.
Because its cost corresponds to so many everyday activities, ranging from tanking up the car to turning on the lights to cooking dinner, energy is an issue that resonates strongly with voters -- particularly when they are finding it hard to make ends meet. Political candidates know this and readily tout planks in their campaign platforms assuring voters that they will work to make energy more affordable. A common theme among the current slate of candidates is promoting "energy security" by making the U.S. less dependent on imported crude oil. Some candidates contend that promoting renewables such as biofuels, wind and solar energy will advance the country's energy independence aims. Other candidates hold the view that more oil and gas should be exploited domestically. They frequently add that allowing the oil and gas industry greater freedom to find, produce, process and transport hydrocarbons would yield new employment opportunities for hundreds of thousands of Americans.
Given the high profile of energy in this year's elections, Rigzone decided to review several key statistics in the context of Reagan's famous question.
The following charts provide a glimpse into whether America is better off from an energy standpoint than it was four years ago.
Less Reliance on 'Foreign Oil'
First, in terms of energy security, the U.S. has made progress in reducing its reliance on often-maligned "foreign oil." As the chart below shows, net imports of liquid fuels in the U.S. have declined since 2008.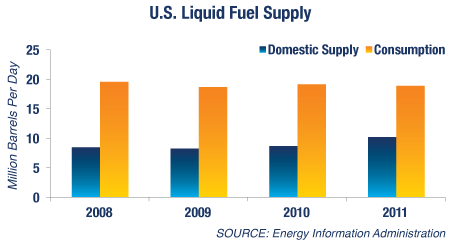 According to EIA figures, imports accounted for approximately 11.1 million of the roughly 19.5 million barrels of liquid fuel consumed in the U.S. each day in 2008. The EIA figures show that import volumes in 2011 fell to approximately 8.65 million barrels a day, signifying a 22-percent drop in liquid fuel imports over the four-year period. To be sure, total U.S. liquid fuel consumption also fell during the period -- from 19.5 million barrels a day in 2008 to 18.9 million barrels a day last year. During the same four-year span, U.S. domestic supply rose overall from 8.4 million barrels a day in 2008 to nearly 10.3 million barrels a day in 2011 -- strong production growth from U.S. shale plays such as the Bakken and Eagle Ford has contributed to the increase.
Given the EIA figures, U.S. net dependence on imported liquids fell from 57 percent in 2008 to 46 percent in 2011. Note, however, that domestic consumption also fell three percent overall during the period -- likely a result of the ongoing economic slump.
Nevertheless, proponents of weaning the U.S. off oil imports can point to significant progress toward that goal. Moreover, the EIA projects that net imports will shrink further. In addition, the U.S. has actually become a net gasoline exporter for the first time in more than five decades. Also, abundant domestic natural gas production is propelling the U.S. as a leading LNG exporter.
Given the decrease in domestic liquid fuels consumption, it is not surprising that U.S. refineries are operating at an overall lower capacity now compared to four years ago. As the graph below shows, utilization of operable refinery capacity has trended downward.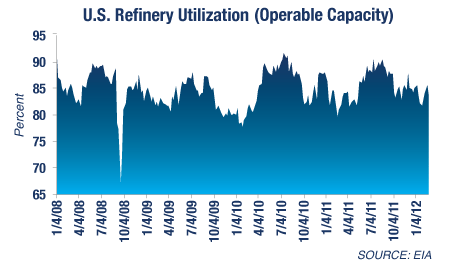 The average utilization rate for the period shown is 84.7 percent; however, the rate did spend some time at or above 90 percent in early 2008 and during the summers of 2010 and 2011. Utilization also fell below 80 percent for a few weeks in early 2010. The dip below 70 percent in September 2008 resulted from downtime at Gulf Coast refineries affected by Hurricanes Gustav and Ike.
Rig Counts: Recovering but Changing Focus
During the 2008 campaign for the White House, a resounding theme espoused by supporters of increased oil and gas exploration was "Drill, Baby, Drill!" Interestingly, the slogan became popular at a time when domestic drilling was peaking. As the graph below illustrates, the total U.S. rig count (onshore and offshore) hit its highest point within the period shown on the week of September 12, 2008 -- 2,031 land rigs and 74 offshore rigs, to be exact.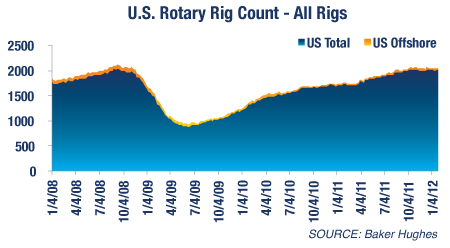 The frenetic pace of drilling activity during the first three quarters of 2008 preceded a major slowdown, however, as oil prices were about to drop sharply. By the beginning of 2009, oil futures prices had fallen by roughly 60 percent. Thanks to the worsening economics of myriad projects, drilling activity throughout the U.S. upstream sector decreased dramatically. By the week of June 12, 2009, the total rig count as reported by Baker Hughes was just 923 -- 876 onshore and 47 offshore. Oil prices have steadily increased since then, and the total rig count is back above 2,000.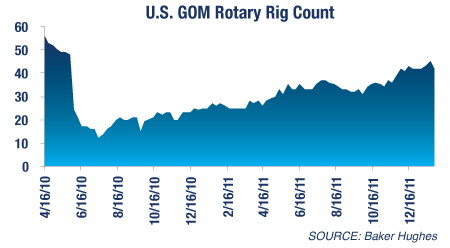 Although the overall rig count has regained much of the ground it has lost since 2009, much of the growth within the past two years has clearly tilted toward onshore oil projects. As the chart below shows, the rig count in the U.S. Gulf of Mexico fell sharply after the Macondo well incident on April 20, 2010. The subsequent federal moratoria on new deepwater drilling permits and setbacks in Outer Continental Shelf leasing prompted an exodus of deepwater rigs from the Gulf -- particularly jackups. The Gulf of Mexico rig count has yet to return to pre-Macondo levels.
Although it was showing signs of improvement in the months preceding Macondo, the Gulf of Mexico rig utilization rate remains considerably lower than it did in early 2008.
Note that the chart below refers to the day-by-day utilization rate, which corresponds to a rig's status and if it is actually earning a dayrate.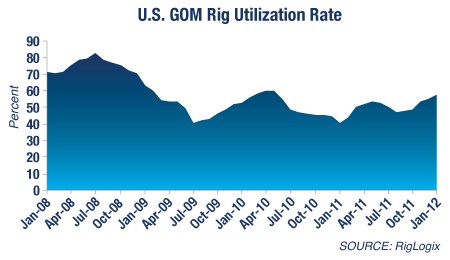 Four years ago, natural gas prices were considerably stronger and operators were rushing to shale gas plays such as the Marcellus and Haynesville to take advantage of techniques to economically exploit these abundant, largely dry gas resources. At the time, considerably more rigs in the U.S. were drilling for gas rather than oil -- 1,450 versus 316, respectively, as of January 4, 2008. Since that time, natural gas prices have fallen dramatically and have not yet recovered. Consequently, operators have been re-deploying rigs to tap liquids-rich hydrocarbons.s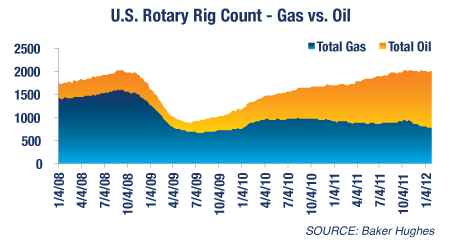 As the above chart shows, the majority of rigs in the U.S. are now drilling for oil rather than natural gas. By Baker Hughes' count as of January 27, 2012, the breakdown was 1,225 oil rigs compared to 777 gas rigs.
Conclusions -- Subject to Change
As the above charts show, the U.S. has made strides over the past four years in terms of increasing its reliance on domestically produced fossil fuels. In addition to turning inward for its hydrocarbon supplies, the U.S. also appears to be turning inland. From an economic standpoint, areas near liquids-rich shale plays such as the Bakken, Eagle Ford and, increasingly, Utica are the obvious winners. Moreover, regions with access to rich gas supplies such as the Gulf Coast and Appalachia stand to benefit from a veritable renaissance in U.S. petrochemicals manufacturing as the economics of using these feedstocks are often too compelling to ignore. As operators move rigs away from shale plays with extensive dry gas resources such as the Marcellus in Northeast Pennsylvania and the Haynesville in Northwest Louisiana, the economic outlook in those locations is less rosy. Moreover, the offshore oil and gas sector's recovery has been relatively tepid.
After reviewing these conclusions, it is important to consider the issue of timing and the dynamic nature of both the industry and political campaigns.
When Reagan asked his famous question, "Are you better off now than you were four years ago?", the general election was only one week away. At this writing four Republican candidates are still vying for their party's nomination, which will not be official until the GOP convention in late August. Moreover, the general election is eight months away. As the graphs illustrating rig utilization suggest, much can change within such a span of time in the energy industry.
Given the dramatic changes that have taken place in the U.S. political and energy landscapes since the beginning of 2008, a revision of who in the oil and gas industry is better off may well be in order come Election Day.
Generated by readers, the comments included herein do not reflect the views and opinions of Rigzone. All comments are subject to editorial review. Off-topic, inappropriate or insulting comments will be removed.