Iraqi South Oil Co. Official Allegedly Took Bribes
by Dow Jones Newswires
|
Hassan Hafidh
|
Monday, March 05, 2012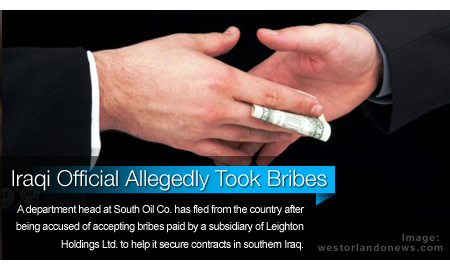 A department head at Iraq's South Oil Co. has fled from the country after being accused of accepting bribes paid by a subsidiary of Australian construction firm Leighton Holdings Ltd. to help it secure contracts in southern Iraq, two Iraqi lawmakers said Monday.
The investigation has advanced since Thursday, when the Iraqi Oil Ministry's inspector general told Dow Jones Newswires it wasn't yet clear whether Iraqi parties were involved in the bribes allegedly paid by Leighton to secure Iraqi contracts, and that no conclusions had been reached.
A Leighton Holdings spokesman Monday said, "We are precluded from saying anything or responding as this matter is subject to a federal police investigation."
Leighton Holdings last month said it had voluntarily alerted Australian federal police to possible corruption by Leighton Offshore in Iraq.
The investigation is now focused on the head of a department at South Oil Co.--Iraq's largest state-owned oil company--who allegedly received bribes, said Uday Awad, a leading member of the parliament's oil and energy committee, who also represents the largest parliamentarian bloc, the Shiite National Alliance.
Awad, however, said that the head of the SOC department--whom he declined to name because the investigation is ongoing--could have played the role of a front man for other senior officials to receive the bribes. He said the senior SOC official has fled from Iraq to a neighboring country.
A group of Iraqi parliament members recently visited the South Oil Co. in Basra, where the company's director general told them the accused individual has been identified and is under investigation, Awad said.
Mansor al-Timimi, a leading member of parliament from Basra in southern Iraq, which is home to SOC headquarters, also said the SOC senior official who is under investigation had already left Iraq.
A South Oil Co. official Monday said the oil ministry had investigated the SOC department head, and that the man had been moved from his post before he left Iraq.
"We are hearing that he has already fled the country," the SOC official said.
The Iraqi oil ministry was not available for comment.
Generated by readers, the comments included herein do not reflect the views and opinions of Rigzone. All comments are subject to editorial review. Off-topic, inappropriate or insulting comments will be removed.
RELATED COMPANIES