Argentina's Chubut Province Gives YPF 7-Day Ultimatum
by Dow Jones Newswires
|
Taos Turner
|
Friday, March 02, 2012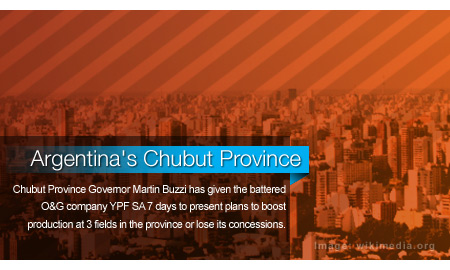 BUENOS AIRES - Chubut Province Governor Martin Buzzi has given the battered oil and gas company YPF SA seven days to present plans to boost production at three fields in the province or lose its concessions.
The fields in question produced 776,775 cubic meters of oil, or about 7% of YPF's total national oil output last year, according to Energy Secretariat data.
YPF produced 11.6 million cubic meters of gas in the same areas in 2011, the data show.
A YPF spokesman declined to comment for this article.
Buzzi leads a group of governors from Argentina's top oil-producing provinces that has been highly critical of oil and gas companies, saying they are not investing enough.
The group recently gave the companies, including YPF, two years to boost production by 15% or lose their concessions.
"We have the resources, and the companies with the concessions must meet their production goals and fulfill all the commitments found in their contracts," Buzzi said in a statement posted on Chubut's official website Thursday.
A Chubut spokesman couldn't be reached Friday for comment.
Buzzi has aggressively advocated plans to revoke concessions from oil and gas companies that do not offer specific proposals to boost production across the country.
The governor's ultimatum comes amid an intense escalation of pressure from the federal government for companies, especially YPF, to invest more in exploration and production.
Nationwide, YPF invested about $3 billion last year.
Argentine President Cristina Kirchner has put increasing regulatory and political pressure on the oil industry in recent months as surging fuel and natural gas imports erode the country's trade surplus.
The government accuses oil and gas companies of failing to invest enough in exploration, production and refining, leading the country to become dependent on expensive fuel imports.
But critics, including eight former energy ministers, say price caps and heavy government regulations, not the oil companies, are to blame for declining output and reserves.
Since 1998, oil production has fallen almost 32%, while natural gas output has declined almost 13% since 2004, according to Energy Secretariat data.
Pressure on oil and gas producers is unlikely to ease any time soon, with Kirchner saying Thursday she would take all necessary measures to ensure the supply of fuel.
Generated by readers, the comments included herein do not reflect the views and opinions of Rigzone. All comments are subject to editorial review. Off-topic, inappropriate or insulting comments will be removed.
RELATED COMPANIES