Poland: Fracking Found Not to Affect Environment
by Dow Jones Newswires
|
Marynia Kruk
|
Friday, March 02, 2012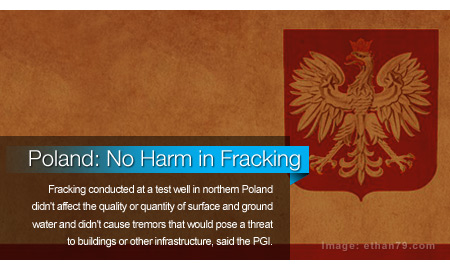 WARSAW- Hydraulic fracturing conducted at a test well in northern Poland didn't affect the quality or quantity of surface and ground water and didn't cause tremors that would pose a threat to buildings or other infrastructure, the Polish Geological Institute, or PGI, said in a statement on its website.
The drilling technique, known as fracking and used to extract natural gas locked in tiny bubbles in shale rock, did increase the noise level in the area while it was being conducted, but didn't pollute the atmosphere, the institute said.
Fracking has been used for decades, but concerns about its effect on public health and the environment in the U.S. have coincided with a dramatic increase in shale gas production. In Poland, shale gas isn't being produced on a commercial scale, with only a few test wells drilled so far.
Outside the U.S., Poland is one of first country where companies are seriously attempting to develop shale gas--a development the Polish Prime Minister Donald Tusk has called the country's "great chance," because it could reduce its dependence on Russian gas, create tens of thousands of jobs and fill state coffers.
Because of the dependence on Russia and an inability to import gas from other directions, Poland pays what it sees as excessive prices for gas.
PGI's study, which included monitoring of seismic activity, gas emissions, noise and fluids, was based on fracking conducted between Aug. 19-28, 2011, on test well LE-2H, belonging to 3Legs Resources PLC. The well was 4.075 kilometers deep, with horizontal drilling section one kilometer long.
According to the local community of a nearby municipality, Nowa Wies Leborska, the drilling equipment isn't unsightly, the institute said. In fact, "the [gas] flare was becoming a tourist attraction."
The extracted fracking fluid was found to contain "significant amounts of chemicals and toxicity," PGI said.
The fluid was under constant surveillance and wasn't able to leak into the environment. A large part of the fluid was transferred to another drill site to be reused to frack another well, following a purifying process. The rest of the liquid was transferred to a specialist treatment center, the institute said.
Studies conducted in the second half of October 2011 showed hydraulic fracturing at the test site didn't negatively affect the quality of ground water in a well in the site's immediate vicinity, PGI said.
Oil services company Schlumberger Ltd. injected 17,322 cubic meters of water, containing 462 cubic meters of chemicals and 1,271 tons of propant, in this case sand, PGI said.
"The purpose of the sand was to prevent fractures by injecting the high-pressure water from closing and the chemicals increased the water's penetration, prevented bacterial flora from growing and protected pipes from corrosion."
A Polish government geophysics institute studied seismic activity around the site from Jul. 15-Sept. 30, 2011, in order to record any seismic event occurring with a delay, using mobile stations spaced from 1-25 kilometers from the drill site.
Generated by readers, the comments included herein do not reflect the views and opinions of Rigzone. All comments are subject to editorial review. Off-topic, inappropriate or insulting comments will be removed.