API: Gov't Fracking Studies Threaten Nat Gas Production Pace
by Dow Jones Newswires
|
Tennille Tracy
|
Thursday, March 01, 2012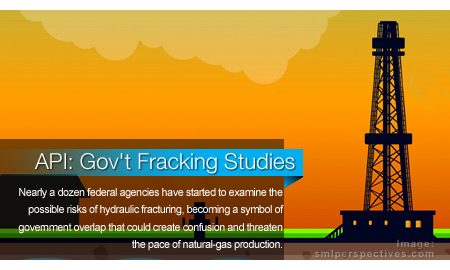 Nearly a dozen federal agencies have started to examine the possible risks of an oil-and-gas drilling method known as hydraulic fracturing, becoming a symbol of government overlap that could create confusion and threaten the pace of natural-gas production, a prominent energy group said Thursday.
The most publicized efforts are being conducted by the Environmental Protection Agency, which is studying the effects on drinking water, and the Interior Department, which is creating rules for drilling on public lands. Interior officials say the new rules will require energy companies operating on federal lands to disclose chemicals in the fluids used in hydraulic fracturing, known as fracking, and certify compliance with drilling standards.
Other initiatives are also under way at the U.S. Forest Service, which is proposing a ban on horizontal drilling in the George Washington National Forest, and the Centers for Disease Control, where a top scientist recently called for a study on the health effects of fracking.
Fracking uses water, sand and chemicals to break open seams in the earth, making it easier to draw out natural gas. While the method has been used for decades, concerns about its impact on the public health and environment coincided with a dramatic increase in shale gas production.
The American Petroleum Institute, the main lobbying arm of the oil and natural gas industry, said Thursday that government efforts are disjointed and called on the Obama administration to designate one agency as the lead on hydraulic fracturing issues.
"We don't need unnecessary or duplicative rules," said Kyle Isakower, a vice president at the API. "This appears to be unprecedented."
It's still unclear what steps the federal government will take to regulate fracking, but the API said the oil and gas industry fears a patchwork of federal rules--layered on top of state rules already in effect--that complicate permitting and slow production. API said there were at least 10 federal agencies working on hydraulic fracturing issues.
Environmental groups say the various government initiatives are warranted given the complexity of concerns over fracking and the number of agencies that have jurisdiction over the environment, public health, public lands and waters.
"There certainly is an argument for one robust comprehensive regulatory regime," said Amy Mall, senior policy analyst with the Natural Resources Defense Council. "But because the industry fought regulation for so long, that does not exist. Each agency is appropriately fulfilling their statutory responsibilities."
A White House spokesman said multiple agencies were addressing the issue because the president wants to make sure the drilling method is safe.
"That is why we are working across the federal government to conduct research and development, to provide support to state regulators, and to put in place common-sense standards to supplement state programs where necessary," spokesman Clark Stevens said.
Generated by readers, the comments included herein do not reflect the views and opinions of Rigzone. All comments are subject to editorial review. Off-topic, inappropriate or insulting comments will be removed.