Pickens at TED: Natural Gas a 'Bridge' to Energy Autonomy
by Rigzone Staff
|
Thursday, March 01, 2012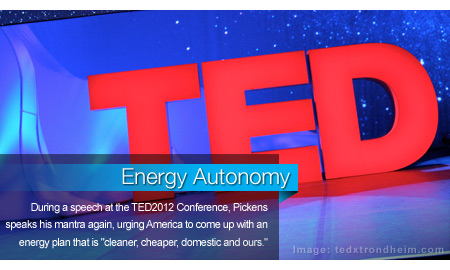 Whenever T. Boone Pickens speaks, it is not uncommon to hear him say the U.S. is addicted to OPEC oil and that Americans need to rely on domestic energy sources to power America's future.
During a speech at the TED2012 Conference in Long Beach, Calif., Wednesday, Pickens spoke his mantra again, urging America to come up with an energy plan that is "cleaner, cheaper, domestic and ours."
Pickens' self-named Pickens Plan, introduced in 2008, calls for a drastic decrease on importing foreign oil and instead focuses on developing domestic energy and includes both wind and natural gas resources as alternatives. However, Pickens says the lower price of natural gas makes it the more economical option between the two, and that it is a "bridge fuel" to a cleaner future.
"It will do everything we want it to do," says Pickens. "It's 25 percent cleaner than oil; it's ours, and we have an abundance of it," said Pickens during his presentation.
Visit TED's blog to read more about Pickens presentation at the conference.
Watch the video below from the "CNN Talks TED" series, where Pickens discusses his 5-year plan for energy prices.
Generated by readers, the comments included herein do not reflect the views and opinions of Rigzone. All comments are subject to editorial review. Off-topic, inappropriate or insulting comments will be removed.