China 5-Year Shale Gas Plan Sees Modest Output by 2015
by Dow Jones Newswires
|
Sarah Chen
|
Thursday, March 01, 2012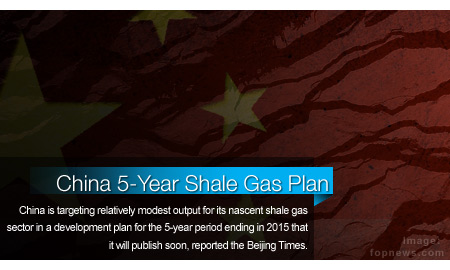 BEIJING - China is targeting relatively modest output for its nascent shale gas sector in a development plan for the five-year period ending in 2015 that it will publish soon, the Beijing Times reported Thursday.
The government has targeted output of 6.5 billion cubic meters of shale gas output in 2015, the newspaper said, citing unnamed officials at the Ministry of Land and Resources.
Although China's potential shale gas reserves are massive, China hasn't launched commercial production of the unconventional energy source. Domestic and foreign energy majors working in China are hoping that they can mirror a rapid gas output increase in the U.S. energy sector over the past decade on the back of new technologies that have unlocked gas from rock formations that were previously inaccessible.
China is pushing hard to increase its use of the relatively clean-burning hydrocarbon and cut dependency on coal, which is used to generate 70% of China's electricity. But large-scale production is still many years off, as targeted output of 6.5 million tons in 2015 would boost China's overall gas output by only slightly over 6% from current levels.
PetroChina Co. and Royal Dutch Shell PLC said in December that they had found gas after drilling their first shale gas evaluation well in a block in Sichuan province, while companies including Total SA and Chevron Corp. have also been actively searching for shale reserves in China.
On Monday, China Huadian Corp., one of the country's largest power companies, inked a framework agreement with Hunan province's authorities to tap shale deposits there.
The U.S. Energy Information Administration said last year that China has an estimated 1,275 trillion cubic feet of technically recoverable shale gas reserves, making it the largest repository of shale gas in the world.
Generated by readers, the comments included herein do not reflect the views and opinions of Rigzone. All comments are subject to editorial review. Off-topic, inappropriate or insulting comments will be removed.