EPA Asks for Additional Funding for Fracking Study
by Dow Jones Newswires
|
Ryan Tracy
|
Wednesday, February 29, 2012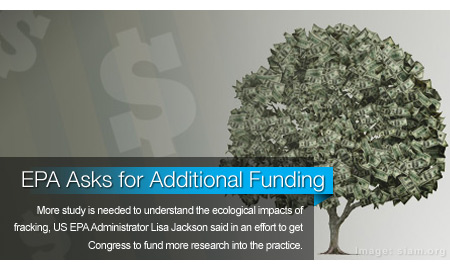 WASHINGTON - More study is needed to understand the ecological impacts of the drilling technique known as hydraulic fracturing, U.S. Environmental Protection Agency Administrator Lisa Jackson said Tuesday in an effort to get Congress to fund more research into the practice.
The agency is expected later this year to release a draft of a study looking at the drilling technique's impact on water quality. It recently requested about $8 million in additional funding from Congress to work with other government agencies on more research.
"Air quality, water quality, (and) ecosystem impacts are a concern," Jackson told members of the House Energy and Commerce Committee.
The comments came as Jackson's agency steps up its oversight of hydraulic fracturing, investigating instances of water contamination near drilling sites and suggesting that natural gas production could be the cause. Another Obama administration official, Interior Secretary Ken Salazar, said earlier this month that the natural gas production can be done safely, and President Barack Obama has said he supports it.
The use of hydraulic fracturing has taken off in recent years as it has been combined with new technologies to unlock massive quantities of natural gas in the U.S. that weren't previously accessible. The explosion of new drilling has created jobs but also raised concerns about its environmental cost.
Under questioning from skeptical Republican lawmakers, Jackson said the agency was seeking to ensure that drilling was done safely and responsibly. But she also said there were uncertainties related to the environmental impact of hydraulic fracturing.
The drilling industry hasn't opposed more study outright, but it is wary of EPA's efforts to regulate fracturing and prefers to work with state regulators.
Jackson said the EPA would work to coordinate with other government agencies in studying the drilling technique, including the Department of Energy and the U.S. Geological Survey, in order to "be sure that we are only doing one study to address one issue."
Generated by readers, the comments included herein do not reflect the views and opinions of Rigzone. All comments are subject to editorial review. Off-topic, inappropriate or insulting comments will be removed.