Forum Energy to Explore Disputed South China Sea
by Dow Jones Newswires
|
Cris Larano
|
Wednesday, February 29, 2012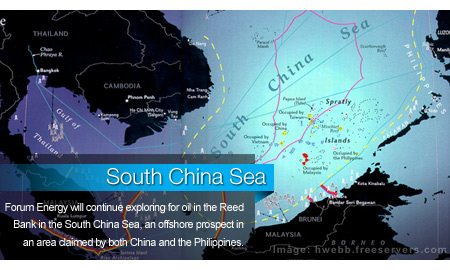 MANILA - Forum Energy PLC will continue exploring for oil in the Reed Bank in the South China Sea, an offshore prospect in an area claimed by both China and the Philippines, the company's controlling stakeholder said Wednesday.
Manuel Pangilinan, chairman and chief executive of Philex Mining Corp. (PX.PH), whose petroleum unit owns 64.45% of Forum Energy, said the work program committed to the Department of Energy requires the U.K.-based company to conduct a wider seismic survey and drill up to two wells by June 2013.
"We intend to comply with that work program," Pangilinan told reporters after announcing Philex's 2011 results.
Separately, Energy Undersecretary James Layug said the Philippines would push ahead with plans to expand oil and gas exploration in disputed waters, as the government brushed off a fresh Chinese warning.
Layug said the government was preparing to issue exploration licences for 15 blocks, three of which are in the South China Sea. China has no legal claim to the three latter blocks, he said, as they are well within the Philippines' 200-nautical-mile economic exclusion zone recognized under international law.
"In our view, [these] areas are not disputed areas...that they are our territory has been accepted by all our neighbors, except China," Layug told reporters.
The Reed Bank is adjacent to the Spratly Islands, a group of small islands in the southern part of the South China Sea that are also claimed, in whole or in part, by Vietnam, Malaysia, Brunei and Taiwan.
Early last year, a survey ship hired by Forum Energy reported that two Chinese vessels in the area had threatened to ram it.
"It would be unfortunate if, because of the sovereignty issue, we can't develop the resources there. I do hope the sovereignty issue can be resolved," Pangilinan said.
The plan puts the Philippines and China on a collision course, as the Chinese government has made it clear that any unauthorized oil or gas exploration in the area would "complicate and magnify" the territorial dispute.
"China has indisputable sovereignty over the Nansha Islands and their adjacent waters," Chinese foreign ministry spokesman Hong Li said Tuesday, using the Chinese name for the islands.
"Without the Chinese government's permission, any country and any company's oil and gas activity in the waters under China's jurisdiction are illegal."
Forum Energy plans to spend $80 million to gather more seismic data in the coming months to upgrade existing leads and drill an exploratory well and an appraisal well.
Pangilinan didn't disclose an exact work schedule, but said the Philippines' government has been informed.
Forum Energy has a contract to explore and develop oil and gas deposits in the Reed Bank, which the Philippines now refers to as Recto Bank to strengthen its territorial claim.
A 2006 seismic survey indicated a mean volume of 3.4 trillion cubic feet of gas-in-place and 440 million barrels of oil in the area.
Generated by readers, the comments included herein do not reflect the views and opinions of Rigzone. All comments are subject to editorial review. Off-topic, inappropriate or insulting comments will be removed.
RELATED COMPANIES
For More Information on the Offshore Rig Fleet:
RigLogix can provide the information that you need about the offshore rig fleet, whether you need utilization and industry trends or detailed reports on future rig contracts. Subscribing to RigLogix will allow you to access dozens of prebuilt reports and build your own custom reports using hundreds of available data columns. For more information about a RigLogix subscription, visit
www.riglogix.com
.