Rowan Plans to Change Domicile to UK
by Dow Jones Newswires
|
Tess Stynes
|
Tuesday, February 28, 2012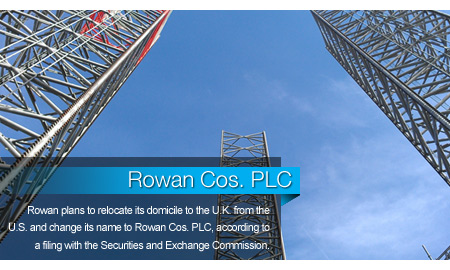 Rowan Cos.'s fourth-quarter earnings fell 21% as the offshore drilling company reported lower contributions from discontinued operations and higher costs.
The company also plans to relocate its domicile to the U.K. from the U.S. and change its name to Rowan Cos. PLC, according to a filing with the Securities and Exchange Commission. Shareholders will receive American depositary shares equivalent to their common shares in the current company. The changes are expected to be completed by late spring.
Rowan, which operates a fleet of high-specification shallow-water rigs, been transforming itself into a purely offshore driller with the help from proceeds from asset sales. In September, Rowan sold its fleet of land rigs to Ensign Energy Services Inc. for $510 million. In May, Rowan sold its manufacturing arm LeTourneau Technologies for $1.1 billion to Joy Global Inc.
Rowan reported a profit of $45.1 million, or 36 cents a share, down from $57.3 million, or 45 cents a share, a year earlier. The latest period included 9 cents in income from discontinued operations, while the prior year include contributions of 17 cents. The latest period also included $3.5 million in employee separation related expenses.
Revenue climbed 32% to $275.1 million. Analysts polled by Thomson Reuters most recently projected earnings of 30 cents on revenue of $270 million.
Operating margins weakened to 11% from 24% including the employee-separation-related item.
Day rates increased 5.1% while rig utilization rose to 68% from 65% from a year earlier and 61% in the third quarter.
Average prices for oil were up 10% while average natural gas prices declined 12%.
Generated by readers, the comments included herein do not reflect the views and opinions of Rigzone. All comments are subject to editorial review. Off-topic, inappropriate or insulting comments will be removed.
RELATED COMPANIES
For More Information on the Offshore Rig Fleet:
RigLogix can provide the information that you need about the offshore rig fleet, whether you need utilization and industry trends or detailed reports on future rig contracts. Subscribing to RigLogix will allow you to access dozens of prebuilt reports and build your own custom reports using hundreds of available data columns. For more information about a RigLogix subscription, visit
www.riglogix.com
.