Q&A: How the Men of O&G Jump-Started Their Careers
by Jaime Kammerzell
|
Rigzone Contributor
|
Monday, March 05, 2012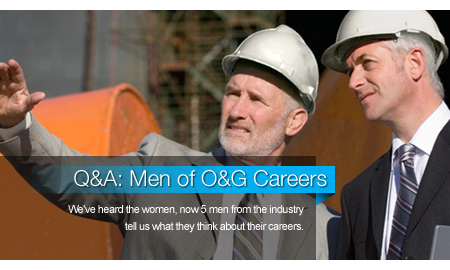 In February we ran a Q&A series about women in oil and gas. For comparison's sake, we have asked five men the same 10 questions regarding their career choices in the oil and gas industry. One question and one answer from each man will be shared with our readers each day for the next 5 days.
Disclaimer: The men in this questionnaire have asked to remain anonymous.

Question 1: Why did you choose the oil and gas industry?
Man 1: Family history. I'm the third generation of my family to work in the oilfield.
Man 2: Money.
Man 3: My family has made its livelihood in the O&G Industry since the early 1900s.
Man 4: High risk, high reward technical and commercial challenges.
Man 5: I did not intentionally choose it. It ultimately chose me.
Question 2: How did you get your start in the oil and gas industry?
Man 1: I worked for an environmental services company that also did oil and gas work. I started my own oil and gas service firm two years ago.
Man 2: I started work onshore as a mud logger, old school contacts.
Man 3: I worked in the rig yards of Parker Drilling in Odessa, TX.
Man 4: I was recruited by a major oil and gas company from college.
Man 5: College/studying was not working out so well. I heard about the ROV industry and the school in Texas. After learning more about it, I decided to leave college and go to the ROV school to ultimately pursue a job offshore as an ROV technician.
The Men of Oil & Gas Series
Generated by readers, the comments included herein do not reflect the views and opinions of Rigzone. All comments are subject to editorial review. Off-topic, inappropriate or insulting comments will be removed.