Q&A: The Road Taken by the Men of O&G
by Jaime Kammerzell
|
Rigzone Contributor
|
Tuesday, March 06, 2012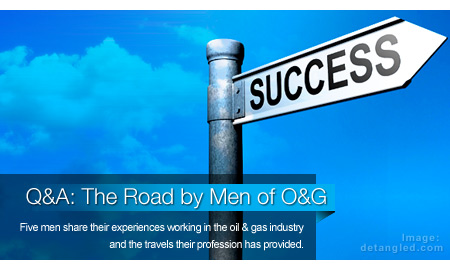 In February we ran a Q&A series about women in oil and gas. For comparison's sake, we have asked five men the same 10 questions regarding their career choices in the oil and gas industry. One question and one answer from each man will be shared with our readers each day for the next 5 days.
Disclaimer: The men in this questionnaire have asked to remain anonymous.

Question 3: Was working in the oil & gas industry something you always wanted to do?
Man 1: Yes.
Man 2: No. I wanted to be a doctor, but failed first year medical school.
Man 3: Not initially. I thought I was going to be a marine biologist in the likes of Jacques Cousteau, but the curriculum was very similar to that which pre-meds had to take and they were too competitive. I took a class in geology and loved it!
Man 4: I was interested in applying my technical and business skills in areas where I could find professional accomplishment and financial success. The upstream oil and gas business provides the type of challenging work that leads to career satisfaction.
Man 5: It was definitely not something I even heard about until late in life. Up North (I am from Washington), the oil field is rarely discussed and very little is known about it, unlike the South, where it is prevalent everywhere from commercials to billboards to the nightly news.
Question 4: Do you travel? How much? Name one incredible place you've traveled for work.
Man 1: Yes, some, Whizbang, OK. Seriously, I love the old school oil patch towns.
Man 2: I do not travel anymore as I have a young family and do not like spending time away from them. Tengiz Oilfield in Kazakhstan is the most amazing place I have been to for work.
Man 3: My early career with Amoco International in their Africa & Middle East Division took me to Gabon on hardship pay. It didn't seem to be much hardship since Gabon is a previous French colony where Amoco's offices were located in an international hotel with French cuisine, French wine and French women. We all vied for the Seychelles's assignment, but I lost out.
Man 4: I travel internationally about one week per month for partner or company meetings. Last year I was in the shipyards of Korea for the commissioning of some of our offshore production facilities ? the trip illustrated to me the incredible complexities and cost involved in our production operations.
Man 5: Yes. I travel offshore 6-9 months a year. Trinidad was the best place I've been.
The Men of Oil & Gas Series
Generated by readers, the comments included herein do not reflect the views and opinions of Rigzone. All comments are subject to editorial review. Off-topic, inappropriate or insulting comments will be removed.