Q&A: Stepping Stones to Success for the Men of O&G
by Jaime Kammerzell
|
Rigzone Contributor
|
Wednesday, March 07, 2012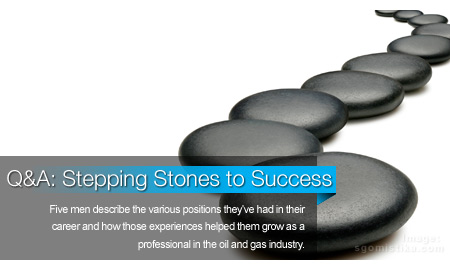 In February we ran a Q&A series about women in oil and gas. For comparison's sake, we have asked five men the same 10 questions regarding their career choices in the oil and gas industry. One question and one answer from each man will be shared with our readers each day for the next 5 days.
Disclaimer: The men in this questionnaire have asked to remain anonymous.

Question 5: What positions have you had along your career path?
Man 1: Truck driver, operations manager, and owner.
Man 2: Mudlogger, Sales Engineer, Drilling Engineer, Drilling Superintendent.
Man 3: I started as a manual laborer for drilling contractors, and then I moved into mud logging and then into the office as explorationist utilizing both geology and geophysics.
Man 4: Seismic crew operations, exploration and development geologist, seismic processor, asset manager, exploration manager, capital project manager, general manager for a geographic business unit. Assignments were in the US and West Africa.
Man 5: ROV Mechanical Technician, ROV Supervisor, ROV Superintendent, VPIC, SIT Site Lead, ROV Specialist.
Question 6: How have your previous positions helped you grow into the professional you are today?
Man 1: By learning the physical work aspect, as well as the business aspect.
Man 2: Having some subsurface knowledge and a geology degree gives me an edge over most other engineers. My career progression has been through chance only, knowing the right people and being in the right place at the right time.
Man 3: My ability to work within multidisciplinary teams and take projects from inception to full cycle maturity.
Man 4: The jobs I have held provided increasing levels of responsibility, cross-functional and cross-cultural relationships and the opportunity to work in partnerships with other oil companies, contractors and government regulators.
Man 5: ROV experience is instrumental in allowing me to being a more complete VPIC. My knowledge and experience running the tooling and sub operations I'm now working on, allows me to have a more complete understanding of the difficulties that may plague the operation and ability to work out potential issues before they arise.
The Men of Oil & Gas Series
Generated by readers, the comments included herein do not reflect the views and opinions of Rigzone. All comments are subject to editorial review. Off-topic, inappropriate or insulting comments will be removed.