Q&A: Walk in the Shoes of the Men of O&G
by Jaime Kammerzell
|
Rigzone Contributor
|
Thursday, March 08, 2012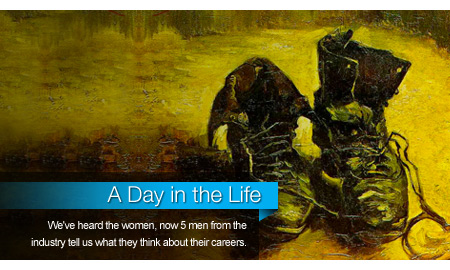 In February we ran a Q&A series about women in oil and gas. For comparison's sake, we have asked five men the same 10 questions regarding their career choices in the oil and gas industry. One question and one answer from each man will be shared with our readers each day for the next 5 days.
Disclaimer: The men in this questionnaire have asked to remain anonymous.

Question 7: Describe your typical day.
Man 1: As a small operation, I do it all. I might be driving the truck one minute, the next taking the customer to lunch, the next doing paperwork.
Man 2: I start my day by putting out fires and completing any unfinished work. Next, I set about doing my own work in between spending 50 percent of my time mentoring younger engineers. I answer emails 3 times a day only (time management).
Man 3: My day starts at about 7:15 a.m. reviewing developments from the night before, plus scouting the industry environment and activity. Then I'm off to interpreting the subsurface both geologically and geophysically to bring together drillable prospects. I usually have several projects in different stages of maturity. Once ready to recommend for drilling, all technical exhibits are prepared for management presentation encompassing the land position, geology, geophysics, reservoir engineering, drilling AFE's and economics. My days end around 7 p.m.
Man 4: An international day is long. I have a staff in Nigeria and in Houston, so when the day in Lagos is ramping down, the U.S. is ramping up. I try to dedicate my day 50 percent to my own work: executing our business plan and working on new business opportunities, and 50 percent working with my managers and their staff on their projects.
Man 5: A lot of conference calls, meetings, reports and procedure following/signing off mixed with some meals and sleep at the end of day.
Question 8: Describe your work environment.
Man 1: My main client is a mid-size independent. They go way above and beyond what you would expect a customer to do. This makes the environment very safe and stable. The work is important and has to be done, but they make it feel as though you are working with them as a team member.
Man 2: Fun but not challenging.
Man 3: It has a great corporate culture where goals and objectives are clearly articulated and all disciplines are working together. There is very little "politics" going on. All senior management is on the same floors as their constituents and the organization is very flat, so decisions are made quickly. Owner participates with staff at meetings and seeks everyone's opinions.
Man 4: Everything from the office to the field to places that you would not want to go, but will to get into a great opportunity. The oil business has high professional and technical integrity, despite its portrayal in the press. The company that I work for places a high premium on safe and ethical behavior from its employees.
Man 5: Onshore, I'm in the office and offshore I'm on the bridge on large construction vessels.
The Men of Oil & Gas Series
Generated by readers, the comments included herein do not reflect the views and opinions of Rigzone. All comments are subject to editorial review. Off-topic, inappropriate or insulting comments will be removed.