Q&A: Men of O&G Share Skills, Tips Needed for Future Industry Success
by Jaime Kammerzell
|
Rigzone Contributor
|
Friday, March 09, 2012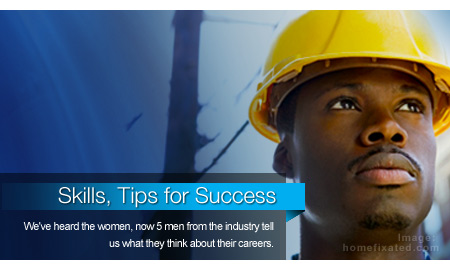 In February we ran a Q&A series about women in oil and gas. For comparison's sake, we have asked five men the same 10 questions regarding their career choices in the oil and gas industry. One question and one answer from each man will be shared with our readers each day for the next 5 days.
Disclaimer: The men in this questionnaire have asked to remain anonymous.

Question 9: What skills do you use the most at your job?
Man 1: Trying to make lemonade out of lemons.
Man 2: Communicating and stake holder management.
Man 3: Developing predictive models that high grade rock properties through the integration of geology and engineering with geophysical attributes from 3D seismic inventory.
Man 4: Although I have a technical background, I'd have to say commercial (business evaluation) and leadership skills. I've been fortunate to get experience in many aspects of the business during my career that I can call upon to make informed decisions. The people that work for you expect a good leader to be able manage the complex nature of the business, make strategic decisions and create action that allows their work to add value.
Man 5: Communication and computer/ typing skills.
Question 10: Do you have career advice for those just entering the oil and gas industry?
Man 1: If you're doing it for the money, go work at a bank. We have a bad enough reputation. If you are truly interested in the business, learn a little of the history. Visit a museum and get to know what all has gone into this business.
Man 2: If you want to progress, you need to manage it yourself. Contacts are the most important thing -- it's who you know not what you know. Staying put is often harder than going with the flow and just accepting the promotion.
Man 3: Get as much exposure to the different disciplines and understand their needs and how they fit into the full economic cycle. Take industry courses that enhance understanding of not only your discipline but that of others. Network within the professional societies. Find someone within your organization who you would like to emulate and seek a mentoring relationship.
Man 4: This is an exciting industry because of the exposure to high risk, high reward decision making and results. Choose a company that allows you to get exposure to many aspects of the business. A variety of locations, job functions and challenging work makes for a wonderful career.
Man 5: Learn everything about your job and those around you. The more you learn about other fields offshore, the more complete of an offshore worker you become and thus more valuable. And remember, the oil industry is comparatively small, so it is best to get along with everyone. You never know where they will be 5 years down the road.
The Men of Oil & Gas Series
Generated by readers, the comments included herein do not reflect the views and opinions of Rigzone. All comments are subject to editorial review. Off-topic, inappropriate or insulting comments will be removed.