Is Saudi Aramco Becoming a Role Model for Corporate Social Responsibility?
|
Monday, February 27, 2012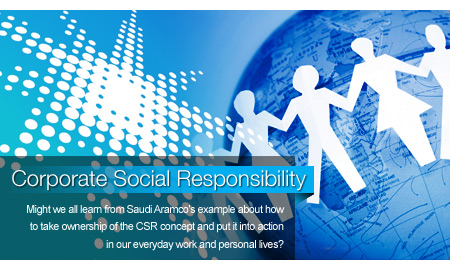 Jamal Al-Dabal is not your ordinary sort of guy.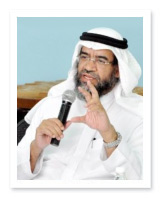 In fact, he's rather extraordinary.
Take just one look at his job title, for instance.
Jamal is in charge of "Overall Inspiration, Educational Initiatives at Saudi Aramco."
But it only gets more intriguing.
Here are some snippets from Jamal Al-Dabal's LinkedIn profile, which reveal how he likes to parlay time in his "day job" for Saudi Aramco into other worthwhile-sounding pursuits:
Chairman & CEO, Starting a New Venture for Unique Kindergarten Engagement: Survey global market for unique engagement of young kids in kindergarten schools. Choose one of the models and ensure implementation in Saudi Arabia.


Overall Inspiration, Mawhiba Summer Gifted Program: Designed and introduced new programs very unique to the Kingdom for children at high school. This includes Toastmasters, self-awareness programs and building engineering and math skills.


Advisor for Children Discover Zone & Keystone: Consultant to Ithra (King Abdulaziz Center for World Culture) to be opened in 2012 by Saudi Aramco as the largest Corporate Social Responsibility program in the Middle East. Advising on childrens' programs and entrepreneurship and volunteering activities.
Hey, Wait a Minute Here!
What in the world is a gigantic, mega-powerful national oil company (NOC) such as Saudi Aramco doing hiring someone like Jamal Al-Dabal for "overall inspiration, educational initiatives," anyway?
Not only that, but Saudi Aramco has a whole flock of other people with similarly fascinating, off-the-wall job titles, such as:
Director of Corporate Excellence Hadi Al-Ali


IT Future Center Leader Jef Geagan (pictured below leading a small camel caravan)


Intellectual Capital Development Consultant Fred Vail


Wellness Practitioner and Injury Prevention Specialist Samantha Kozak
Unbridled enthusiasm for their work is not unusual. For example, here's what Samantha Kozak had to say about her job:
"I now commit all energy into creating and sustaining a healthy, safe and productive Saudi Aramco workforce, through the development and implementation of a wellness champion entrepreneurship across all seven business lines of the company. Spreading the word of wellness as far as the offshore employees who need it the most! Our specialized RigWELL program addresses this! Making a difference in the lives of others is so rewarding."
Plus, any Aramco employees not feeling together enough upstairs on a given day, can book a visit Yasmine Buraik, MA, LMHC, LPHP, CCTRT, psychiatric counselor at the cutting-edge edge Saudi Aramco Medical Organization.
Such titles indicate a high level of proactivity and forward-thinking dedication, leading the respected Bloomberg Business Week magazine to dub Saudi Aramco as one of the world's most "enlightened energy corporations" in a 2010 article titled "Saudi Arabia's Social Lubricant."
So far, in 2012 alone, the Saudi super-giant has launched such CSR initiatives as a forum on training the disabled, another forum on "pioneering community-based programs in the Kingdom," per a February 4 report in the Arab News, and still another forum on the how-to's of launching and sustaining effective CSR programs.
On the latter, Princess Bandari Al-Faisal, director general of the King Khalid Charitable Foundation, posted on the Saudi Aramco web site:
"I hope it will be a springboard for future events and partnerships on corporate social responsibility projects. By advocating for strategic CSR, Saudi Aramco can serve as a role model for both the for-profit and the not-for-profit sectors in Saudi Arabia."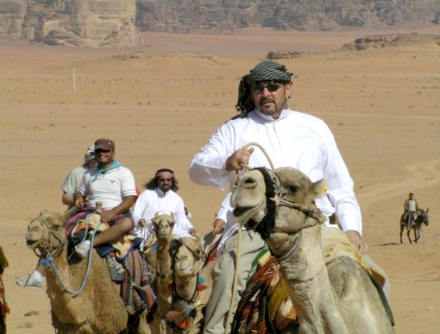 Jef Geagan, Saudi Araamco's IT Future Center Leader, leading a small camel caravan - Source: Jef Geagan's personal photo collection
Yet for all their energy and exuberance, the still-young Aramco CSR programs, along with parallel social reform efforts by Saudi Arabia's royal family, are not without their challenges, complications and outright critics.
Potshots and Pundits
Perhaps the most widely cited challenge is how the Saudi efforts dovetail, and in part, respond to, a host of sometimes-violent uprisings throughout the Middle East, known as the "Arab Spring."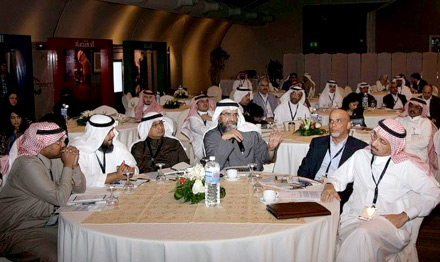 "There was a high level of engagement and frank discussions at Saudi Aramco's recent forum on corporate social responsibility in Dhahran," from an Arab News report dated February 17, 2012. (AN photo by Boutros Ayad)
"On the surface, Saudi Arabia has weathered the Arab Spring with barely a scratch," reported online journal MUFTA on Feb. 8 in an analysis titled "Saudi Arabia's Social Spring."
"There have been few reports of public protests or violence, and voices agitating for regime change are almost unheard of," the article continued. "While other leaders in the Gulf have struggled to maintain basic control, the Saudi royal family has managed the succession crisis that followed the death of Crown Prince Sultan Abdulaziz al Saud without breaking a sweat. Under these circumstances, one could be forgiven for thinking that the Arab Spring has simply passed Saudi Arabia by. The Kingdom has not, however, avoided all political trouble. In fact, Saudi Arabia has seen its share of unrest, though it has avoided the sort of nation-wide populist turmoil that has rocked other Arab states. Faced with widespread political uprisings throughout the Arab region, Saudi Arabia has attempted to subdue and discourage potential unrest through a combination of carrots and sticks . .. [Media] attention has centered on social reforms, women's rights, and the so-called 'social revolution' caused by the expanding use of social media in the country."
In addition, Saudi Arabia's social reform efforts are locally and regionally centered, as are many traditional Middle Eastern social and economic improvement efforts, in a longstanding custom which underpins the old axiom: "Charity begins at home." (For a very detailed, fascinating account of such efforts, see "Leap of Faith: Memoirs of an Unexpected Life," the New York Times bestselling book by Queen Noor, born Lisa Halaby to an Arab-American family and later married to the late King Hussein of Jordan.)
"It could seem as many Saudi Arabian companies see their social responsibility limited firstly to the local community they are operating, and secondly to the national level," said a January 18, 2010 article titled "Corporate Social Responsibility: Saudi Arabia and International Standards," from the Gulf Research Unit's blog. "It could also be argued that another major difference between international and Saudi Arabian standards of CSR, are the core values. … [I]nternational standards tends [sic] to emphasize human rights, labor rights, the environment and anti- corruption as their most important areas of focus, while these do not seem to be as important for Saudi Arabian companies. … [as do] the development of human and social capital."
"Gal Power?"
One major area for which the Kingdom draws mixed reviews is its Johnny-Come-Lately reforms in the controversial area of Saudi womens' rights.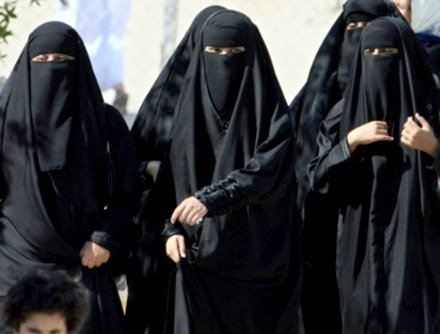 Source: American Bed U
While educational and employment strides by Saudi women highlighted a keynote speech at a Saudi business symposium in Atlanta this past December (see video below), Saudi Arabia is still rooted in what Bloomberg Business Week termed "a fundamentalist brand of Islam that looks to the 7th Century for inspiration."
Women in Saudi Arabia, for instance, are still largely barred from driving vehicles and traditional long, black robes and veils allowing only eyes to see out remain commonplace.
Marina Ottaway, director of the Middle East program at the Carnegie Endowment for International Peace in Washington, told Voice of America in March, 2010 that Saudi Arabia is very different from the Arab nations already experiencing popular uprisings. Ottaway predicts that female political and social reform in the Magic Kingdom will continue to be challenging.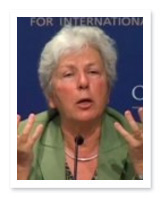 Marina Ottaway, Middle East Program director, Carnegie Endowment for International Peace
"Saudi Arabia is one of the most difficult cases," said Ottaway. "You have to start from scratch, and I do not think the U.S. has any clear idea about what kind of process would take Saudi Arabia from where it is now to become a more democratic country, or what is the sequence of changes. Nobody knows."
Observed prominent Saudi sociologist and women's rights crusader Dr. Mona AlMunajjed said in a 2010 Arab News article:
"As a sociologist, I feel that more reforms should be introduced on issues affecting women and young people. The social, economic, and political potential of our country can only be achieved with the empowerment of Saudi women and the full participation of both young men and women in the development of their country.
Today, especially in light of the Arab Spring and the turmoil in our region, we need to promote dialogue through special coalitions, nongovernmental organizations and other innovative group processes to bring together different people and to learn how to deal with our most challenging problems."
Generated by readers, the comments included herein do not reflect the views and opinions of Rigzone. All comments are subject to editorial review. Off-topic, inappropriate or insulting comments will be removed.