UK Crude Oil Imports Exceed Production for First Time since 1978
|
Thursday, February 23, 2012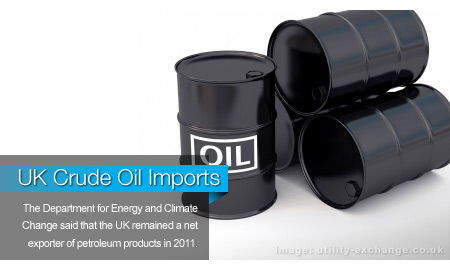 Energy statistics released by a UK government department Thursday showed that the country's imports of crude oil exceeded UK production for the first time since 1978.
The Department of Energy and Climate Change said that provisional data for 2011 showed that primary energy production fell by a record 14 percent, compared to 2010, to 136.3 million tons of oil equivalent, following sharp falls in output from the UK Continental Shelf as a result of maintenance activity and slowdowns.
On an annual basis, petroleum production was down by 17 percent, with gas production down by 20 percent.
However, DECC said that the UK remained a net exporter of petroleum products in 2011, with net exports of 5.2 million tons – the highest surplus since 2005.
UK-produced gas in 2011 accounted for 54 percent of inputs to UK transmissions systems, but imports exceeded UK production for the first time.
Net import dependency increased to 48 percent. But despite lower UK production, gas exports were at record levels, higher even than when UK gas production peaked in 2000, said DECC.
Meanwhile, 2011 saw large increases in imports of liquefied natural gas (LNG), with imports from Qatar at similar levels to those for pipeline gas from Norway.
DECC added that UK gas demand was at its lowest level since 1995 due to a combination of milder weather and reduced use by generators.
Generated by readers, the comments included herein do not reflect the views and opinions of Rigzone. All comments are subject to editorial review. Off-topic, inappropriate or insulting comments will be removed.