OMV Touts Possibly Largest Gas Find in Black Sea
by SubseaIQ
|
Wednesday, February 22, 2012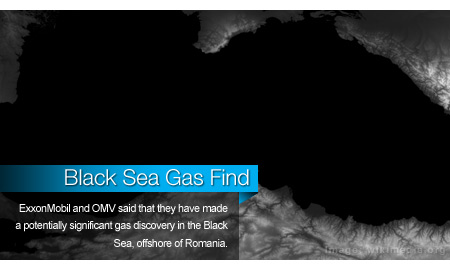 ExxonMobil Exploration and Production Romania and OMV Petrom SA have made a potentially "significant" gas discovery in the Black Sea, offshore Romania.
The Domino-1 exploration well encountered 232 feet (70.7 meters) of net gas pay, resulting in a preliminary estimate for the accumulation ranging from 1.5 to 3 Tcf or 42 to 84 Bcm, OMV said in a statement.
The Domino-1 well, which is operated by the Exxon unit, is located in the Neptun Block, 106 miles (170 kilometers) offshore in water about 3,281 feet (1,000 meters) deep. Drilling operations by the Deepwater Champion (UDW drillship) started at year-end 2011 and the total depth of the well is expected to be more than 9,843 feet (3,000 meters) below sea level. OMV Petrom and Exxon each hold 50 percent in the well.
"This may be the biggest find in OMV's history," said Chief Executive Officer Gerhard Roiss in a press statement.
The Domino-1 exploration well marks Romania's first deepwater well.
The consortium is planning new 3D seismic acquisition during 2012 with the results from the seismic study and evaluation of drilling to determine the next taken steps.
While "it is too early in the data evaluation and exploration process to determine whether the Neptun block will ultimately prove to be commercially developable or not," the companies would need to spend "multiple billions of dollars to develop" Domino-1, said Jaap Huijskes, head of exploration and production at OMV. He added "that potential first production would be toward the end of the decade at the earliest."
Generated by readers, the comments included herein do not reflect the views and opinions of Rigzone. All comments are subject to editorial review. Off-topic, inappropriate or insulting comments will be removed.
RELATED COMPANIES
For More Information on the Offshore Rig Fleet:
RigLogix can provide the information that you need about the offshore rig fleet, whether you need utilization and industry trends or detailed reports on future rig contracts. Subscribing to RigLogix will allow you to access dozens of prebuilt reports and build your own custom reports using hundreds of available data columns. For more information about a RigLogix subscription, visit
www.riglogix.com
.